UIU National Job Festival concludes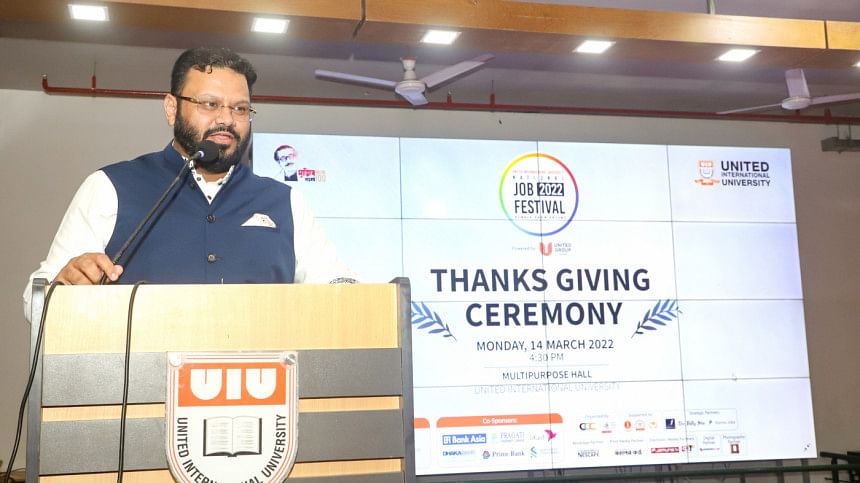 The UIU National Job Festival 2022, a two-day event organised by United International University (UIU), concluded yesterday. The closing ceremony of the fair was held at the UIU auditorium.
Moinuddin Hasan Rashed, Chairman and Managing Director, United Group Ltd, attended the ceremony as the chief guest.  Md Arfan Ali, President and Managing Director, Bank Asia, and Emranul Huq, Managing Director and CEO, Dhaka Bank, among many others, were also present at the event.
"Honesty, sincerity and hard work, these three are the key to a successful career," said Arfan Ali. "There are no shortcuts in life. Be sincere towards your organisation and I invite you all to work for us at Bank Asia."
"This is the first job festival after two years of Covid-19 restrictions," said Moinuddin Hasan Rashed. "The fair will play an important role in building relationships between academics and industries as well as assisting job seekers."
"120 companies conducted spot Interviews, screenings, and recruitment sessions in our fair," said the Vice Chancellor of UIU Prof Dr Chowdhury Mofizur Rahman. "Nearly 20,000 candidates attended the fair just from UIU and I would love to know ratio of students who got jobs from the fair."
United Group, Pakiza Techonovation Ltd, Bank Asia, Pragati Insurance Ltd, BKash, Dhaka Bank Ltd, Prime Bank Ltd, Banglalink, Uttara Motors Ltd., Arla Foods Bangladesh Ltd, ACI Ltd, BRAC, Navana Group, and many other enterprises conducted recruitment sessions at the event.
Towards the end of the ceremony, the chief guest and the Vice Chancellor of UIU handed out crests to all participating companies.