Mullobodh Er Paathshala: Discussing discipline and wellness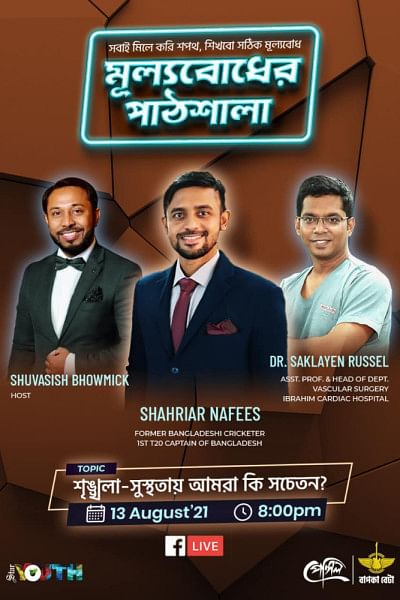 Championing positivity and social change, Shuvashish Bhowmick, founder of father-son singing duo Baap Ka Beta, took an initiative called, "Mullobodh Er Paathshala". This campaign hosts live sessions with celebrities, influencers, and experts on the importance of morals and values. The third episode, titled "Are we aware of discipline and wellness?"  was held yesterday, featuring Shahriar Nafees, former player of Bangladesh national cricket team and the first captain of Bangladesh T20 team and Dr Saklayen Russel, Assistant Professor and Head of Department- Vascular Surgery of Ibrahim Cardiac Hospital.
Throughout the episode the importance of discipline, along with morals and values, were discussed by the panelists, who noted that there is a decrease in discipline amongst the population. They further shared their personal experiences during the show.
Shahriar Nafees shared that he owes everything to his family and that family is the first step when it comes to learning morals, values, and discipline. He further spoke about how we need to stop having the 'take-it-easy' mentality and start taking things seriously, without which discipline building will not be possible. Exercising during the pandemic and time-management are something he stressed on. He said, "We need to encourage our children to live a disciplined, honest and dutiful life."
Dr Saklayen Russel thanked his family, friends, teachers, and even his critics for playing their due roles in his life. He said that they have acted as motivational forces for him. He added that families need to teach discipline but in moderation and that using comparative techniques and competitive mentality on children to make them more discipline would do more harm than good. He gave multiple valuable suggestions to remain fit, amid the pandemic during the session.
Host Shuvashish Bhowmick carried out a yes-no poll to the question, "Are we aware of discipline and wellness?", to which 68% said "Yes" and he invited one participant to the show to discuss it.
The Pencil Foundation is affiliated with this initiative as an outreach partner. The foundation works to develop a platform for young authors, poets, singers, photographers, reciters, and artists. People with this foundation are highly optimistic that this initiative will bring fruitful outcomes and bring significant impacts on society's perception.
In the coming days, "Mullobodh Er Paathshala" will be hosting more episodes on the development of moral values. People from all over the world can watch the episodes live on Baap Ka Beta's official Facebook page.
The author is a freelance journalist and a marketing student at North South University. Email: [email protected].