"Mullobodh Er Paathshala" discusses the potency of literature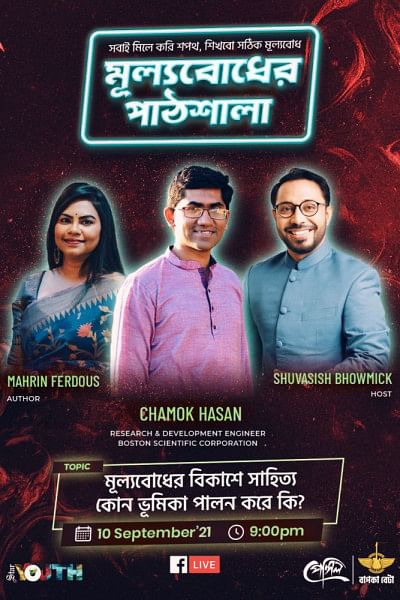 With the motto to stimulate the idea of values and positive change, Shuvashish Bhowmick, founder of father-son singing duo Baap Ka Beta, initiated the campaign, "Mullobodh Er Paathshala". This campaign hosts live sessions with renowned celebrities, authors, and experts on the importance of morals and values. The fifth episode, titled "Does or can literature play a role in developing values?" was held yesterday, featuring Chamok Hasan, Research & Development Engineer at Boston Scientific Corporation and Mahrin Ferdous, an author by passion and profession who has been affiliated with literature for the past decade.
The panel explored the influence of literature when it comes to morals and values, and how it beautifies readers' scopes of imagination. Both of the panelists shared a similarity, they both receive books as gifts, something that is an unusual practice in today's time.
Chamok Hasan sincerely thanked both his parents, friends, and family for making his childhood an outstanding one. He related values with generation. "As anticipated, values have changed over time but the basic courtesy, manners and understanding of relevance need development; social media has allowed many people to reside behind a curtain, which makes them feel empowered, therefore, they make degrading comments under other's posts." "If one must criticise, the language used needs to be reviewed," he added.
During the discussion of values and morals he shared, "Women bear tremendous mental load on a daily basis, and it is not only seen in developing nations but also developed nations; we need to learn about the concept of 'mental load' and try to share this load as much as possible."
Mahrin Ferdous also dedicated her creative fortune to her family, and shared how she grew up in a cultural household, with collectivistic values. "We grew up with the idea that we must always share. I was introduced to books at an early age and reading opened a window to values and morals for me," she said.  She rightfully pointed out that not all books are good and that readers need to actively draw a fine line between right and wrong in literature. "If I must mention three things that I'd want for everybody it would be that people be more empathetic towards each other, not jump to conclusions and finally, Dhaka's traffic jam can be exterminated." she said.
The panel discussion was high-spirited and amusing. Panelist Chamok Hasan's daughter recited a poem for the audience, and he drew curtains to the show by singing "Jaat Gelo", while his daughter danced along to his song in the background.
The Pencil Foundation is affiliated with this initiative as an outreach partner. The foundation aims to develop a platform for young authors, poets, singers, photographers, reciters, and artists. People with this foundation are highly optimistic that this initiative will bring fruitful outcomes and bring significant impacts on society's perception.
In the coming days, "Mullobodh Er Paathshala" will be hosting more episodes on the development of morals and values. People from all over the world can watch the episodes live on Baap Ka Beta's official Facebook page.
The author is a freelance journalist and a final year marketing & international business student at North South University. Email: [email protected]