Splendid HSC results: Curtailed exams do the trick again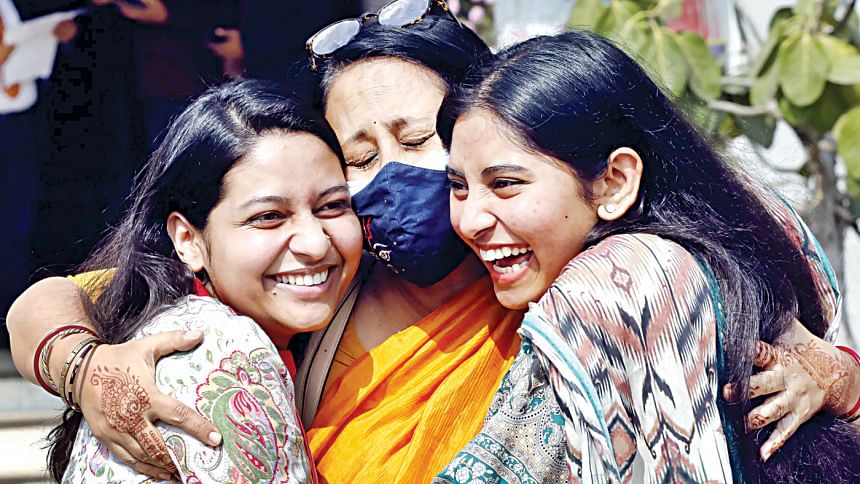 Sitting for tests on three optional subjects and for fewer marks, HSC examinees of 2021 have achieved brilliant results as the pass rate and number of GPA-5 achievers in nine general education boards increased.
Students did not have to sit for tests in English, which is normally a compulsory subject, to determine success.
Unveiling the detailed results at a press conference yesterday, Education Minister Dipu Moni said various government initiatives have brought about positive changes in this year's results.
She said major reasons behind the successful outcome were students getting more time to prepare, having shortened syllabuses and fewer subjects.
Syllabuses were also shortened for last year's Secondary School Certificate (SSC) exams, and there were similar improvements in the pass rate and number of GPA-5 achievers.   
For last year's HSC exams, the government fixed three subjects for each of the three disciplines -- business, science and humanities.
At the start of the programme, Dipu Moni received the results on behalf of Prime Minister Sheikh Hasina, who joined virtually. The PM also unveiled the results at the programme.
Higher Secondary Certificate (HSC) exams for 2021 were held eight months later than the usual schedule as the government waited for Covid-19 infection rate to decrease.
As students did not need to take exams in compulsory subjects like English and Bangla, results of these were prepared based on the GPAs of students' previous public examinations.
During the exams, students also had more choices in terms of questions to answer, which was another reason for the good results. Science exams had 32 marks in each paper, while humanities and business exams had 45 marks in each paper, said education board officials.
The exams for 2020 did not take place due to the pandemic and results were prepared based on candidates' performance in previous public exams.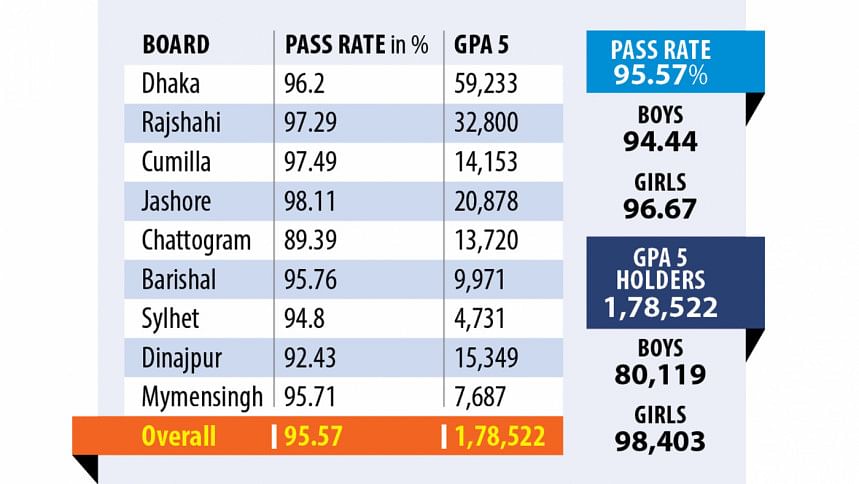 BRILLIANT RESULT
Last year, 11,15,705 students took the HSC exams between December 2 and 30, and of them, 95.57 percent passed. A total of 1,78,522 students got the highest grade point average of 5.
According to Bangladesh Bureau of Educational Information and Statistics, the pass rate in HSC exams this year was the highest since 1990. The second highest pass rate was 76.68 percent in 2014.
The pass rate was 71.85 percent in 2019 and 64.55 percent in 2018. A total of 47,286 students achieved GPA 5 in 2019, and 29,262 in 2018.
Dhaka education board chairman Professor Nehal Ahmed said English was a vital subjects for determining success rate of students. As exams were not held for the compulsory subject, it could have played a role in increasing the success rate.
He however could not say immediately whether the success rate of 95.57 percent is the highest since the country's independence.
The Jashore board took first place in terms of pass rate and Chattogram was the last. Dhaka board topped the list in terms of GPA-5 achievers while Sylhet board was in the last place.
In nine foreign exam centres, 267 Bangladeshi students sat for the exams, 264 of whom passed. Ninety-two of them achieved GPA-5.
COMBINED RESULTS
Taking into account the Dakhil exams under the madrasa board and HSC vocational tests under the technical board, the combined pass rate was 95.26 percent.
Last year, a total of 13,71,681 students took the HSC and equivalent exams.
In 2021, about 95 percent of some 1.06 lakh Dakhil examinees under the madrasa board passed, while 92.85 percent of some 1.49 lakh candidates of HSC (vocational) exams passed.
A total of 4,872 madrasa students and 5,775 technical students got GPA-5.