No Bangladeshi university in Asia's top 250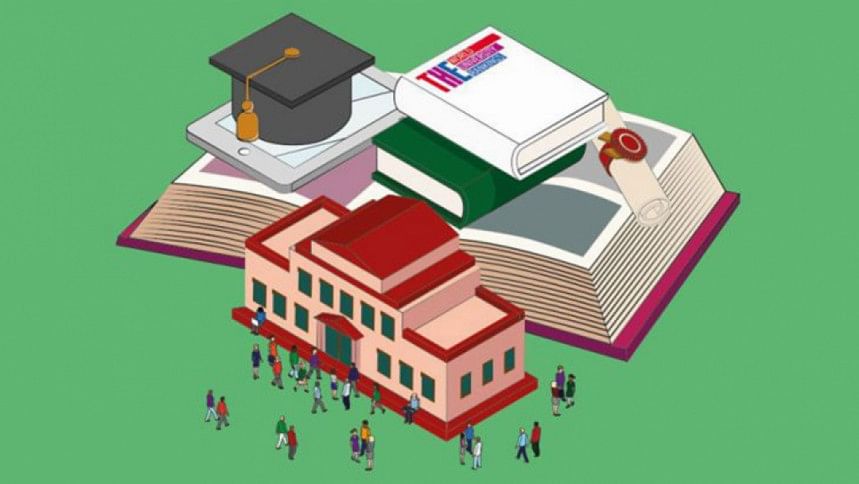 No Bangladeshi universities have been ranked among the top 250 Asian universities, according to the Times Higher Education Asia University Rankings 2022 launched today (June 1, 2022).
The 2022 rankings include 616 universities in Asia.
Dhaka University has secured a position in the 251-300 group in the ranking prepared by the UK-based Times Higher Education magazine.
While Bangladesh Agricultural University (BAU) got a spot in the 351-400 group, Bangladesh University of Engineering and Technology (BUET) ranked in the 401–500 group in the rankings.
The Times Higher Education Asia University Rankings 2022 use 13 performance indicators.
The universities are judged across all their core missions – teaching, research, knowledge transfer and international outlook – to provide the most comprehensive and balanced comparisons available.
DU and BUET have moved up in rankings compared to last year.
In 2021, DU was in the group of 351-400 and BUET was in the 401+ group. BAU did not make the list last year.
When contacted, University Grants Commission acting Chairman Prof Dil Afroza Begum said Bangladeshi universities fall behind rankings as they face challenges to meet some of the criteria set by the ranking authorities.
She said the criteria include having foreign faculties, foreign students, updated research publications, and its own publication, among others.
"But it is also significant that many of the universities are moving up in the rankings," she added.
The 2022 ranking showed that China is home to the continent's top two universities for the third consecutive year, with Tsinghua and Peking universities holding on to first and second places, respectively.
Meanwhile, Japan is the most-represented nation again this year, with 118 institutions, up from 116 last year. Japan's performance has not matched last year, however, as it now has only one university in the top 10 compared with two in 2021, and only eight in the top 100, down from 14 in 2020.
Elsewhere, a Palestinian university was ranked for the first time, and Saudi Arabia has increased its representation in the top 100 from four to six institutions.