WHO to declare end of Ebola in Sierra Leone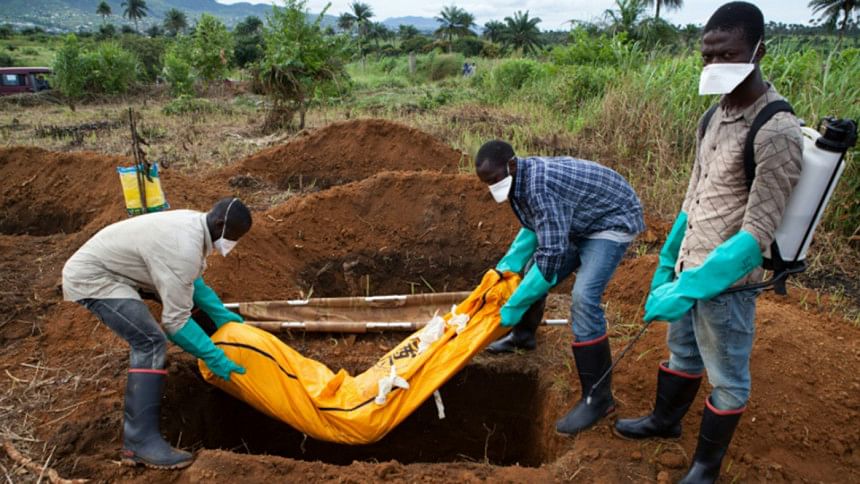 The World Health Organization is set to announce today that Ebola-ravaged Sierra Leone has beaten an epidemic that killed almost 4,000 of its people and plunged the economy into recession.
The former British colony recorded around half of the cases in an outbreak that has infected 28,600 people across the three hardest-hit west African nations and claimed 11,300 lives since December 2013.
Experts agree that the real death toll is almost certainly significantly higher than the official data, which has been skewed by the under-reporting of deaths in many probable Ebola cases.
Save the Children sounded the alarm Friday over the long-term impact on 1.8 million children who missed nine months of school, pointing to a "significant spike in adolescent pregnancies".
The crisis took a devastating toll on primary health services and immunisation programmes, with the deaths of 221 medical staff -- five percent of frontline doctors and seven percent of nurses and midwives.
- 'No elaborate celebration' -
A country is considered free of human-to-human transmission once two 21-day incubation periods have passed since the last known case tested negative for a second time.
After several false-starts, Sierra Leone's countdown finally began on September 25, three weeks after the WHO had declared neighbouring Liberia Ebola-free following 4,800 deaths there.
Guinea, where around 2,500 died, still has a handful of cases and Sierra Leone has announced heightened security and health screening at their shared border.
Guinea is also monitoring 382 possible contacts of known cases, 141 of them deemed "high risk", according to the WHO.
Palo Conteh, the head of Sierra Leone's Ebola response, has indicated that there are no plans for "an elaborate celebration" of the country's Ebola-free status.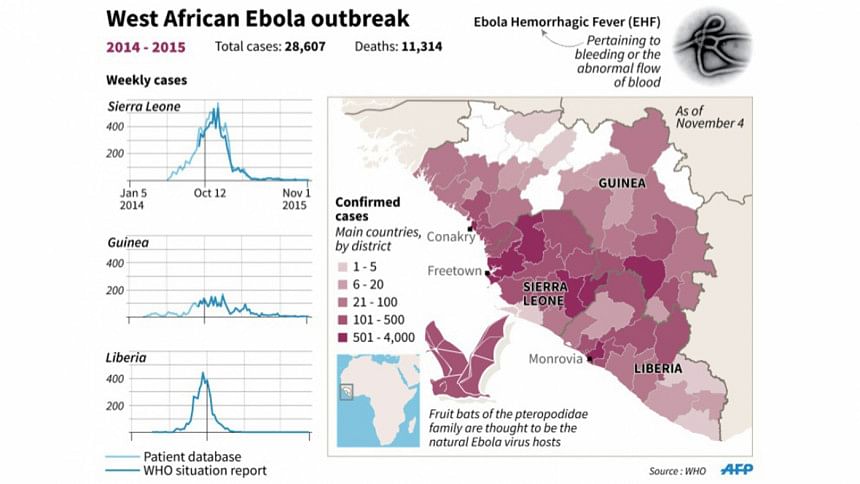 The WHO is due to deliver a formal declaration in Freetown of the end of the epidemic while President Ernest Bai Koroma will address aid agencies, healthcare professionals and other key workers.
"Thank God it is all over and we now live in peace," said Mamie Kabia, 25, a member of one of the expert teams burying highly infectious bodies around the clock at the height of the crisis.
The epidemic was first reported in Sierra Leone 18 months ago, when a woman tested positive after contracting the virus at the funeral of a healer who had been treating Ebola patients on the Guinea border.
- 'I died several times' -
At the peak of the outbreak in 2014, Sierra Leone and its neighbours were reporting hundreds of new cases a week, with social order on the brink of collapse.
Koroma drew criticism from the international community for a number of lock-downs confining millions to their homes -- measures that which were deemed punitive and self-defeating.
While the primary cost of the outbreak has been in human life, the crisis has also wiped out development gains in Sierra Leone, which was devastated by 11 years of civil war ending in 2002.
The World Bank estimates that Sierra Leone will lose at least $1.4 billion in forgone economic growth in 2015 as a result, leading to an "unprecedented" GDP contraction of more than 20 percent.
Across the country, Ebola workers recounted their own personal horror stories as they voiced relief ahead of Saturday's declaration.
James Hamilton, a cemetery worker who interred the first victim in the capital, told AFP he had personally overseen more than 600 such burials.
In Kambia district, close to the Guinea border, ambulance driver Ferenka Koroma said his worst experiences came when he was transporting bodies to burial sites.
"I hated the smell of chlorine. They say you only die once, but I died several times. But it is good it is now over," he told AFP.