The world's biggest financial scam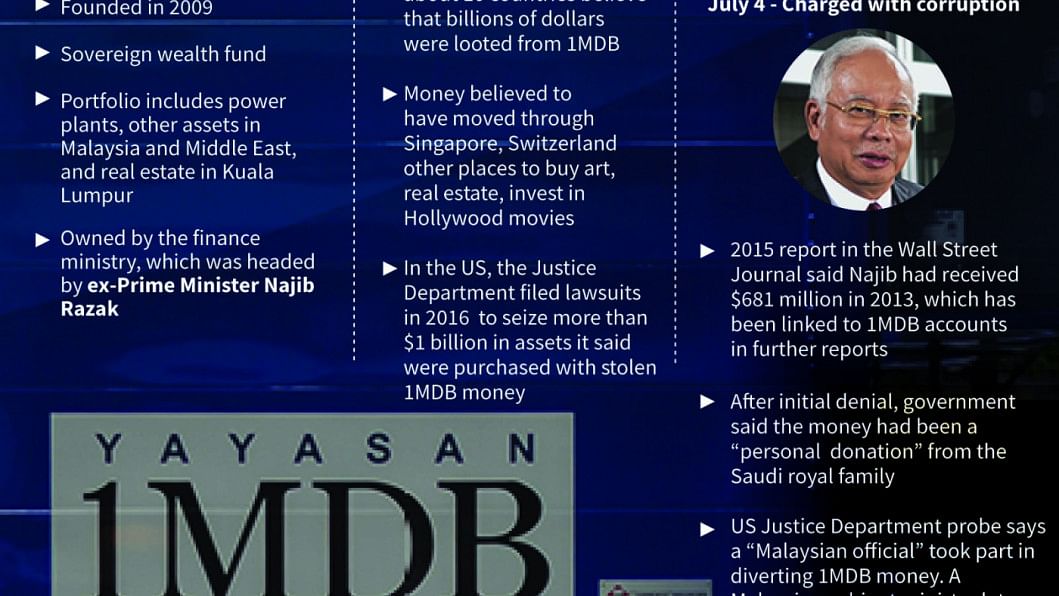 Malaysia's extraordinary 1MDB corruption scandal allegedly saw billions stolen from the country's soverign wealth fund and spent on everything from Hollywood films to handbags. Former Prime Minister Najib Razak was arrested Tuesday in the 1MDB graft probe set up by his successor, which has engulfed the ex-leader and his cronies since his shock loss at elections in May. Here is a look back at the saga:
WHAT IS 1MDB?
1Malaysia Development Berhad (1MDB) is a state investment fund which Najib launched in 2009 shortly after becoming prime minister. Its portfolio has included power plants and other energy assets in Malaysia and the Middle East, and real estate in Kuala Lumpur. The fund was closely overseen by Najib. Whistle-blowers say Low Taek Jho, or "Jho Low", a shadowy, jet-setting Malaysian financier close to Najib but who has no official positions, helped set up 1MDB and made key financial decisions. After the scandal emerged, Najib purged 1MDB critics from his government, curbed domestic investigations, enacted a tough new security law and generally lurched to the right. Analysts accused him of imperilling Malaysia's already fragile democracy to save his skin.
HOW DID THE SCANDAL EMERGE?
Concerns escalated in 2014 as 1MDB slid into an $11 billion debt hole, and the intensifying public scrutiny led to a string of revelations concerning missing funds. The issue exploded in July 2015 when the Wall Street Journal published documents showing Najib received at least $681 million in payments to his personal bank accounts. The US Justice Department has piled on the pressure by filing lawsuits to seize some $1.7 billion in assets it said were purchased with stolen 1MDB money.
SOME KEY US ALLEGATIONS
US authorities allege that more than $4.5 billion was stolen from 1MDB by high-level officials at the fund and their associates between 2009 and 2015. They said a figure it calls "Malaysian Official 1" knowingly received huge sums of 1MDB money. A Malaysian cabinet minister has since confirmed that official was Najib. Tens of millions of dollars in stolen money were used in 2012 by Najib's stepson Riza Aziz, an aspiring film producer, to fund the Hollywood film "The Wolf of Wall Street" starring Leonardo DiCaprio. Hundreds of millions were used, mainly by Riza and Low, to purchase high-end real estate in Beverly Hills, New York, and London, a Monet painting for $35 million, a Van Gogh for $5.5 million, a $35 million Bombardier jet and a $100 million stake in EMI Music Publishing. Low, who has been photographed partying with the likes of Paris Hilton and DiCaprio, allegedly used more than $250 million in stolen cash from 1MDB to buy a 300- luxury yacht.
HAS ANYONE FACED JUSTICE?
Several private bankers have been jailed and banned from working in the financial industry in Singapore after being found guilty of charges related to the scandal. Singapore has also shut down the local operations of two Swiss-based banks involved in the scheme. JP Morgan Chase's Swiss unit was found to have committed serious breaches of anti-money laundering regulations in its dealings with 1MDB, according to the Swiss financial markets watchdog, but no fines or other sanctions were imposed. But so far no big fish have been hooked. In 2017 the Wall Street Journal reported that US authorities plan to file criminal charges against Low relating to wire fraud and money-laundering. Najib shut down domestic Malaysian investigations, denying wrongdoing and saying the scandal was concocted by his political enemies.
WHAT WILL HAPPEN TO NAJIB NOW?
Najib's dramatic election loss left him facing the possibility of prosecution and imprisonment. The election winner, 92-year-old Mahathir Mohamad, has pledged to investigate the scandal and try to recover stolen funds from 1MDB that have been sent abroad. Najib and his wife Rosmah Mansor, a deeply unpopular figure due to her reported love of luxury shopping trips and imperious manner, were barred from leaving the country soon after the election as speculation mounted the pair would flee the country.