US student jailed in North Korea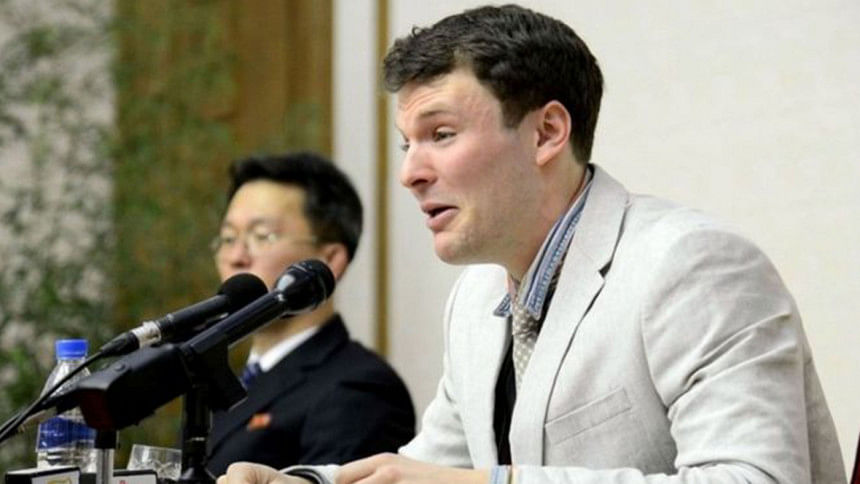 US student Otto Warmbier has been given 15 years hard labour in North Korea for crimes against the state.
Warmbier was arrested for trying to steal a propaganda sign from a hotel while visiting North Korea in January.
He later appeared on state TV apparently confessing and saying a church group had asked him to bring back a "trophy" from his trip.
North Korea sometimes uses the detention of foreigners as a means of exerting pressure on its adversaries.
Warmbier, 21 and a student at the University of Virginia, was arrested on 2 January as he was trying to leave North Korea and accused of committing "hostile acts".
The KCNA state news agency said at the time he had gone to North Korea with the intention "to destroy the country's unity" and that he had been "manipulated" by the US government.
'Worst mistake'
At the end of February, at a tearful press conference in Pyongyang, he said he had "committed the crime of taking down a political slogan from the staff holding area of the Yanggakdo International Hotel".
"The aim of my task was to harm the motivation and work ethic of the Korean people. This was a very foolish aim," he was quoted as saying.
He said it was the "worst mistake" of his life.
State media has not yet reported his sentencing.
It comes at a time of particularly high tension between North Korea and the rest of the world.
The North recently carried out its fourth nuclear test and launched a satellite into space, which was seen as a covert test of banned missile technology. Both acts broke existing UN sanctions and prompted the UN to introduce even tougher measures.
Earlier this week, North Korean leader Kim Jong-un said the country would soon conduct tests of nuclear warheads.
However despite the claims and fiery rhetoric, analysts still doubt whether the North has the capacity to carry out a nuclear attack.