US polls: Trump, Sanders win New Hampshire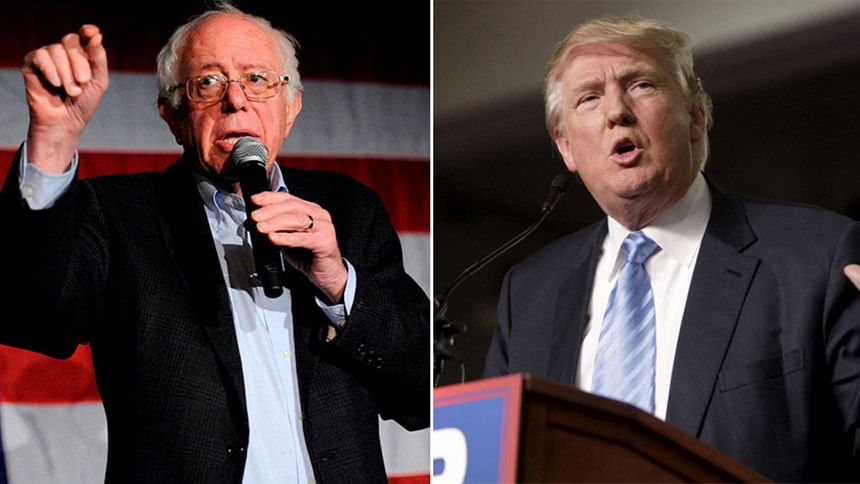 Republican Donald Trump and Democrat Bernie Sanders have shaken up the US presidential race with decisive victories in the New Hampshire primary.
Vermont Senator Bernie Sanders, who beat mainstream Democratic candidate Hillary Clinton, said his victory showed people wanted "real change".
Trump and Senator Sanders have both made rallying against mainstream politics central to their campaigns.
State officials had forecast a historic turnout in the New Hampshire vote.
Ohio Governor John Kasich came second in the Republican vote, leading the rest of the Republican pack in a tight race with former Florida Governor Jeb Bush, Texas Senator Ted Cruz and Florida Senator Marco Rubio all vying for third place.
New Hampshire is the second state to vote following last week's Iowa caucuses won by Cruz for the Republicans and Clinton for the Democrats.
Clinton has congratulated Sanders, but said in a speech she would continue to fight for every vote in the campaign.
The primary gives momentum to the winners heading on to the next contests in South Carolina and Nevada.
 Trump's lead in New Hampshire is the first time the New York businessman - who has never held elected office - has translated his widespread support in opinion polls into actual votes.
Announcing his victory, the billionaire congratulated Democratic winner  Sanders but sideswiped that "he wants to give away our country, folks!"
With 50% of the votes counted, Senator Sanders has a double-digit percentage lead over Clinton. He had led in the polls in New Hampshire for months, but it is still a significant victory for the self-described Democratic socialist candidate.
"What the people here have said is that given the enormous crises facing our country, it is just too late for the same old, same old establishment politics and establishment economics,"  Sanders said in an address to his supporters in his victory speech late on Tuesday.
The 74-year-old has vowed to eradicate income inequality, provide free university education and break up big banks.
What are primaries and caucuses?
--They are the first contests in the US presidential race in which states decide who becomes each party's official candidate
--Caucuses are a series of private meetings in which voters express support for candidates with a show of hands. Usually only registered voters, affiliated with a specific party, can take part
--Primaries are run by state governments and voting is done in a secret ballot
--Each primary or caucus earns delegates for the winning candidates who then vote for them at party conventions in July in which the final candidates are formally confirmed