UN remembers 5 Bangladeshi peacekeepers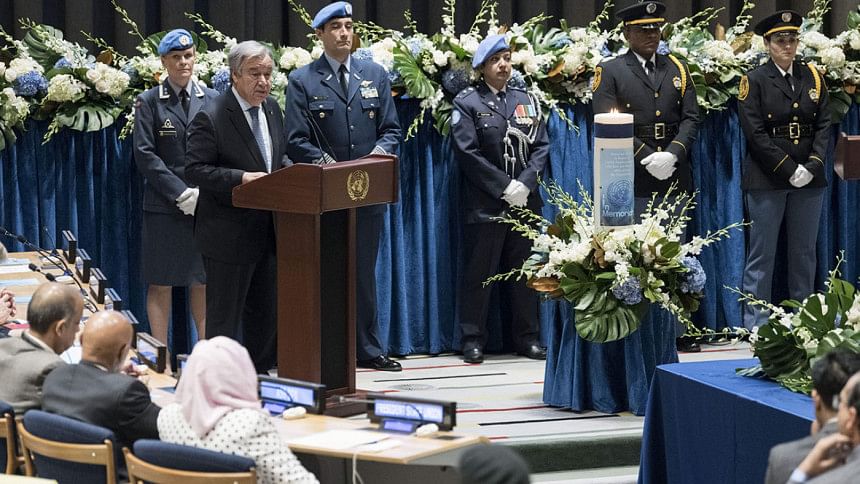 The United Nations has remembered the sacrifice of 140 personnel, including five Bangladeshi peacekeepers, who lost their lives in the line of duty between July 2016 and December 2017.
UN Secretary-General António Guterres addressed the annual memorial service ceremony for the fallen staffs held at UN Headquarters in New York on Thursday (April 19 local time).
Of the 140 killed, 123 were military personnel, three police, and 14 civilians. They had wentfrom 42 nations, including Bangladesh.
Permanent Representative of Bangladesh to the UN, Ambassador Masud Bin Momen, and other high civil and defence officials also attended the ceremony, said a press release of Permanent Mission of Bangladesh to the UN.
"I wish we never had to mourn the loss of colleagues," the UN Secretary-General said,adding: "But the sad fact is that people do lose their lives while serving the United Nations, and it is our duty to honour their service and sacrifice."
The deceased Bangladeshi peacekeepers who were members of the Bangladesh Army are:  Sepoy Abul Bashar (killed on Oct 13 in 2016 in Mali), SainikAbdur Rahim (killed on January 5, 2017 in Central African Republic) and three others –Sepoy Monwar Hossain, Lance Corporal ZaklirulAlam Sarkar and Sergeant Altaf Hossainwere killed on September 24 in 2017 at Mali mission.
Guterres noted that over the past years, respect for those wearing UN symbols has diminished, making them a target of those who oppose peace "despite all our efforts to ensure the safety and security of our personnel."