Death of 3 peacekeepers: Identify the perpetrators
Guterres asks Central African authorities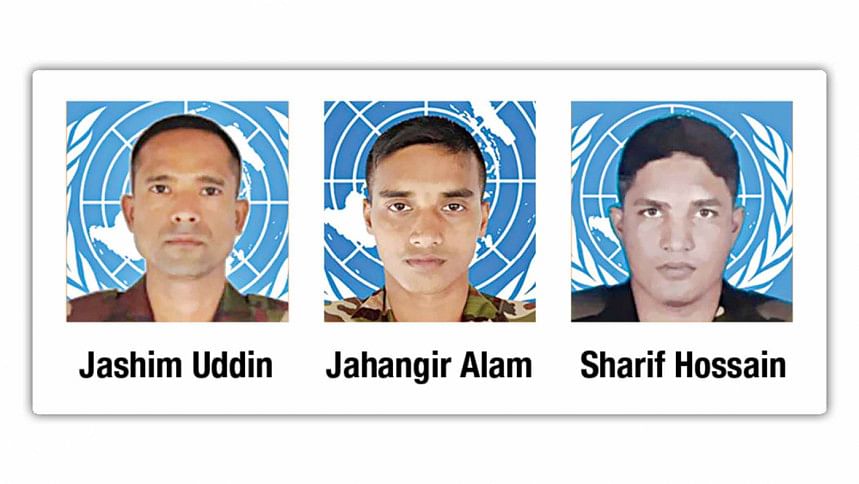 UN Secretary-General Antonio Guterres has called on the Central African authorities to spare no effort in identifying the perpetrators who attacked the Bangladeshi peacekeepers and bring them to justice swiftly.
The attacks targeting UN peacekeepers may constitute war crimes under international law, said a spokesperson for the secretary-general in a briefing in New York yesterday.
The UN chief said this after three peacekeepers from Bangladesh were killed following the explosion of an IED in the Central African Republic on October 3.
The deceased are Jahangir Alam, Jashim Uddin and Sharif Hossain. Major Ashraful Haque, who is injured, is receiving treatment, said spokesperson Stéphane Dujarric.
Guterres expressed his deepest condolences to the families of the fallen peacekeepers and to the government and people of Bangladesh. He wished the speedy recovery of the injured.
In a separate statement, Gwyn Lewis, UN resident coordinator, said, "Today and every day we stand in solidarity with the women and men who stake their lives and well-being in service of peace, and [we] honour their sacrifice."
Close to 7,000 Bangladeshis currently serve in the UN missions in 14 countries. So far, 1,83,378 others have completed their 54 missions in different capacities in 43 countries once or multiple times.
Bangladesh was the leading troops-contributing country to UN peacekeeping missions in 2011, 2014 and 2015.