Trump hammers claim of fraud in new ad
Donald Trump's newest campaign ad begins with a warning: "In Hillary Clinton's America, the system stays rigged against Americans."
The commercial, which aired Friday as part of his $5 million swing state ad buy, harkens back to a claim Trump has been hammering for weeks — that the general election is rigged against him. The questionable claim looks to mobilize Republicans, with the all-important start of early voting in some states just weeks away.
The presidential nominee has voiced strong support for North Carolina's stringent voter ID law — struck down as discriminatory, but to be appealed — saying without it, voters will cast ballots "15 times" for Democrat Hillary Clinton. He also launched a new effort on his website last week seeking volunteers to root out fraud at the polls.
Some things to know about voting fraud:
WHAT ARE VOTER ID LAWS?
That ID law Trump referred to had involved a broader package of restrictions — among them, reducing early in-person voting, which is popular among blacks in particular. At the same time, it exempted tough photo ID requirements for early mail-in voters, who were more likely to be white and Republican.
In all, 17 states were set to have restrictions for the first time in a presidential election, pending final appeals, such as voter ID or cuts to voter registration or early in-person voting. Among them: the battlegrounds of North Carolina, Virginia, Ohio, Wisconsin and Georgia. Florida and Iowa had restrictions in place since 2012.
The potential impact is significant: Barack Obama's strength among early voters in 2012 helped him capture Florida and Iowa despite losing the election-day vote in those states, according to voting data compiled by The Associated Press. He narrowly lost North Carolina by 92,000 votes; in 2008, Obama had won all three states plus Colorado, thanks to early voters.
IS VOTING FRAUD A PROBLEM?
Not the type that Trump is referring to.
While fraud can occur, the number of cases is very small and the type that voter IDs are designed to prevent — voter impersonation at the ballot box — is virtually non-existent.
News21, a reporting project affiliated with Arizona State University, in 2012 found 2,068 cases of election fraud nationwide since 2000. Of those, just 10 involved voter impersonation — or one out of every 15 million prospective voters. More common was absentee mail-in ballot fraud, with 491 cases. None affected the outcome of an election.
Lorraine Minnite, a political science professor at Rutgers University-Camden, says voter impersonation fraud is rare because it's difficult to do on a large-enough scale to tip an election.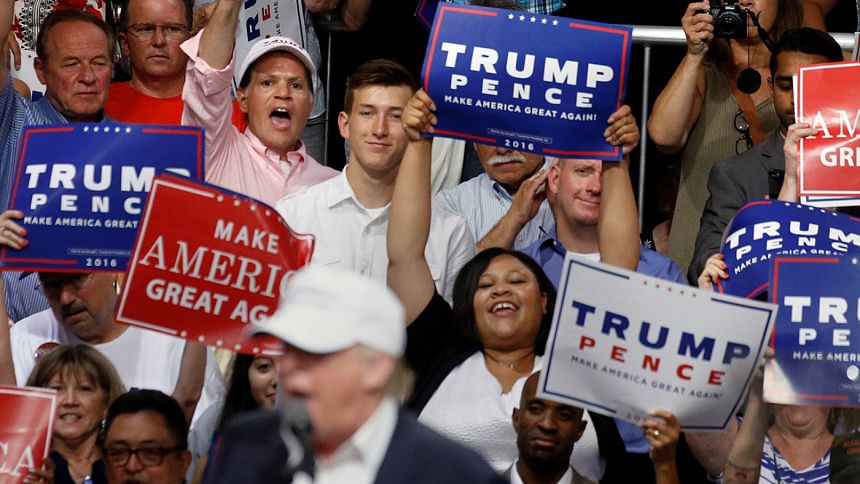 "It's so irrational to even try just for one or two more votes," said Minnite, author of "The Myth of Voter Fraud."
In court cases that temporarily invalidated some of the ID laws, including North Carolina, Wisconsin and North Dakota, election officials could barely cite a case in which a person was charged with in-person voting fraud.
But Trump continued his warnings, calling last week for "election observers" on his official website to "stop Crooked Hillary from rigging this election." Volunteers who sign up are directed to a donation page.
A new Pew Research Center report released Friday found that 38 percent of registered voters who support Trump are very confident their vote will be accurately counted. This view stands in contrast to the 2004 and 2008 elections, when substantial majorities of voters who backed Republicans George W. Bush and John McCain expressed confidence in the count of their votes.
The survey found that 67 percent of Clinton supporters have a high degree of confidence that their vote will be counted accurately.
WHAT CAN WE EXPECT WITH EARLY VOTING?
North Carolina is the first to kick off early voting on Sept. 9, when its residents may request and submit mail-in absentee ballots through election day for any reason. It will be followed by Georgia, Wisconsin, Virginia and Iowa.
A total of 37 states also offer in-person early voting, typically in mid to late October.
Over the years, mail-in early voters usually have been older, better educated and more likely white, while in-person early voters were often young people and black Americans, according to University of Florida professor Michael McDonald, an expert in election statistics.
As a result, early voting will likely be concentrated heavily among registered Republicans initially before turning in the Democrats' favor in late October to early November. Those initial numbers will offer clues as to the depth of Trump's support among his biggest partisans, who vote right away, McDonald said. Meanwhile, in North Carolina, a potential wild card is its voter ID law. An appeals court recently invalidated restrictions that cut in person early voting from 17 to 10 days, but the governor has vowed to appeal, creating uncertainty about the extent of early voting this fall.
Voter mobilization is a key part of Clinton's strategy to winning North Carolina, as it was for Obama.
WILL RULINGS INVALIDATING VOTER ID INCREASE THE DEMOCRATIC VOTE?
Not necessarily. More likely, it will prevent a net loss of would-be Democratic voters — the black Americans, young people and the poor, whom recent rulings said would be less able to vote if newly passed state voter ID laws remained.
Based on rulings as they stand now, voters in North Carolina and North Dakota are ultimately unlikely to face new ID requirements, while those in Wisconsin and Texas will in some form.
A number of factors can influence voter turnout, beyond ID laws, such as voter excitement for a candidate, as was seen in 2008 and 2012, when voters rushed to the polls to help elect the first-ever black president, said Richard Hasen, a law professor at the University of California at Irvine.