Trump and Clinton win New York primaries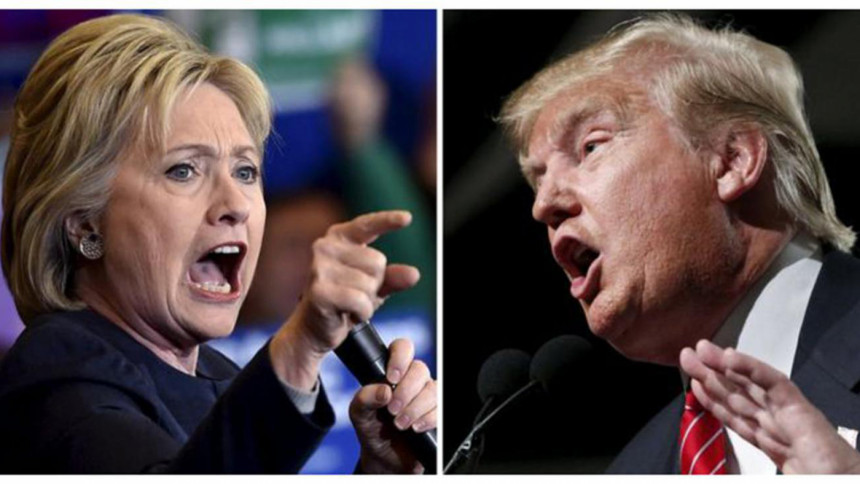 Donald Trump has won the Republican presidential primary in New York while Hillary Clinton has triumphed in the Democratic race.
With the majority of votes counted, Trump looks set to extend his lead over rivals Ted Cruz and John Kasich.
Meanwhile Democratic hopeful Clinton, a former senator for New York, is on course for a resounding victory over Brooklyn-born Bernie Sanders.
Wins will put Clinton and Trump closer to securing their nominations.
With almost 95% of the results in, Trump is leading with just over 60% of the vote while  Clinton has just under 58%.
US networks projected that Trump had won in his home state barely seconds after the polls closed at 21:00 EDT (01:00 GMT).
Speaking at Trump Tower in Manhattan, he said: "I have to say to the people that know me the best - the people of New York - when they give us this kind of a vote it's just incredible."
He said he was going to get more delegates than "anyone projected even in their wildest imaginations".
The big question is whether the billionaire businessman will make a clean sweep of all 95 Republican delegates at stake in New York by earning the majority of votes.
This would reduce the chances of a contested nomination at the Republican party convention in July.
Claiming her win, Clinton told supporters her campaign for the nomination was "in the home stretch and victory is in sight".
"New Yorkers, you've always had my back and I've always tried to have yours," she said. "Today together we did it again and I am deeply, deeply grateful."
It has been a fierce campaign in the state, with the leading candidates using their local ties to attract voters.
The Democratic campaign has turned increasingly negative, with Clinton and Sanders trading barbs about their qualifications.
But following the latest result in the race for the Democratic nomination, Clinton said there was "much more that unites us than divides us".
The two front-runners for both parties cast their own votes in New York on Tuesday.  Trump cast his ballot at Central Synagogue in Manhattan in the morning, while Clinton voted with her husband, former President Bill Clinton, near their home in the suburb of Chappaqua.
They are the last presidential candidates to vote in the primary contest.  Sanders voted in his home state of Vermont in March, while Republican challengers Cruz and  Kasich went to the polls in Texas and Ohio.
The voting in New York was marred by widespread complaints of irregularities, including more than 125,000 people missing from New York City voter rolls. The city's chief auditing officer, Scott Stringer, ordered a review of the city's Board of Elections (BOE) over what he called "chaotic and inefficient" organisation.
 Sanders, who has vowed to fight on in the nomination process, spent Tuesday in Pennsylvania before heading home to Vermont for a day off the campaign trail.
Republican hopeful  Cruz, whose criticism of "New York values" attracted scorn in the state, had also moved onto Pennsylvania and dismissed the New York result as nothing more than "a politician winning his home state", according to the Associated Press.