Trudeau presses Suu Kyi on violence against Rohingyas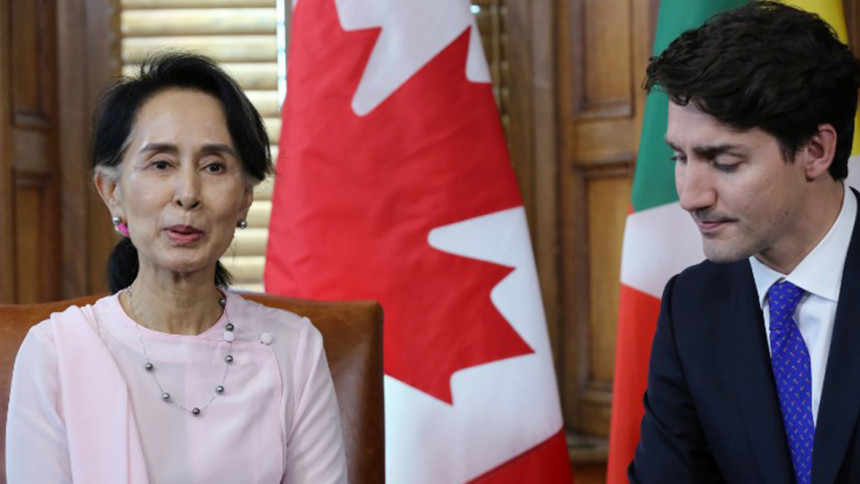 Talking to Myanmar's Aung San Suu Kyi yesterday, Canadian Prime Minister Justin Trudeau has expressed "deep concerns" over treatment of Muslims and other ethnic minorities in her country.
The phone call followed a chorus of cries for Canada to revoke the honorary citizenship it granted Suu Kyi in 2007, reports CBCnews.
The Canadian Prime Minister's Office was silent on that point in its summary of the call, issued shortly after Trudeau took questions from the media at a cabinet retreat in St. John's, NL.
According to the summary, Trudeau stressed to Suu Kyi the urgent need for Myanmar's military and civilian leaders to take a strong stand in ending the violence and promote the protection of civilians and access for the United Nations and humanitarian groups, reports CBCnews.
Trudeau also underscored "the particular importance" of Suu Kyi's role as "a moral and political leader."
The two discussed "the need to defend and protect the rights of all minorities" and Trudeau offered Canada's support to help build "a peaceful and stable society in Myanmar," the summary said.
Up to 400,000 Rohingya have fled Myanmar for Bangladesh since August 25, with thousands more arriving every day, the Unicef said today.
Suu Kyi, a Nobel Peace Prize laureate, has been widely criticized in recent weeks for not doing more to protect them.
She says her government is fighting a militant insurgency.