Dhaka to deal with Rohingya issue diplomatically: Inu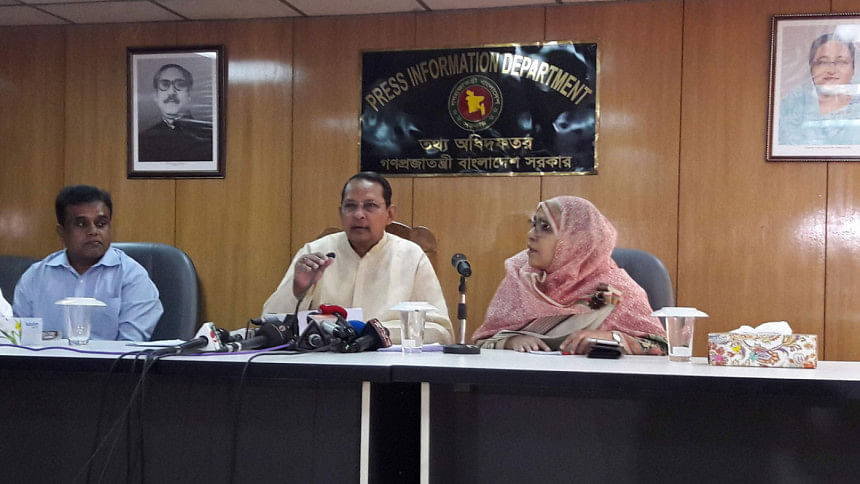 Information Minister Hasanul Huq Inu today said Bangladesh will deal with Myanmar through diplomatic channels to put a peaceful end to the Rohingya crisis.
"Rohingya crisis is an ethnic problem. It's not a religious issue," Inu said while addressing a press conference in Dhaka clearing the government stance over the ongoing crisis.
"Peaceful deportation and rehabilitation of Rohingya people on their own land is only the solution to put an end to the crisis and Bangladesh wants it," said Inu, also president of Jatiya Samajtantrik Dal (JSD-Inu).
The press conference was held amid the influx of Rohingya people into Bangladesh who have fleeing violence in Myanmar since August 25 following insurgent attacks in Rakhine state.
Inu said the government has taken many initiatives to resolve the Rohingya crisis on humanitarian aspect.
As part of the initiatives, the government is distributing relief materials at 14 different places in Cox's Bazar. It has also allocated 2,000 acre of lands for constructing makeshift shelter for the Rohingya refugees, he added.
Expressing strong condemnation, Inu said Myanmar government is carrying out "genocide" on the Rohingya people in a bid to remove them from their own land.
Claiming that the Rohingya issue has created a volatile situation across the South and South-East Asia, Inu said, "We have taken initiatives to reach a peaceful solution so that Rohingyas can go back to their own land and live peacefully."