Rescuers let 31 refugees drown in Aegean Sea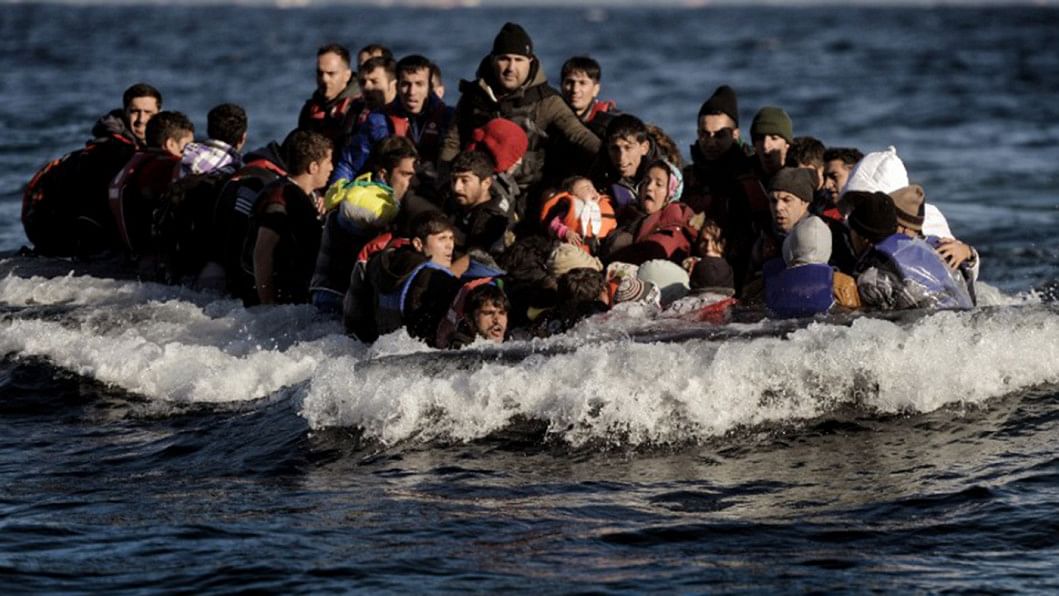 A team of rescue workers watched as at least 31 refugees drowned in the Aegean Sea fearing being charged with people smuggling.
Rescue workers led by Australian national Simon Lewis were stationed nearby in international waters near the Greek island of Lesbos when they heard reports of a refugee boat nearby, reports The Independent.
Since the boat carrying the refugees was sailing on Turkish waters while starting to sink, the crew was not in a position to help, leaving 31 people dead.
Had the vessel made it into international waters before sinking then rescue workers could have approached them and helped.
"That's the nature of lifesaving, we put ourselves in that situation to help prevent people from drowning and yet because it's across the way in international water you're restricted and can't actually do anything about it," Lewis told Australia's ABC News reports The Independent.
Maritime law states that refugees must cross borders under their own steam and that anybody assisting them in doing so by piloting or towing vessels could be charged with people smuggling.
Due to these rules, rescue workers usually assess refugee boats from a distance while waiting for them to cross maritime borders unaided. 
Should the initial assessment reveal that the boat is taking on water or presenting a threat to the refugees' lives, then lifesavers would not delay intervention.
Lewis described reports in Australia that his team had simply stood by and watched as refugees a boatload died in front of them as having been "hyped up".
Speaking to The Independent, he said: "We didn't actually have 31 people drown right in front of us…Their boat was either going to come towards us or come towards [the Greek island village] Skala."
"The [people smuggling] rules may still apply but what lifesaver would not [intervene]?," he added.
Lewis also spoke of a separate incident in which he thought a desperate refugee mother was considering throwing her baby into the sea in the hope rescuers would have no choice but to dive in and save its life.
"This was an inflatable boat crammed with people and we were kind of near the boat as we intercepted it. The mother turned and went to pass us her child and we were like 'oh f***' - because we knew what she was doing."
"So we pulled away and she was just like 'why don't you want my child?'… the look on her face; she stared me in the eye like we'd just broken her heart," he added.
"We realised exactly what she was about to do so we just pulled away. We had to make that snap call knowing that she was about to drop the kid in the ocean and push it towards us," Lewis said.
Had the mother dropped the child into the sea, the risk to the child and any rescue worker who went in after it would have been immense. 
Thankfully the sinking vessel was subsequently escorted to shore by Lewis' team with no loss of life.
Lewis, who went to Greece as part of a joint venture between the Greek Lifeguards and the International Surf Lifesaving Association, said his team were able to save the lives of 517 people in just 10 days. He estimates 2,000 refugees passed through the waters in that time.
He also revealed that he had been inspired to help refugees after seeing harrowing photographs of Syrian toddler Aylan Kurdi washed up on a Turkish beach last year.
"I didn't go there for any political reason," he said. "I didn't go there for anything other than I'm a life guard and I saw the image of the infant that drowned and I realised that I've got this unique set of work skills, so I asked myself 'why am I not going to this crisis?'."
"I couldn't answer that question but in a way I just felt I had no excuse. So I just went 'yep, I'm going – I'm going to go there and I'm going to try and help', so I just volunteered."
Upon returning to Australia, Lewis ran a crowd-funding campaign which raised A$22,000 to pay for a rescue jet ski which Greek lifeguards will use to help them reach stricken refugees more speedily.