Queen overheard calling Chinese officials 'very rude'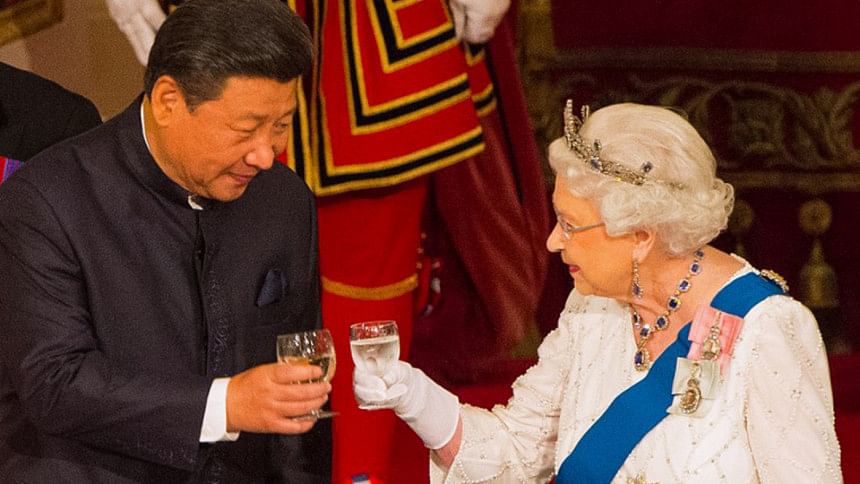 The Queen has been caught on camera saying Chinese officials were "very rude" during last year's state visit by President Xi Jinping.
She was discussing their treatment of Britain's ambassador to China with a senior police officer at a Buckingham Palace garden party on Wednesday.
The invitation to President Xi was part of the government's policy of courting Chinese investment.
Buckingham Palace said the Chinese state visit was "extremely successful".
It came after David Cameron was overheard earlier in the day commenting that Nigeria and Afghanistan were "fantastically corrupt".
The Queen's remarks were caught on tape on Tuesday as she was introduced to Metropolitan Police Commander Lucy D'Orsi, who the monarch is told had overseen security during President Xi's visit to the UK in October.
She is heard to say: "Oh, bad luck."
'EXTRAORDINARY'
An official went on to tell the Queen that Commander D'Orsi had been "seriously, seriously undermined by the Chinese, but she managed to hold her own and remain in command".
The Queen asked: "They were very rude to the ambassador weren't they?"
Commander D'Orsi replied: "They were", and described a "very rude and very undiplomatic" incident when Chinese officials walked out of a meeting, which the Queen said was "extraordinary".
A Buckingham Palace spokesperson later said: "We do not comment on the Queen's private conversations.
"However, the Chinese State Visit was extremely successful and all parties worked closely to ensure it proceeded smoothly."
At the time, the Queen hailed it as a "milestone" visit and declared Anglo-Chinese ties were being taken to "ambitious" new heights.
President Xi Jinping and his wife Peng Liyuan were honoured with a state banquet at Buckingham Palace, hosted by the Queen.