PM seeks more Chinese investment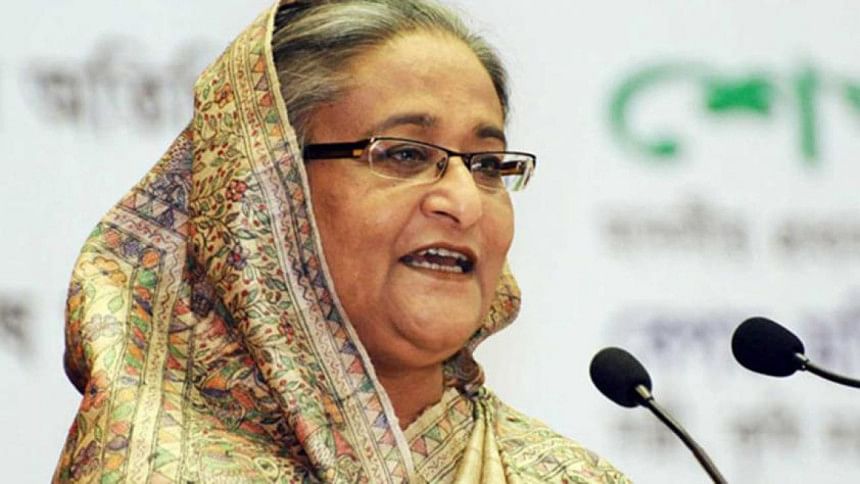 Prime Minister Sheikh Hasina today sought more Chinese investment for Bangladesh's various sectors to accelerate the country's development efforts.
The PM made the call when Assistant Minister for Foreign Affairs Kong Xuanyou met with her at the Prime Minister's Office (PMO).
Prime Minister's Press Secretary Ihsanul Karim briefed reporters after the meeting.
Terming the existing Bangladesh-China relations as 'wonderful', Hasina thanked the Chinese assistant minister for his country's continued support in the development efforts of Bangladesh.
Referring to the Chinese president's upcoming visit to Bangladesh, she said her government is waiting eagerly to receive Xi Jinping.
Calling Bangladesh as China's frontline development partner, Kong Xuanyou said he had fruitful conversations with the Bangladesh foreign secretary.
He said his country would speed up the implementation of the major agreements and MoUs signed with Bangladesh government through discussions.
He also assured the PM that China would cooperate with Bangladesh to help attain the Sustainable Development Goals (SDGs).
Lauding the current socioeconomic development of Bangladesh, the Chinese assistant minister termed  it 'remarkable' to achieve 7.05 percent GDP growth in the current fiscal year despite the sluggish world economy.
Appreciating the dynamic and able leadership of Sheikh Hasina, Kong Xuanyou hoped Bangladesh would be able to materialise its Vision 2021 and then the Vision 2041.
Terming Bangladesh an important country in South Asia, the Chinese Assistant Minister said China also appreciates Bangladesh's policy towards 'One China'.
Hasina said she was glad to know there were fruitful discussions between the Chinese assistant minister and the Bangladesh foreign secretary hoping that the existing Bangladesh-China cooperation will be increased in the near future.
Mentioning the ongoing efforts for establishing countrywide 100 economic zones, she said land is also being allocated for the Chinese economic zone.
The prime minister also said these economic zones would boost production alongside creating more jobs.
Turning to the regional cooperation initiative like BCIM-EC, she said this would help increase trade and commerce and it would open up a new door in the region.
Reiterating her government's vow to further develop the country, Hasina said her government has been working to ensuring welfare for the country's poor and fulfilling basic needs of people including their food, education, shelter. "We're working tirelessly to this end,"
PM's International Affairs Adviser Dr Gowher Rizvi, PMO Secretary Suraiya Begum, Foreign Secretary Shahidul Haque, Chinese Ambassador to Dhaka Ma Mingqiang and Bangladesh Ambassador to China M Fazlul Karim were also present there.