NKorea allows SKorea reporters to visit nuclear site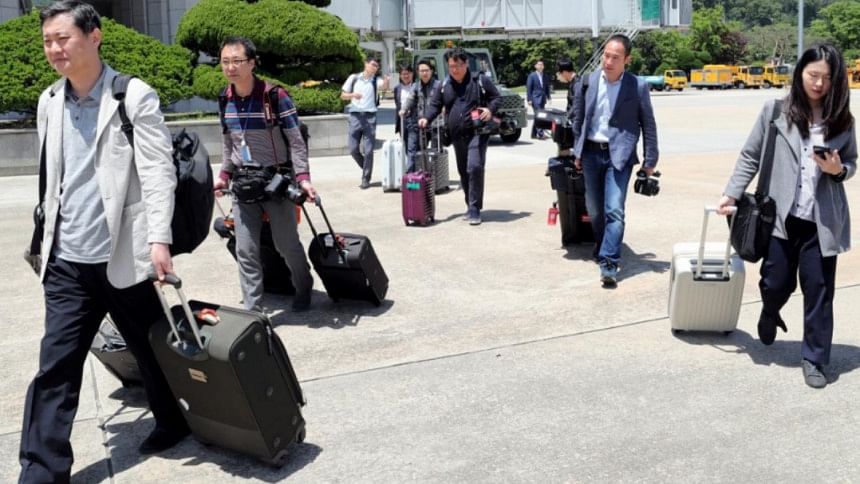 North Korea has accepted a list of South Korean reporters to visit their nuclear testing site after a days-long tug of war with Seoul, South Korea's unification ministry said on Wednesday.
North Korea invited a handful of media from a number of countries to witness the dismantling of the Punggye-ri testing site to uphold its pledge to discontinue nuclear tests. However, it had declined to take the list of reporters from South Korea after calling off planned inter-Korean talks in protest against US-South Korean air combat drills.
The invitation to witness the dismantling of the Punggye-ri site was seen as an indication that North Korea's unexpected offer to end its nuclear tests still held despite renewed diplomatic uncertainty.
Reporters from news outlets from the other countries arrived in the North Korean port city of Wonsan on Tuesday, where they are waiting to be guided to the testing site for the event, set for between Wednesday and Friday.
However, South Korean journalists returned home overnight after failing to obtain a visa from Pyongyang in Beijing.
The unification ministry said late on Tuesday the South Korean reporters could fly direct to Wonsan if the North accepted them.
"We delivered a list of eight reporters from two outlets to the North today, and the North accepted it," the ministry said in a statement on Wednesday.
The ministry did not say when the reporters would leave for the North but said it would arrange support as quickly as possible.
Invited members of foreign media said North Korean authorities told them the weather was "too bad for travel" to the Punggye-ri site but they may in fact be awaiting the South Korean reporters, citing a forecast that shows improving weather.