Khashoggi murder 'premeditated'
Admits KSA official; US lawmakers seek ban on arms sale to Riyadh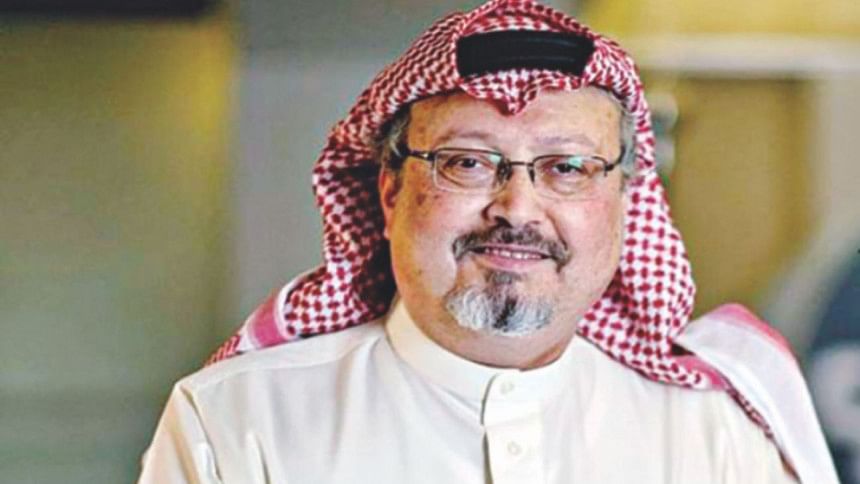 Saudi Arabia's public prosecutor yesterday said the murder of journalist Jamal Khashoggi in the kingdom's Istanbul consulate was premeditated, reversing previous official statements that the killing was unintended.
The death of Khashoggi, a Washington Post columnist and critic of de facto Saudi ruler Crown Prince Mohammed bin Salman, has sparked global outrage and mushroomed into a crisis for the world's top oil exporter and strategic ally of the West.
The Saudi disclosure came after CIA director Gina Haspel heard an audio recording of the killing during a fact-finding visit to Turkey this week. The spy chief was due to brief President Donald Trump about Khashoggi yesterday.
Saudi officials initially denied having anything to do with Khashoggi's disappearance after he entered the consulate on Oct 2, before changing the official account to say an internal investigation suggested he was accidentally killed in a botched operation to return him to the kingdom.
Yesterday, Saudi state TV quoted the Saudi public prosecutor as saying the killing was premeditated, and that prosecutors were interrogating suspects on the basis of information provided by a joint Saudi-Turkish task force.
"Information from the Turkish side affirms that the suspects in Khashoggi's case premeditated their crime," said the statement carried by state TV.
Turkish officials suspect Khashoggi, 59, was killed inside the consulate by Saudi agents and his body cut up. Turkish sources say authorities have an audio recording purportedly documenting the murder.
Pro-government Turkish newspaper Yeni Safak, citing the audio, has said his torturers cut off his fingers during an interrogation and later beheaded him.
The CIA's Haspel heard an audio recording of Khashoggi's death during a trip to Turkey this week, sources told Reuters. It was not clear what could be heard on the tape. Representatives for the CIA and Turkish intelligence declined to comment.
It was the first indication Ankara has shared its key investigative evidence.
Trump, the kingdom's staunchest Western ally, was quoted by the Wall Street Journal as saying Prince Mohammed bore ultimate responsibility for the operation that led to Khashoggi's death.
How Western allies deal with Riyadh will hinge on the extent to which they believe responsibility for Khashoggi's death lies directly with the prince and the Saudi authorities.
Saudi Arabia has detained 18 people and dismissed five senior government officials as part of the investigation into Khashoggi's murder. Some were members of a 15-man hit team, many of them Saudi intelligence operatives, who flew into Istanbul hours before Khashoggi's death, Turkish security sources say.
Meanwhile, a bipartisan group of lawmakers introduced a bill in the US House of Representatives on Wednesday that would stop most US arms sales to Saudi Arabia in response to the death of Khashoggi, Representative James McGovern said on his web site.
The bill said that President Donald Trump could request exceptions to the arms sale ban if he also submitted a report on a US investigation into anyone involved in "the murder of journalist and United States permanent resident Jamal Khashoggi."
Khashoggi's eldest son, Salah, has flown out of Saudi Arabia, two sources close to the family said yesterday. The younger Khashoggi, who one source said holds dual US-Saudi citizenship and had thus far been under a travel ban, departed on Wednesday. The sources declined to disclose his destination or other details of his departure.