Khashoggi's WhatsApp messages offer clues to killing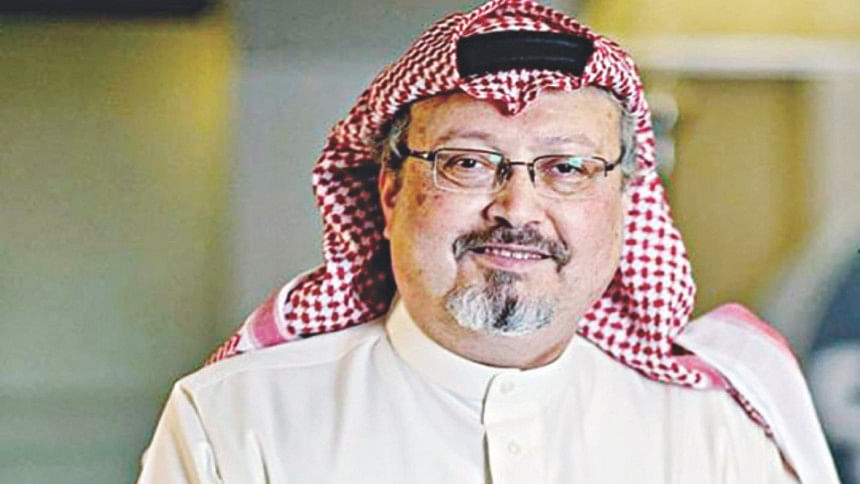 In his public writings, Jamal Khashoggi's criticism of Saudi Arabia and its Crown Prince Mohammed bin Salman was measured. In private however, the Washington Post columnist didn't hold back according to reports by CNN.
In more than 400 WhatsApp messages sent to a fellow Saudi exile in the year before he was killed at the Saudi consulate in Istanbul, Khashoggi describes bin Salman -- often referred to as MBS -- as a "beast," a "pac-man" who would devour all in his path, even his supporters.
CNN has been granted exclusive access to the correspondence between Khashoggi and Montreal-based activist Omar Abdulaziz. The messages shared by Abdulaziz, which include voice recordings, photos and videos, paint a picture of a man deeply troubled by what he regarded as the petulance of his kingdom's powerful young prince.
"The more victims he eats, the more he wants," says Khashoggi in one message sent in May, just after a group of Saudi activists had been rounded up. "I will not be surprised if the oppression will reach even those who are cheering him on."
The exchanges reveal a progression from talk to action -- the pair had begun planning an online youth movement that would hold the Saudi state to account. "[Jamal] believed that MBS is the issue, is the problem and he said this kid should be stopped," Abdulaziz said in an interview with CNN.
But in August, when he believed their conversations may have been intercepted by Saudi authorities, a sense of foreboding descends over Khashoggi. "God help us," he wrote.
Two months later, he was dead.
Abdulaziz on Sunday launched a lawsuit against an Israeli company that invented the software he believes was used to hack his phone.
"The hacking of my phone played a major role in what happened to Jamal, I am really sorry to say," Abdelaziz told CNN. "The guilt is killing me."
SIM cards and financial support
Abdulaziz began speaking out against the Saudi regime as a college student in Canada. His pointed criticisms of government policies drew the attention of the Saudi state, which canceled his university scholarship. Canada granted him asylum in 2014 and made him a permanent resident three years later.
In almost daily exchanges between October 2017 and August 2018, Khashoggi and Abdulaziz conceived plans to form an electronic army to engage young Saudis back home and debunk state propaganda on social media, leveraging Khashoggi's establishment profile and the 27-year-old Abdulaziz's 340,000-strong Twitter following.
The digital offensive, dubbed the "cyber bees," had emerged from earlier discussions about creating a portal for documenting human rights abuses in their homeland as well an initiative to produce short films for mobile distribution. "We have no parliament; we just have Twitter," said Abdulaziz, adding that Twitter is also the Saudi's government's strongest weapon. "Twitter is the only tool they're using to fight and to spread their rumors. We've been attacked, we've been insulted, we'd been threatened so many times, and we decided to do something."
The pair's scheme involved two key elements that Saudi Arabia might well have viewed as hostile acts. The first involved sending foreign SIM cards to dissidents back home so they could tweet without being traced. The second was money. According to Abdulaziz, Khashoggi pledged an initial $30,000 and promised to drum up support from rich donors under the radar.
In one exchange, dated May this year, Abdulaziz writes to Khashoggi. "I sent you some ideas about the electronic army. By email."
"Brilliant report," Khashoggi replies. "I will try to sort out the money. We have to do something."
A month later, another message sent by Abdulaziz confirms the first $5,000 transfer has arrived. Khashoggi replies with a thumbs up.
But in early August, he says he received word from Saudi Arabia that government officials were aware of the pair's online project. He passed the news to Khashoggi.
"How did they know?" asks Khashoggi in a message.
"There must have been a gap," says Abdulaziz.
Three minutes pass before Khashoggi writes back: "God help us."
The 'hack'
Abdulaziz first spoke publicly about his contact with Khashoggi last month after researchers at the University of Toronto's Citizen Lab reported his phone had been hacked by military-grade spyware.
According to Bill Marczak, a research fellow at the Citizen Lab, the software was the invention of an Israeli firm named NSO Group, and deployed at the behest of the Saudi Arabian government.
Marczak said at least two other Saudi dissidents have been targeted with NSO tools: an activist named Yahya Assiri and a staff member who had been involved in Amnesty International's work on Saudi Arabia.
Danna Ingleton, an Amnesty deputy program director, said its technology experts studied the staff member's phone and confirmed it was targeted with the spyware. Amnesty is currently exploring potential recourse against NSO Group and last week wrote a letter to the Israeli Ministry of Defense requesting it revoke NSO's export license, Ingleton said.
On Sunday, Abdulaziz's lawyers filed a lawsuit in Tel Aviv, alleging NSO broke international laws by selling its software to oppressive regimes, knowing it could be used to infringe human rights. "NSO should be held accountable in order to protect the lives of political dissidents, journalists and human rights activists," said the Jerusalem-based lawyer Alaa Mahajna, who is acting for Abdulaziz.
The lawsuit follows another filed in Israel and Cyprus by citizens in Mexico and Qatar.
In a statement, NSO Group says its technology helps governments fight crime, and is fully vetted and licensed by the Israeli government. "Our products have a long track record of assisting governments in preventing suicide bombers, stopping drug lords and sex traffickers, and helping safely return victims of kidnapping," the statement said.
"If there is suspicion of misuse, we investigate it and take the appropriate actions, including suspending or terminating a contract," it adds.
'Tyranny has no logic'
The fact Abdulaziz's phone contained spyware means Saudi officials would have been able to see the same 400 messages Abdulaziz exchanged with Khashoggi over the period.
The messages portray Khashoggi, a Saudi former establishment figure, becoming increasingly fearful for his country's fate as bin Salman consolidates his power.
"He loves force, oppression and needs to show them off," Khashoggi says of bin Salman, "but tyranny has no logic."
Such discussions could be considered treasonous in Saudi Arabia, a country with one of the world's worst records for free speech. In a sign Khashoggi and Abdulaziz were mindful of their security in exile, they flitted back and forth between phone calls, voice messages and chats on WhatsApp and other encrypted platforms like Telegram and Signal.
As Khashoggi speculated about bin Salman's future, Abdulaziz was already in the crown prince's sights and was about to receive a visit with a message right from the top.
'Message from MBS'
Last May, Abdulaziz said two Saudi government emissaries asked to meet with him in Montreal. He agreed and says he secretly recorded 10 hours of their conversations over the course of their five-day stay. He shared them with CNN.
Speaking in Arabic, the men, referred to only as Abdullah and Malek, tell Abdulaziz they have been sent on the orders of bin Salman himself, bypassing the usual channels like the Security Ministry. Bin Salman watches him on his Twitter feed, they say, and wants to offer him a job.
"We have come to you with a message from Mohammed bin Salman and his assurance to you," one of them says.
Abdelaziz's recorded messages are telling because Saudi Arabia has always claimed its crown prince had nothing to do with plots like the one leading to Khashoggi's death, blaming that incident on a failed rendition attempt, masterminded by advisers and subordinates from the security staff.
Chillingly, the men mention also Saud al Qathani, bin Salman's powerful social media enforcer -- fired and under investigation in Saudi Arabia amid claims by Turkey that he was the mastermind of Khashoggi's murder.
"If Saud al Qathani himself hears your name, he will immediately know and you can meet with Prince Mohammed directly," says one other man.
Then they recommend Abdulaziz visits the Saudi embassy to pick up some paperwork.
Poignantly, Abdelaziz says it was possibly Khashoggi's advice that saved his life.
"He told me not to go and only to meet them in public places."
On October 2, Khashoggi did the opposite. It was the last time he checked his WhatsApp messages.
Source: CNN