Mom fears worst after son's text from Orlando nightclub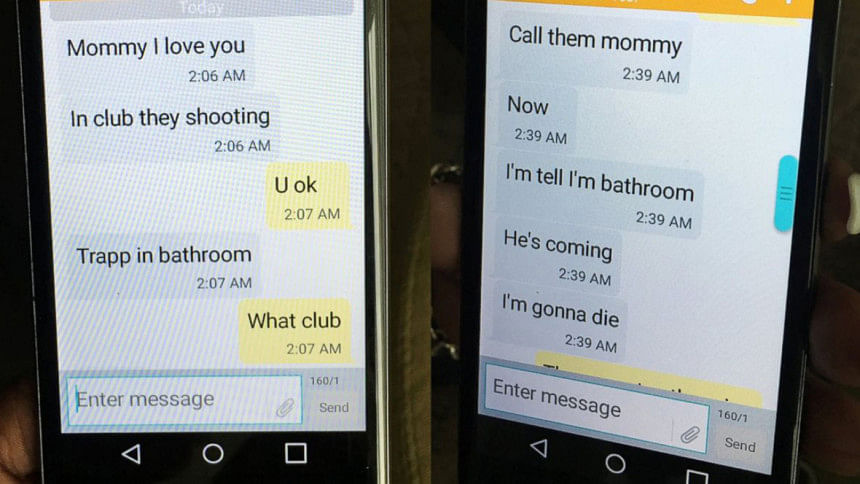 Quite a few hours have gone by since Mina Justice last heard from her 30-year-old son, Eddie, who was inside the Orlando nightclub when bullets rang out early this morning.
Around 2:06am, Eddie texted saying "Mommy I love you."
He texted her again, saying there was a shooter at the club. He told her to call police and said he was hiding in a bathroom with other partygoers, reports ABC News.
"He's coming," he wrote. "I'm gonna die."
"The next text said: 'He has us, and he's in here with us,'" Justice said in an interview with The Associated Press. "That was the last conversation."
She hasn't heard from her son since.
The early morning shooting at Pulse nightclub, which bills itself on its website as "Orlando's Premier Gay Night Club," has been described by officials as a "domestic terror incident."
At least 50 people are dead and 53 others are injured, authorities said, making it the worst mass shooting in US history and the deadliest terror attack on US soil since the events of September 11, 2001, reports ABC News.
Another mother, Christine Leinonen, had feared the worst earlier today after not hearing from her son Christopher, who was inside the club at the time of the shooting.
"Please, let's all try to get rid of the hatred and the violence," she said, sobbing, in an interview with ABC News' George Stephanopoulos.
Leinonen later told ABC News she received confirmation that her son is among the dead.
Investigators have identified the shooter as Omar Mateen of St Lucie County, Florida, a US-born citizen with Afghani parents. He called 911 to pledge his allegiance to the Islamic State group after the shooting began, according to law enforcement officials.
ISIS supporters have lauded the massacre online and an ISIS communique referred to the shooter as an ISIS "fighter," but there's no evidence that the jihadist group directed or had prior knowledge of the attack, terrorism observers told ABC News.
"At this time we're looking at all angles right now," an FBI official said. "We do have suggestions that that individual may have leanings towards that, that particular ideology. But right now we can't say definitively, so we're still running everything around."
The FBI also said Mateen "was organized and well-prepared," adding "he is not from this area." Mateen, whose parents were born in Afghanistan, was "on the radar" of US officials for some time, but was not the target of a specific investigation, law enforcement officials told ABC News.
A police officer working at the gay nightclub exchanged gunshots with Mateen outside of the building at 2:02 am.  
Mateen then entered the club, where there were about 320 people inside at the time, and opened fire, officials said at a news conference today, reports ABC News.
Mateen started taking hostages shortly thereafter. He was carrying an assault rifle, handgun and "some kind of device on him," officials said.
Word of the shooting spread just after 2 a.m., when Pulse Nightclub posted on its Facebook page, "Everyone get out of pulse and keep running." Orlando police followed up by tweeting, "Shooting at Pulse Nightclub on S Orange. Multiple injuries. Stay away from area."
The SWAT team went in to rescue the hostages at approximately 5 a.m., officials said. The shooter was killed in a gunfight with those officers, according to an FBI spokesman.
Then at 5:53am Orlando police tweeted, "The shooter inside the nightclub is dead," referring to Pulse Nightclub, which bills itself on its website as "Orlando's Premier Gay Night Club."
"This can be classified as a domestic terror incident," Orange County Sheriff Jerry Demings said the news conference today, reports ABC News.
Source: ABC News.