Model drags Hugh Hefner into sexual assault lawsuit against Cosby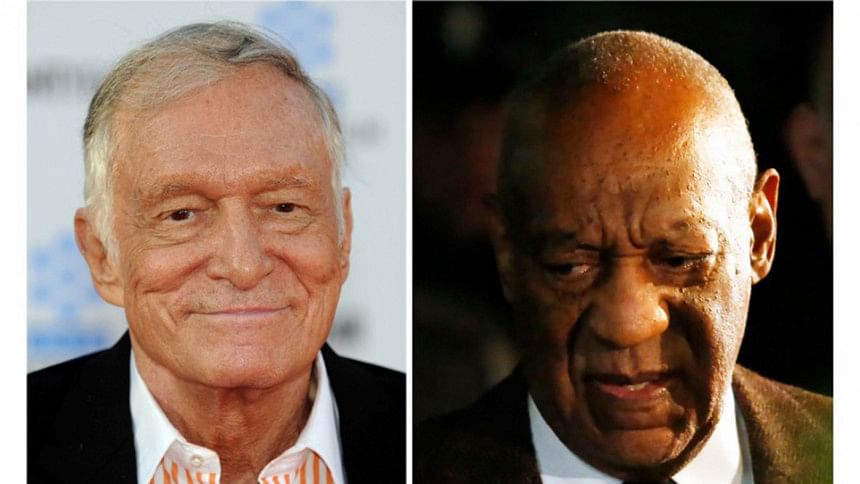 A woman who accused Bill Cosby of drugging and molesting her when she was 17 has filed a lawsuit against the comedian that also blames Playboy magazine founder Hugh Hefner, reports Huffington Post.
According to Huffington Post, Chloe Goins, now 26, claims that Cosby, 78, gave her an alcoholic drink spiked with a foreign substance that caused her to black out during a party at the Playboy Mansion in Los Angeles in 2008.
Hefner, now 90 and retired, lived at the mansion at the time, according to the suit. He's responsible because he served alcohol to Goins as a minor, introduced her to Cosby and "knew or should have known defendant Cosby had a propensity for intoxicating and or drugging young women and taking advantage of them sexually and against their will or while they were unconscious," the lawsuit says, reports Huffington Post.
Goins' lawsuit accuses Cosby of sexual battery, gender violence and intentional emotional distress. It accuses Hefner of conspiracy.  
Goins, according to the lawsuit, was "shocked, hurt and psychologically impacted and damaged as a result of this traumatic incident at such a young age and this psychological torment has caused her serious harm and life-long harm and injury," reports Huffington Post.
Neither Hefner nor Cosby representatives responded to HuffPost's inquiries, the portal reported.
Goins kept silent about the attack because a friend who brought her to the party discouraged her from reporting it, the lawsuit says. She says she came forward after other women aired similar accounts of predatory behavior by Cosby.
The suit says three other women claim Cosby drugged them at the Playboy Mansion in the 1970s. 
A former Playboy bunny, PJ Masten, said Cosby drugged and raped her in a hotel after they met at the now-defunct Playboy Club in Chicago in 1979, reports Huffington Post.
More than 50 women have accused Cosby of drugging and raping them, or making unwanted sexual contact, in incidents going back to the 1960s.
In most cases, criminal charges cannot be pursued because the statute of limitations has expired. In one exception, Cosby has been indicted on a charge of aggravated indecent assault in suburban Philadelphia, accused of drugging and molesting a woman who worked for Temple University's women's basketball team in 2004. 
Cosby is engulfed in multiple lawsuits and countersuits involving his accusers. Some of the women claim the entertainer defamed them with his denials.
Last year, Goins sued Cosby in federal court, but in February she dropped the charges without any explanation.  Goins withdrew the suit shortly after the Los Angeles prosecutors declined to press criminal charges against Cosby.
The Los Angeles Times reported that investigators found discrepancies in Goins' story, reports Huffington Post.
Goins initially told police the assault occurred at Playboy's Midsummer Night's Dream Party in August 2008, where she was a guest of a friend, who'd been invited. After the person she named as her friend told investigators he didn't know Goins and had never been to the Playboy Mansion, Goins changed her story, saying she was unsure when the party was, reports Huffington Post.
Goins' new lawsuit doesn't name the friend and says she is "unsure of the exact date of the visit" to the Playboy Mansion, reports Huffington Post.