Germany 'can cope with more migrants'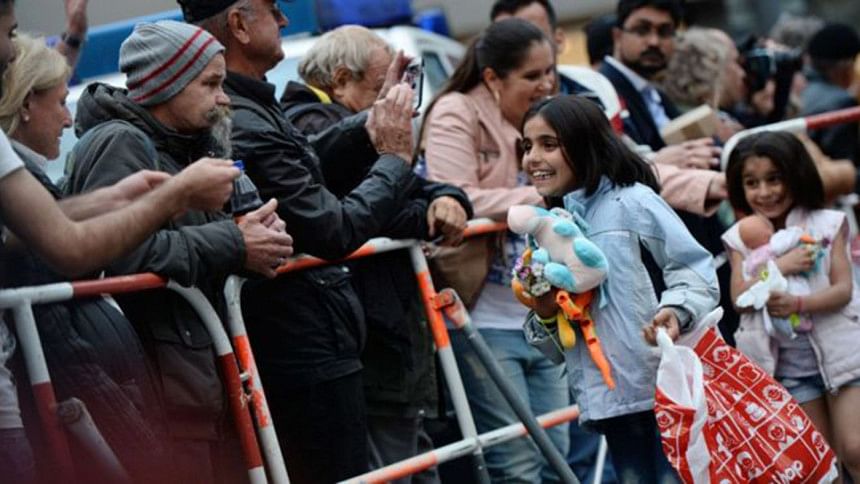 Germany can cope with at least 500,000 asylum seekers a year for several years, Vice Chancellor Sigmar Gabriel has said.
Germany expects more than 800,000 asylum-seekers in 2015 alone - four times the 2014 figure.
Gabriel reiterated that other EU states should share the burden.
The UN's refugee agency, UNHCR, says a record 7,000 Syrian refugees arrived in Macedonia alone on Monday and 30,000 migrants were on Greek islands.
The migrant influx has unsettled European governments and prompted diverse responses. Hungary's conservative leadership is building a border fence to try to keep them out, but German politicians have expressed pride in crowds who turned out to welcome new arrivals.
A Greek minister said on Monday that the island of Lesbos, which sits off the Turkish coast, was "on the verge of an explosion" due to a build-up of 20,000 migrants.
The government and UNHCR have brought in extra staff and ships to process the migrants.
Germany expects some 800,000 migrants this year, but Mr Gabriel said it was prepared for more in the longer term.
"I believe we could certainly deal with something in the order of a half a million for several years," he said in an interview with Germany's public ZDF television.
European Commission chief Jean-Claude Juncker is expected to unveil proposals on Wednesday to distribute 160,000 refugees among member states on a mandatory basis - a programme, the UN says, which is now the only solution.
"History will judge this as a defining moment for Europe," said the UN special representative on migration Peter Sutherland.
The crisis has divided the 28-nation bloc.
Hungary, along with the Czech Republic, Slovakia and Romania, has rejected the idea of quotas - saying they would be futile if the EU's outer borders cannot be defended.
The issue is a political hot potato in Hungary, with Defence Minister Csaba Hende stepping down on Monday in a surprise move thought to be connected with the construction of a border fence. It has so far proved ineffective.
Migrants there have also faced down authorities who have had to abandon attempts to prevent them moving north.
Meanwhile on Lesbos, a processing centre has been set up on an abandoned football ground to try to clear a backlog of stranded migrants.
Lesbos is attractive to migrants as it is part of the EU nation of Greece which sits just off non-EU Turkey.
But correspondents described utterly squalid conditions there, with makeshift camps springing up and migrants sheltering in doorways, alleyways, streets and squares in the main town of Mytiline.
On Monday, officials said that the processing centre on Lesbos would operate around the clock for five days to try to clear the backlog of migrants needing papers to move on.
On Monday night, about a dozen coastguards and riot police armed with batons struggled to control some 2,500 migrants surging towards one of three ships chartered to ferry people to Athens, reported AFP news agency.