Migrant crisis: EU to debate faster deportations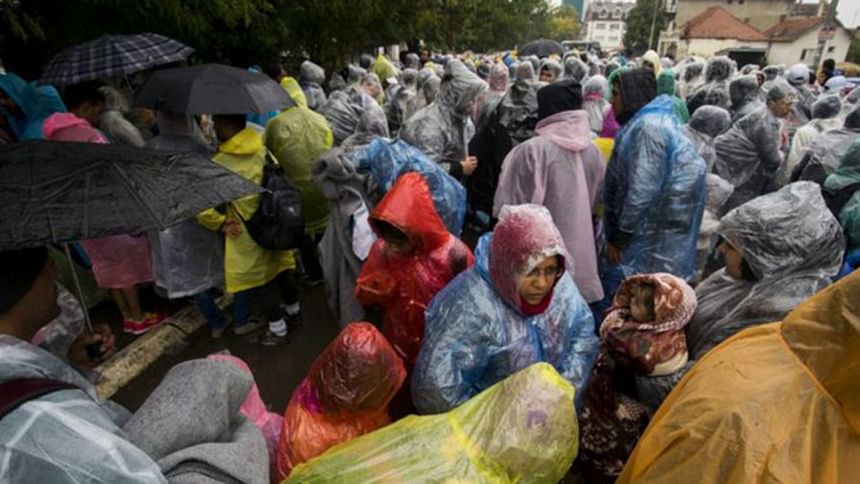 Plans to speed up the deportation of failed asylum seekers are to be discussed at a meeting of EU ministers in Luxembourg.
The home affairs ministers are expected to approve measures including the detention of those who may abscond before they can be expelled.
More pressure could also be brought to bear on many countries of origin to take people back.
It comes as EU states grapple with a huge influx of asylum seekers.
Europe migrant crisis - in depth
More than 600,000 people have arrived in the bloc so far this year, many fleeing war, poverty and persecution.
BBC Europe correspondent Chris Morris says that after months of talks on how to redistribute tens of thousands of migrants, the EU is turning its attention to keeping unwanted migrants out and sending home those whose asylum applications are rejected.
However, there is a limited amount that the EU as a whole can do as deportations are the responsibility of individual member states, he adds.
A draft text produced for Thursday's meeting, seen by Reuters news agency, reads: "The EU and its member states must do more in terms of return. Increased return rates should act as a deterrent to irregular migration."
EU foreign ministers along with delegations from Turkey, Jordan, Lebanon and the Balkan states will join the talks later on Thursday to discuss ways of stemming the flow of migrants.
Turkey, Jordan and Lebanon are home to tens of thousands of Syrian refugees, many of whom have made their way to Europe.
On Wednesday, French President Francois Hollande and German Chancellor Angela Merkel urged EU members to act together to tackle the migrant crisis.
In a rare joint address to the European Parliament in Strasbourg, they called for a revamped system for dealing with asylum claims.
Merkel has been criticised by some in Germany for openly welcoming more Syrian refugees.
Germany has taken in far more migrants than any other EU nation, while others have refused to sign up to a quota system.
Merkel told European MPs: "In the refugee crisis, we must not succumb to the temptation of falling back into national action. Quite the contrary, now we need more Europe.
"We must see them [migrants] as people, whether they have the prospect of remaining or not. Humanitarian standards of accommodation and claim processing must be upheld."
The EU launched a new operation in the southern Mediterranean on Wednesday in which naval vessels will be able to board, search, seize and divert vessels suspected of being used for people smuggling.
Until now, the EU has focused on surveillance and rescue operations.