Migrants resume journey towards Germany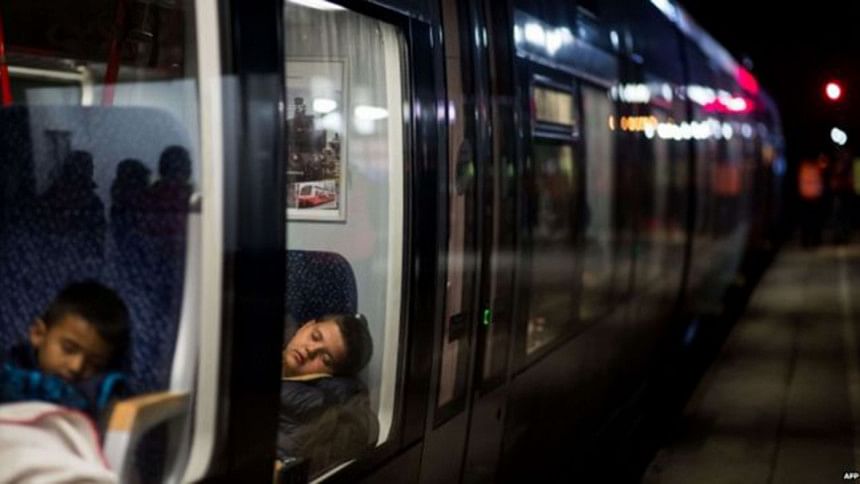 Hundreds of migrants have resumed their journey through Austria to Germany after Hungary's decision on Friday to let them through.
Several trains arrived at Munich station in the early hours of Sunday morning, many migrants travelling on to other German cities for processing.
Trains are taking hundreds more to Vienna from Austria's border with Hungary.
The Pope said every Catholic parish in Europe should host a migrant family.
Pope Francis said humanity must give help to those "fleeing death" and who are "victims of war and hunger and setting out on the path to a better life".
Speaking during the Angelus prayer, he appealed for "every parish, every religious community, every monastery, every sanctuary in Europe" to take in a family.
In Austria, two trains carrying 450 migrants have left Nickelsdorf near the Hungarian border bound for the Austrian capital, police say.
At least 50 private cars are also reported to have crossed into Hungary from Austria to bring migrants from Budapest as part of a private initiative dubbed "refugeeconvoy".
Throughout Saturday, by bus, train and on foot, migrants travelled to the Austrian border before moving on to Vienna, Munich and other German cities.
After days of confrontation and chaos, Hungary opened its borders with Austria and bussed thousands of migrants to the frontier. Many, frustrated at being prevented from boarding trains in Budapest, had begun to walk along a motorway towards Austria last week.
Up to 10,000 crossed the Austrian border over a 24- to 48-hour period, according to the Austrian authorities, who have said they do not plan to limit the numbers entering.
Around 1,000 spent Saturday night in the open at Nickelsdorf waiting to be processed, officials say.
The first arrivals in Munich were greeted with applause and children among the new arrivals were handed sweets. Since Saturday morning, 8,000 migrants have arrived at Munich station.
Many of the migrants had travelled north through the Balkans - Greece, Macedonia and Serbia - before arriving at Hungary's southern border.
Three-thousand arrived in Presevo on the Serbian side of the frontier with Macedonia on Saturday, most spending the night in tents or in the open, reports say.
Just inside Hungary, between 200 and 300 migrants broke out of a processing centre in Roszke, demanding to be allowed to proceed to Germany, Hungarian media reports.
'Still valid'
Both Germany and Hungary have said the current measures are aimed at averting a humanitarian crisis, and will not set a precedent.
The rules requiring refugees to apply for asylum in the first country they land in "are still valid, and we expect other European Union member states to stick to them", a German government spokesman said.
However, in August Germany waived European Union rules on asylum seekers from Syria, allowing them to register in Germany regardless of where they first entered the EU.
The German government is to discuss the crisis later on Sunday.
Chancellor Angela Merkel has said Germany can cope with the influx of newcomers, but there have been disagreements within her coalition government.
Some on the right say allowing so many migrants in sends the wrong signal, but the centre-left Social Democrats praised the move.
Germany is the key destination for arrivals on European shores, and expects to take in 800,000 people this year.
Syrians fleeing a brutal civil conflict are the largest group travelling, followed by Afghans and Eritreans.
There is little sign of a co-ordinated EU response to the crisis, despite more than 350,000 migrants having crossed the EU's borders in 2015 alone.
Europe's migrant crisis is "here to stay" and nations must act together to deal with it effectively, the EU's foreign policy chief said after "difficult" talks with foreign ministers in Luxembourg on Saturday.
"In three months time, it will be other member states under the focus, and in six months, it could be others again," Federica Mogherini said.
Germany, backed by the European Commission, has been pushing for a quota system for sharing out newcomers between EU member states.
But this has been opposed by several eastern members.
On Saturday, Hungary said that while it had temporarily relaxed restrictions on the transit of asylum seekers, it was pressing ahead with plans to tighten border controls and could send troops to its southern frontier if parliament agreed.
A border fence is due to completed by 15 September.
A memorial has been held in Vancouver, Canada for three-year-old Alan Kurdi, his brother Ghalib and mother Rehanna, who drowned trying to reach the Greek island of Kos. The three have family in Canada.
Pictures of Alan's body, washed up on a Turkish beach, prompted widespread anguish.
Members of the Kurdi family were joined by more than 100 people to remember the three Syrians, who died on the journey to Europe after fleeing the conflict in their home country. Canada had earlier rejected an asylum application on behalf of the family.
Tima Kurdi, the boys' aunt, said she was worried about their father Abdullah, who attended the burial for his family in Syria on Friday.
"He's not leaving the graves. He was sleeping the last three days there, on the ground, beside them."