Mamata takes oath as West Bengal's chief minister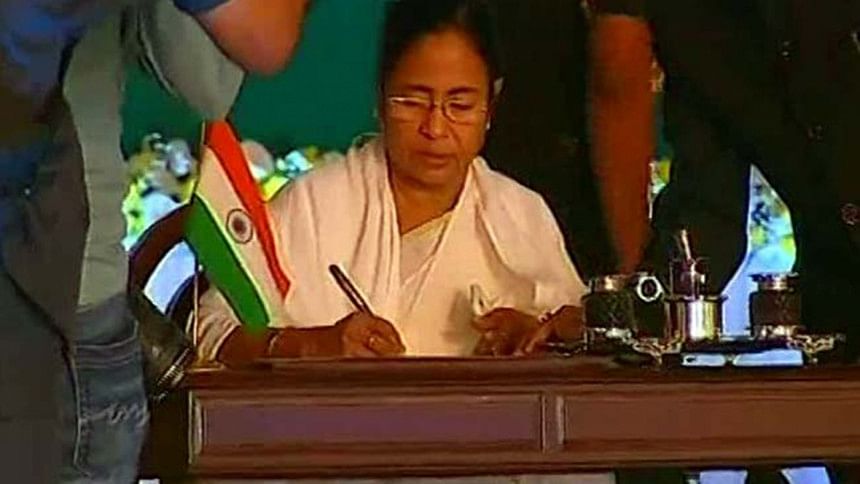 Mamata Banerjee took oath today as West Bengal's chief minister for a second term. It's the biggest oath ceremony Bengal has ever seen, reports NDTV.
Massive cut-outs, Jayalalithaa-style, of Mamata Banerjee line Kolkata's Red Road. An entire stretch of the Red Road - which links important places in Kolkata like the state secretariat and the High Court and where fighter planes once landed - has been cordoned off for Trinamool Congress' celebration of a massive victory in the state elections last week.


At the venue are over 20,000 people who have been allowed in without passes or invitations to witness the oath ceremony which is taking place on a massive stage decorated with flowers. Forty one ministers are also been sworn in, the NDTV reports.     
Banerjee's guest list is creating a buzz and no, not because it has on it mega Bollywood stars Amitabh Bachchan and Shah Rukh Khan. The flutter is being caused by the attendance of politicians like Bihar Chief Minister Nitish Kumar and his ally Lalu Yadav, Delhi Chief Minister Arvind Kejriwal and Uttar Pradesh Chief Minister Akhilesh Yadav of the Samajwadi Party.
After a massive win in the West Bengal assembly elections last week, Mamata Banerjee hinted at future political realignments at the national level when she talked about "friends I can work with," listing among them the leaders attending her oath ceremony, others like J Jayalalithaa and Mayawati, and also BJP allies like Chandrababu Naidu. It has led to intense speculation about a third front of regional powerhouses to challenge the BJP and the Congress in the 2019 national election.
"No third front, second front. If at all this is a first front," said Derek O'Brien of Banerjee's Trinamool Congress, adding, "People coming are not NGOs. They are political parties. There is a political reality."
In a tweet this morning, Banerjee talked of a "new beginning" for the people of Bengal and thanked all ministers and chief ministers for attending the ceremony.
Finance Minister Arun Jaitley and the BJP's minister from Bengal Babul Supriyo are representing the Centre. Bhutan's Prime Minister Tshering Tobgay is also present.
The Congress and Left have boycotted the ceremony.