Hopes rise of Greece bailout breakthrough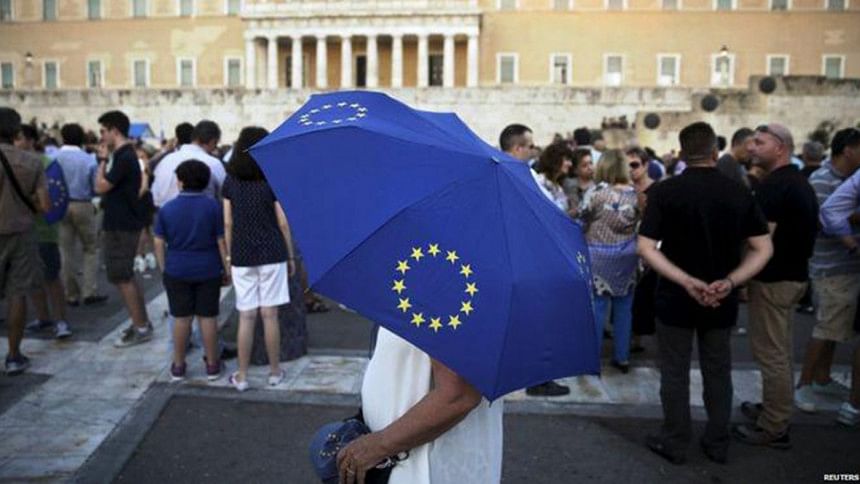 Fresh Greek bailout reform proposals submitted to Eurozone partners were cheered by France and Italy on Friday, raising hopes that a last-ditch compromise could be reached to prevent a dreaded "Grexit."
The plan delivered by Prime Minister Alexis Tsipras's administration for study by the EU, IMF and European Central Bank was to be put to a vote late Friday by Greek lawmakers.
Tsipras has conceded ground on major sticking points including tax and pensions in a bid to secure a new bailout, drawing encouragement from his biggest ally, French President Francois Hollande.
"The Greeks have shown a determination to want to stay in the eurozone because the programme they are presenting is serious and credible," Hollande said.
He cautioned, though, that "nothing is decided yet." Any new Greek rescue needs to be approved unanimously by eurozone members.
Italian Prime Minister Matteo Renzi declared himself "more optimistic" that a deal would be done.
But Germany, leading a bloc of sceptical eurozone nations, said the outcome of crisis talks this weekend was "completely open."
Slovak Finance Minister Peter Kazimir -- one of the staunchest opponents to extending more bailout funds -- tweeted "it seems we have progress on Greece" after the new proposals were submitted.
He, too, warned however: "It's still not clear whether this will be enough."
EURO, MARKETS SOAR
The possibility of a breakthrough sent stock markets soaring in Europe, Asia and the US.
The euro surged more than 1.3 percent on the Greek plan, before falling back slightly in later trade, still up at $1.117.
"The eurozone seems to be as close to a deal as it has done for the past five months, with progress seemingly genuine and credible," said analyst Connor Campbell at trading firm Spreadex.
A make-or-break summit bringing together leaders of all 28 EU nations, not just the 19 that use the euro, is scheduled for Sunday.
It could be cancelled if an agreement is reached beforehand, though parliaments in several EU nations, notably Germany, will have to vote on whether to accept Greece's reform plan in exchange for another huge bailout -- its third in five years.
"We have to make a major decision. Whichever way," said Jeroen Dijsselbloem, head of the Eurogroup of eurozone finance ministers.
In a bid to head off a possible challenge to the measures within his hard-left party Syriza, Tsipras urged his lawmakers "to stand united and firm in front of these important decisions."
The Greek offer, set out in a 13-page document, concedes to Greece's paymasters on several key points that Tsipras's ruling coalition -- and the Greek voters, in a referendum last weekend -- had previously fiercely opposed.
"Greece has come across on almost all issues and has clearly shown its willingness to compromise," said Carsten Brzeski, chief economist at the German bank ING-DiBa.
With caveats, he said the "chances for a deal and another bailout for Greece have increased again."
CurrenciesDirect dealer Davide Ugolini said: "Greece has finally managed to flip the ball into Europe's court. Crisis-watchers can look forward to an interesting weekend."
TSIPRAS'S GAMBLE
The reforms agree to creditors' demands to overhaul pensions, increase sales taxes, and commit to privatisations. But they seek to limit changes on other thorny issues, including tax breaks for Greece's islands and cuts to military spending.
The proposal aims to procure financing "for three years, debt adjustment and a front-loaded investment package of 35 billion euros ($38 billion)," a Greek government source said.
Tsipras is taking a political gamble by making any concessions to creditors' demands.
Hardliners in Syriza and coalition partner the Independent Greeks have obstinately rejected further austerity.
Syriza's parliamentary spokesman, Dimitris Vitsas, urged party MPs "to support the government's effort to reach a deal," saying it "kicks off the resolution of the debt issue."
Although Greek voters last Sunday roundly voted "No" to accepting tough austerity terms for a bailout that expired June 30, they are alarmed at capital controls that have closed banks and rationed ATM cash.
They overwhelmingly want to keep the euro.
"The government has to find a deal with its European partners no matter what. We didn't vote 'No' to leave the eurozone," said a pensioner in Athens, Nikos Eftekidis.
But another pensioner, Giorgos, said the "government's proposed measures are very tough, I wasn't expecting that. That's not what the Greeks voted for."
Germany leads a bloc of eurozone nations saying that, after two bailouts over the past five years totalling 240 billion euros, and 107 billion euros in debt forgiveness in 2012, Greece is looking like bottomless moneypit.
Tsipras hopes his new offer will pass muster with those hostile eurozone countries, and open the door to creditors discussing another round of relief from Greece's suffocating 320-billion-euro ($350-billion) mountain of debt.
But Germany has ruled out forgiving more of Greece's debt. Chancellor Angela Merkel has said "a classic 'haircut' is out of the question for me."
But her careful choice of words -- and an acknowledgement from German Finance Minister Wolfgang Schaeuble that Greece was in need of debt restructuring -- hinted Berlin might yet consider a different form of relief, perhaps involving pushing back repayments or lowering interest on loans.