Girls face broken dreams as Nepal fails to curb child marriage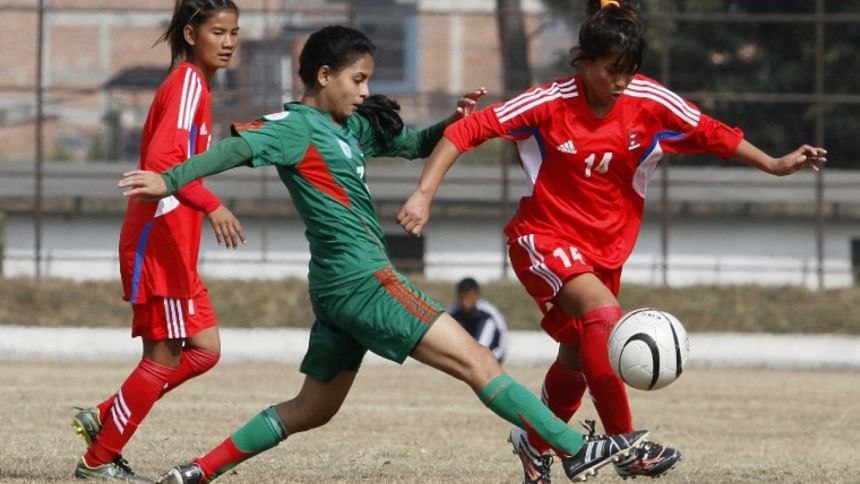 Kopila Wosti was just 14 when her father married her off to a stranger who was five years older. A year later, she gave birth to a baby girl. By the time she was 20, she had three children.
"The first time I became pregnant, I was not even aware I was going to be a mother and did not know how to raise the child," said Wosti, now 34, as she sat cross legged on the floor of a shelter home in the Nepali capital, Kathmandu.
Separated from her husband for over a decade, Wosti blames the marriage for ruining her life - denying her the chance of going to school and of choosing a more suitable partner.
"There are women of my age who are yet to have children," said the petite woman, dressed in a green shirt and trousers, with her long black hair tied up in bun.
"I could have gone to school and had a better future too. But all that is a dream now," she told the Thomson Reuters Foundation.
Child marriage is illegal in Nepal, yet the impoverished Himalayan nation has failed to put in place policies to curb the practice with almost 40 percent of girls married before the age of 18, a report by Human Rights Watch said on Thursday.
It found that poverty, compounded by illiteracy and society's disapproval of unmarried women, compelled many parents to seek out husbands for their daughters.
Yet child marriage often results in a vicious cycle of malnutrition, poor health and ignorance since a child bride is more likely to drop out of school and experience problems during pregnancy and childbirth.
Her children are more likely to be underweight or die before the age of five, said the report based on over 100 interviews with children, former child brides, parents and activists.
"Many children in Nepal - both girls and boys - are seeing their futures stolen from them by child marriage," said Heather Barr, women's rights researcher at the HRW.
"Nepal's government promises reform, but in towns and villages across the country, nothing has changed."
Marriage for food
The study showed child marriage was prevalent throughout Nepal, and practised in Hindu, Buddhist, Muslim, and Christian communities.
Government officials said the deeply entrenched nature of child marriage, which the nation has vowed to end by 2030, made it hard to tackle.
"The government considers child marriage as an act of violence and is making efforts to end the scourge which is deep rooted in the society," Sushila Paudel, an official from Nepal's women's ministry, told the Thomson Reuters Foundation.
One third of girls in the developing world are married before the age of 18, according to the International Centre for Research on Women (ICRW).
Child marriage is most prevalent in sub-Saharan African countries such as Niger and Chad, but due to population size, the largest number of child brides live in South Asia.
Nepal, home to 28 million people, has the third-highest rate of child marriage in Asia after Bangladesh and India, with 37 percent of girls marrying before 18.
The country outlawed the practice five decades ago with a punishment of up to three years imprisonment and a fine of 10,000 rupees ($95). The age of marriage is set at 20 years old for both men and women.
But HRW said the law was seldom enforced with complaints rarely investigated by police or prosecuted.
Police officials were not immediately available for comment.
The HRW said gender discrimination and poverty were key factors driving child marriage. Almost 25 percent of Nepalis live on a less than $1.25 a day.
"Some girls said they welcomed a child marriage because they hoped it might mean they had more to eat, a hope that was not always fulfilled," the report said.
In many communities it is normal for girls to marry soon after puberty, as parents will avoid paying a higher dowry to the groom's family if the bride is younger, it said.