AFC U-16 Womens Championship 2017
U-16 champs sent back alone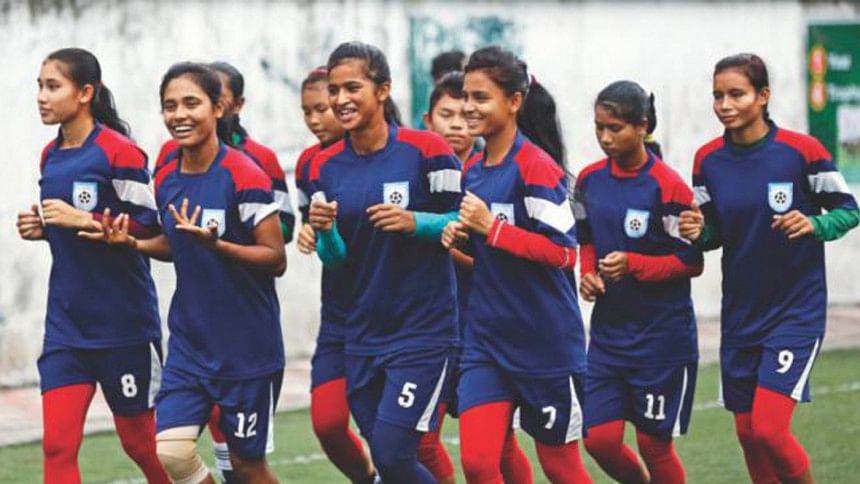 It was yesterday reported by a television channel that some of the girls of the Bangladesh under-16 women's football team, who are from Dhobaura upazila in Mymensingh, were hurled abusive words on their way home on a local bus on Tuesday. One of the girls even told the reporter that they deserved to be treated better after what they have achieved. Nine of the girls of the 23-member under-16 team which qualified for the AFC Women's U-16 Championship earlier this week are from the same area of Mymensingh.
In response to this news report, the Bangladesh Football Federation last night issued a press release stating that "the girls were offered air-conditioned microbus, but they refused since they are not comfortable with that". The press release also claimed that "the BFF arranged good-quality bus, but the girls demanded direct local bus to reach their neighbourhood for their ease," and that "every player was transported from BFF house to the bus station with their bag and baggage under BFF arrangement".
While we cannot independently verify the report's claim that the girls were hurled abusive words by anyone on their way back home or the claims of BFF, we can at least infer that these girls, who have earned a distinction for the nation, should have been treated better. In truth their success should not come into it; they are minors under the care of the BFF and so the game's governing body has a responsibility to provide chaperones, to say the very least. The safety and security of these girls while under the custody of the game's governing body -- and that custody does not end as soon as a competition is over -- should have been of paramount importance.
This incident comes hot on the heels of a debate regarding the wisdom of the game's governing body of keeping the girls at the BFF dorm during the competition while all the visiting teams were accommodated at luxury hotels, in the pretext that some of the deficit of the budget to host the tournament could be maintained. The latest incident, however, shows a lack of responsibility if not another instance of cutting corners.