German lawmakers elect Merkel to fourth term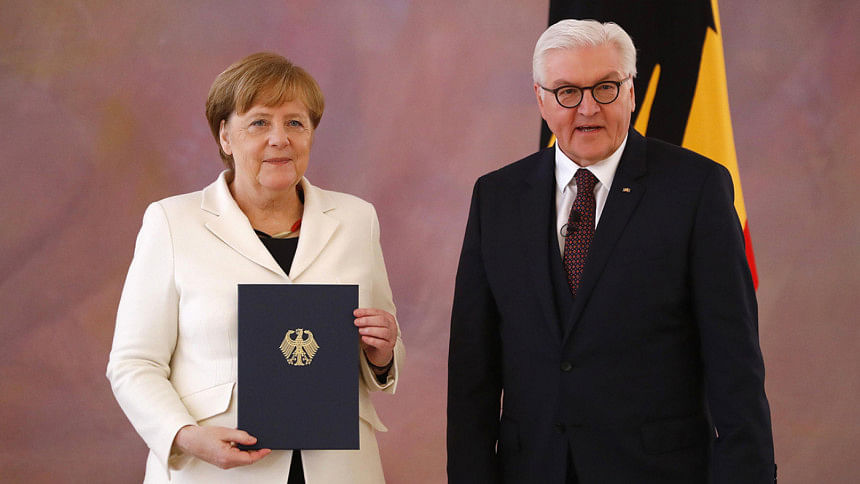 German lawmakers today voted to re-elect Angela Merkel as chancellor for a fourth, and likely final, term that may prove her most challenging yet as she takes charge of a fragile coalition with her personal standing diminished.
Lawmakers voted by 364 to 315, with nine abstentions, in favor of re-electing Merkel, a humbling start as the coalition of her conservatives and the center-left Social Democrats (SPD) has 399 votes in the Bundestag lower house of parliament.
"I accept the vote," a beaming Merkel, 63, told lawmakers.
In office since 2005, she has dominated Germany's political landscape and steered the European Union through economic crisis.
But her authority was dented by her decision in 2015 to commit Germany to an open-door policy on migration, resulting in an influx of more than one million people.
She must now juggle competing domestic demands from her conservative CDU/CSU alliance and the SPD, just as Germany is locked in a trade stand-off with the United States.
"It is a good start for Germany to have a stable government... after so many months, there is now a big incentive to get down to work with energy," Defence Minister Ursula von der Leyen said.
Merkel was due to meet President Frank-Walter Steinmeier before returning to the Bundestag to be sworn in.
Ministers will then be sworn in later in the day - almost six months after last September's national election in which both coalition partners lost support to the far-right Alternative for Germany (AfD).
FAULT LINES
The conservative bloc only turned to the SPD to prolong the 'grand coalition' that has governed Germany since 2013 out of desperation, after talks on a three-way alliance with two smaller parties collapsed last November.
Fault lines have emerged in the new government even before its first cabinet meeting, with tensions evident over the sequencing and extent of reforms.
The pressure is on for both camps to deliver: the inclusion in the coalition deal of a clause that envisages a review of the government's progress after two years gives each the opportunity to leave the alliance then if it is not working for them.
The priority the government gives to different reforms set out in the coalition deal, the extent to which it implements them, and the personnel involved promise a welter of competing pressures that Merkel will need all her political skill to balance.
The SPD only agreed to ally with Merkel after promising a list of distinctive policies to secure the approval of party members, many of whom wanted the SPD to regroup in opposition after the last four years in coalition damaged its standing among voters.