Forbes ranks Hasina as 36th most powerful women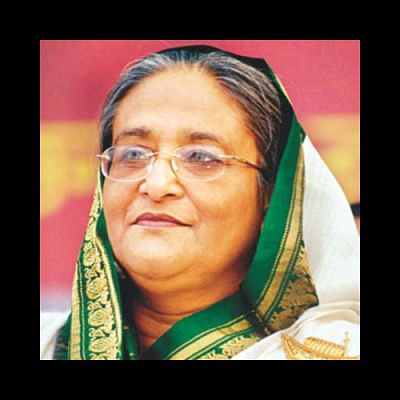 Prime Minister Sheikh Hasina has demonstrated her strongest showing on Forbes magazine's list of the world's most powerful women.
The three-time premier ranked 36th on the 2016 Power Women list, from 59th last year. The list was published today. She came 47th in 2014.
German Chancellor Angela Merkel retained the top spot, while Hillary Clinton, the US presidential candidate, and Janet Yellen, chair of the US Federal Reserve, were second and third.
The survey features 100 women from 29 countries who represent sectors such as politics, business, technology and philanthropy.
Forbes said the women on the list control $1 trillion in revenue and influence more than 3.6 billion people around the world.
The #PowerWomen of 2016: 100 women making their mark in the world today https://t.co/CWrUNWSlhu pic.twitter.com/nLvyKUhL6X

— Forbes (@Forbes) ৬ জুন, ২০১৬
There are 32 chief executives on the list, 12 world leaders and 11 billionaires, including nine who have built billion-dollar companies from scratch. The average age is 57, with Yahoo chief executive Marissa Mayer, being the youngest at 41 and Britain's Queen Elizabeth II the oldest at 90.
Sheikh Hasina is ahead of Bidhya Bhandari, president of Nepal, Dalia Grybauskaite, president of Lithuania, Ellen Johnson Sirleaf, president of Liberia, and Ameenah Gurib-fakim, president of Mauritius, among other known figures.
On its website Forbes said, Sheikh Hasina Wajed has command over a country with the world's eighth largest population -- 162 million people -- and she has wielded this power since 2009.
"Critics contend that she can, and should, be exercising her influence to address the recent spate of hate crimes against journalists, teachers, and gay activists. Yet Wajed's administration has been largely silent, and claims the attacks did not come from Islamic radicals, despite evidence that points to the contrary."
"Critics worry the failure to roundly condemn the murders only sets the stage for worse, further destabilising a government that already lost credibility in the 2014 elections, which left hundreds dead or injured," said the magazine.
In March this year, business magazine Fortune named Hasina as one of the greatest leaders of the world. The prime minister ranked 10th among 50 leaders who "are transforming the world and inspiring others to do the same," the internationally acclaimed magazine said.