'IS bomber' kills tourists in Istanbul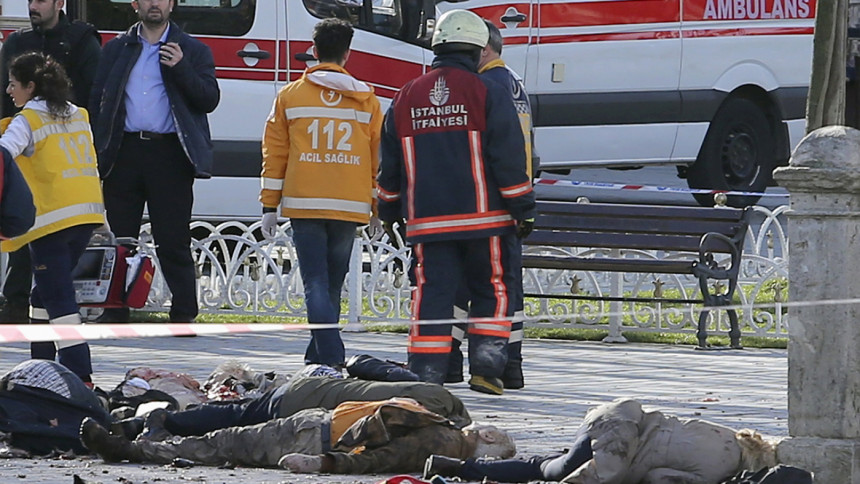 A suspected member of the Islamic State (IS) group has killed 10 people, at least nine of them German tourists, in a suicide bomb attack in the Turkish city of Istanbul, officials say.
They say the Syrian national carried out the attack in the Sultanahmet district, near the famous Blue Mosque.
Fifteen people were wounded, many of them also German.
President Recep Tayyip Erdogan said Turkey was the "top target for all terrorist groups in the region".
His country, he added, was "fighting against all of them equally".
Turkish Prime Minister Ahmet Davutoglu telephoned German Chancellor Angela Merkel to offer his condolences, the Anadolu news agency quoted his office as saying.
Davutoglu later said: "We have determined that the perpetrator of the attack is a foreigner who is a member of Daesh (IS)."
He vowed to find and punish those linked to the bomber and pledged to continue the fight against IS militants.
Turkey's Deputy PM Numan Kurtulmus said earlier: "It has been identified that the suicide bomber is Syrian and his connections are being investigated."
The suspect was said to have been born in 1988 and was identified from body parts.
Kurtulmus said the suspect was not on Turkey's militant watch-list and was believed to have recently crossed into Turkey from Syria.
Eyewitness Murat Manaz said: "It was a suicide bomb. I went there and saw it and came back to the hotel. There was chaos. Everybody was running somewhere.
"Policemen did not see this coming. They were distressed but at the same time they were trying to evacuate the area because they said there was a possibility that a second bomb could go off."
The authorities are investigating the type of explosive used, the Istanbul governor's office said.
Merkel had earlier expressed "serious concern" about the casualties, saying a German tourist group had been affected.
She added: "Today Istanbul was hit; Paris has been hit, Tunisia has been hit, Ankara has been hit before. International terrorism is once again showing its cruel and inhuman face today."
Germany's foreign ministry has on its website (in German) urged German tourists in Istanbul to avoid large crowds and tourist attractions and warned that further violent clashes and "terrorist attacks" were expected across Turkey.
Norway's foreign ministry said a Norwegian man was receiving treatment in hospital.
Turkey last year took a more active role against IS in Syria, carrying out air strikes and allowing US warplanes to use its Incirlik base for missions.