Russia, SAARC, EU mourn plane crash deaths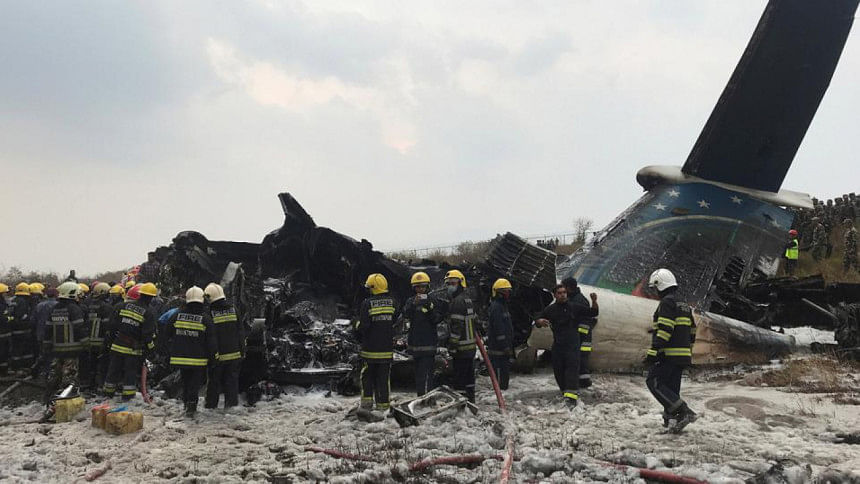 Russian President Vladimir Putin, South Asian Association for Regional Cooperation (SAARC) and the European Union have expressed heartfelt condolences to all the victims of the plane crash of the US Bangla flight in Kathmandu, Nepal yesterday.
The president of Russiaextended his condolences to President Abdul Hamid and Prime Minister Sheikh Hasina.
Putin passed on words of sympathy and support to the victims' families and wished a speedy recovery to all those injured, said a statement of Russia's President Executive Office website.
In separate letters to foreign secretaries of Bangladesh and Nepal, SAARC Secretary General Amjed Hussain BSial expressed profound grief and sorrow over the tragic, reports BSS.
"Our sympathies are with the families of those who passed away in the sad incident," the secretary general said. He prayed for eternal peace of the departed souls and early recovery of the injured.
The heads of Mission of the European Union resident in Bangladesh have conveyed condolences to the victim's families and wished the injured victims a prompt recovery, says a press release.
At least 45 people were confirmed killed as an aircraft of Bangladesh's private US Bangla Airlines crashed and burst into flames while landing at Kathmandu with 71 people onboard, 67 being passengers- 32 from Bangladesh, 33 from Nepal and one each from China and the Maldives-on Monday.
Different international news portals like Reuters and AFP, however, quoted the casualty figures as 50 and 49 respectively and said several people were rescued from the burning wreckage of the Bombardier Dash Q400 series aircraft.