Give Britain another chance
London mayor backs call for second referendum, says PM's plans 'mired in confusion'; May 'irritated' by leadership speculation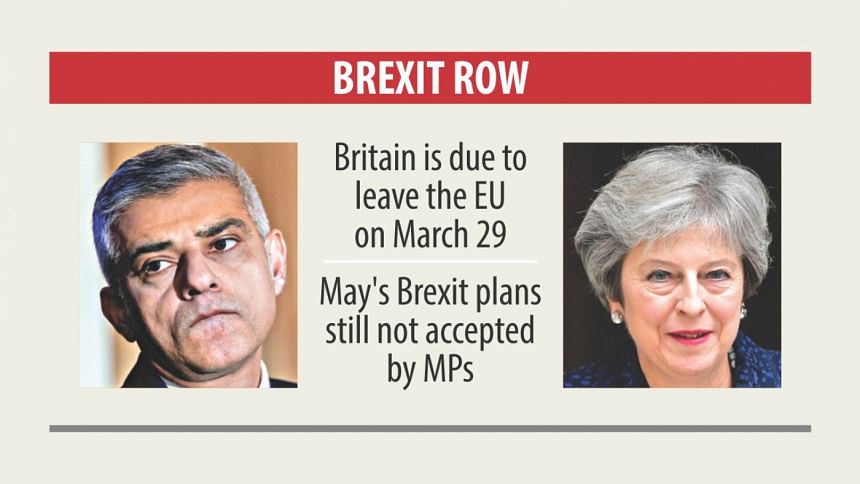 London Mayor Sadiq Khan has called for another referendum on Britain's European Union membership, saying the prime minister's handling of Brexit negotiations had become "mired in confusion and deadlock" and was leading the country down a damaging path.
Britain is due to leave the European Union on March 29. But with Prime Minister Theresa May's Brexit plans still not accepted, some lawmakers, as well as union and business leaders are increasingly arguing for people to have a final say on any deal struck with Brussels.
May has repeatedly ruled out holding a second referendum following the vote two years ago to leave the EU. She says members of parliament will get to vote on whether to accept any final deal.
But with time running out for London and Brussels to thrash out a Brexit deal, the British government is preparing plans for a no-deal Brexit.
Khan, a senior member of Britain's opposition Labour Party, said Britain was now facing either a bad deal or a no-deal Brexit, both of which were "incredibly risky" for Britain.
Writing in yesterday's Observer newspaper, Khan blamed the government's handling of the negotiations and said the threat to living standards, the economy and jobs was too great for voters not to have a say.
"After careful consideration, I've decided the people must get a final say. This means a public vote on any deal or a vote on a no deal, alongside the option of staying in the EU." he said.
Meanwhile, May said yesterday she was "irritated" by speculation about a leadership contest as she slammed former foreign secretary Boris Johnson, seen as her most likely challenger.
The centre-right Conservative Party's leader said she was focused on securing a Brexit deal rather than her own future, in a BBC television interview marking the six-month countdown to Britain's departure from the European Union.