London's new Muslim mayor hails 'unity over division'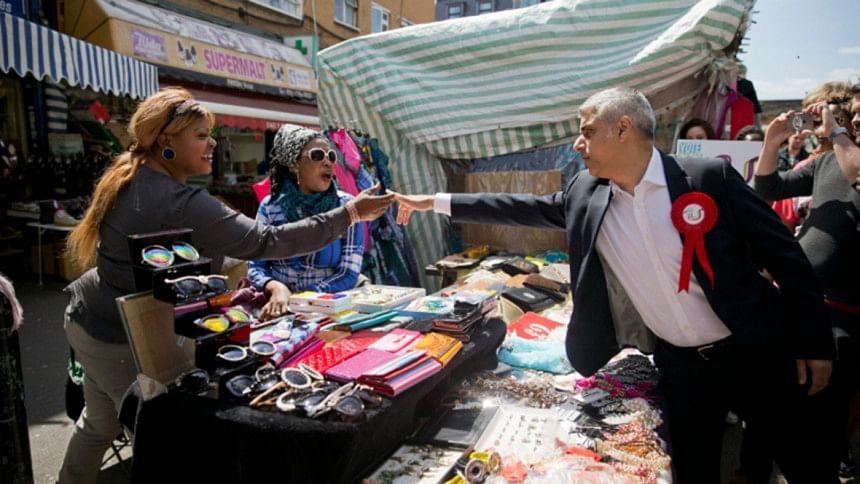 London's new mayor Sadiq Khan thanked voters for choosing "unity over division" as he was elected Saturday, becoming the first Muslim leader of a major Western capital.
In a second round run-off, the son of Pakistani immigrants beat Conservative multimillionaire Zac Goldsmith with 57 percent, or 1.3 million votes, giving him the largest personal mandate of any British politician.
Khan swept to victory despite repeated accusations from his rivals, including Prime Minister David Cameron, that he sympathised with Islamic extremists -- which he denies.
"This election was not without controversy and I am so proud that London has today chosen hope over fear and unity over division," the 45-year-old said in his acceptance speech, to cheers from supporters.
"I hope that we will never be offered such a stark choice again. Fear doesn't make us safer, it only makes us weaker, and the politics of fear is simply not welcome in our city."
As he spoke, the mayoral candidate for the far-right Britain First party, Paul Golding, turned his back.
The victory offered some cheer for Labour after setbacks elsewhere following regional elections across Britain on Thursday, as a row over anti-Semitism in the party that has damaged leader Jeremy Corbyn continued to rage.
"Congratulations Sadiq Khan. Can't wait to work with you to create a London that is fair for all!" Corbyn tweeted.
Khan replaces the charismatic Boris Johnson and ends the Conservatives' eight-year hold on the London mayoralty, a position that has responsibility for transport, housing, policing and promoting economic development.
New York Mayor Bill de Blasio was among the first to tweet his congratulations to "fellow affordable housing advocate, @SadiqKhan. Look forward to working together!"
Paris Mayor Anne Hidalgo added on Twitter that Khan's "humanity, progressivism will benefit Londoners."
The victory was also hailed in Tooting, a multi-ethnic area of south London where Khan lives and where he grew up in social housing, before becoming first a human rights lawyer and then a member of parliament.
"Sadiq Khan will have a unifying factor because he is Muslim, an immigrant, he is from (the) working class, so he understands the working class people and he can associate with them," said Shahzad Saddiqui, a local businessman.
Labour losses elsewhere
Labour fared less well in other elections on Britain's "Super Thursday", in which 45 million Britons were eligible to vote.
The party came third in elections for the devolved government in Scotland, a one-time stronghold, behind the Conservatives, in a vote won by the incumbent pro-independence Scottish National Party (SNP).
Labour retained power in the Welsh assembly, although it lost one seat, and with 118 of 124 results declared, maintained all but one of its local councils in England.
Corbyn, a veteran socialist who has faced opposition from centrists in his party since being elected last year, said his party had "hung on" and surpassed expectations.
But critics said Labour should have made more gains given the splits in the Conservative government ahead of the EU referendum on June 23, and its unpopular spending cuts.
Matthew Goodwin, politics professor at Kent University, said Labour was in "serious trouble".
"The Labour party is now third in Scotland for the first time since 1910 and it has failed to make a serious impression in southern England," he said.
'Persuade not divide'
SNP leader and Scottish First Minister Nicola Sturgeon will lead the separatist party into its third successive government in Edinburgh, although the party lost its outright majority.
She announced she would lead a minority administration, and played down talk of a fresh independence referendum to follow the unsuccessful one in 2014.
"The SNP will always make our case with passion, with patience and with respect but our aim is to persuade not to divide," Sturgeon said.
The other big story in Scotland was the success of the Scottish Conservatives, who came second with 31 seats.
The party has been deeply unpopular in Scotland since the 1980s premiership of Margaret Thatcher but its fortunes have turned around under current Scottish leader Ruth Davidson.
Davidson is a charismatic and openly gay 37-year-old whose cheery, no-nonsense style and proficient use of social media has fuelled her party's success.
Elsewhere, the anti-European, anti-immigration UK Independence Party (UKIP) secured its first seat in the Welsh assembly and two seats in the London assembly.