Dozens killed as Taliban attack Afghan bases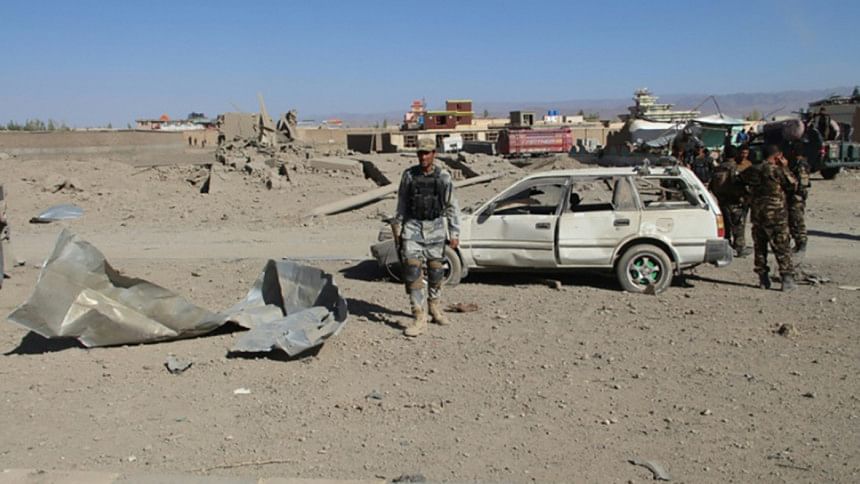 Militants launched two separate attacks on Afghan security installations killing dozens of soldiers today, the latest in a series of devastating assaults this week that have left more than 120 people dead and underscored spiralling insecurity.
At least 43 Afghan soldiers were killed and nine wounded in a Taliban-claimed assault on a military base in southern Afghanistan which saw the insurgents blast their way into the compound with at least one explosives-laden Humvee, the defence ministry said.
A security source in Kandahar put the toll at 50 dead and 20 wounded. But the real figure is likely to be higher because Afghan officials habitually understate the actual number of casualties.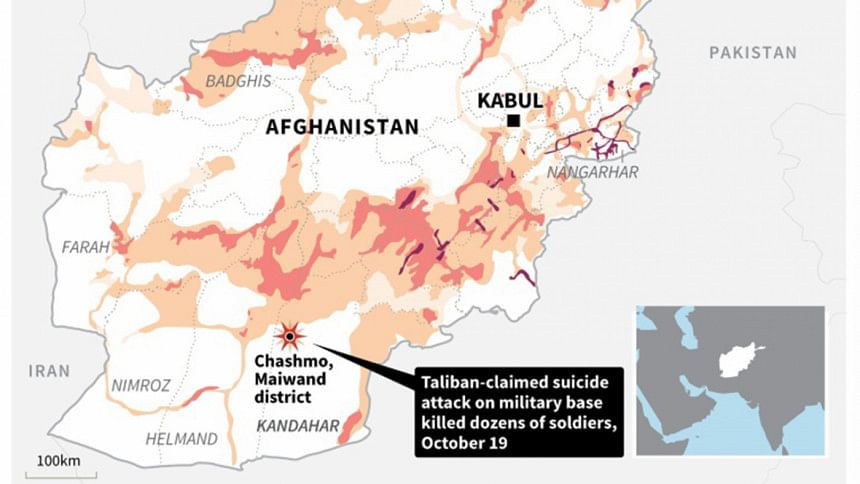 The militants razed the base in the Chashmo area of Maiwand district in Kandahar province to the ground, according to the ministry.
"Unfortunately there is nothing left inside the camp. They have burned down everything they found inside," defence ministry spokesman Dawlat Waziri said.
Just two soldiers were known to have survived unscathed, with six unaccounted for, the ministry said, underscoring the shocking casualties that Afghan security forces have faced in their struggle to beat back the insurgents. Ten militants were killed, it added.
US planes carried out an airstrike during a counter-terror operation in Maiwand on Thursday, a spokesman for US Forces in Kabul said, though he did not specify whether the target was insurgents at the base.
Provincial officials said two Humvee vehicles were used in the attack which was condemned by President Ashraf Ghani. They said the assault may have been carried out with insider help.
The Taliban claimed the ambush in a message to journalists that said all 60 security personnel on the base were killed.
"We have sent a delegation to assess the situation. The base is under ANA (Afghan National Army) control," Waziri added.
Separately Thursday, militants besieged a police headquarters in the southeastern province of Ghazni, attacking it for the second time this week.
Airstrikes were called in to support embattled police in the ongoing assault, which has killed two security forces so far, Ghazni provincial police chief Mohammad Zaman told AFP. The strikes were not immediately confirmed by US Forces.
Officials said the earlier assault on the headquarters, which took place on Tuesday, left 20 people dead and 46 wounded.
Thursday's attacks take the number of major suicide and gun assaults on security installations this week to four and increases the total death toll to more than 120, including soldiers, police and civilians.
In three out of the four assaults this week the Taliban used a Humvee vehicle as a bomb to blast their way into their targets.
Security forces under siege
US President Donald Trump vowed earlier this year to stay the course in Afghanistan, America's longest war.
But the Taliban said the recent assaults were a "clear message to the Americans and the Kabul government, that they cannot scare us with their new so-called strategy".
"We are fighting back and winning on every front, Inshallah (God willing)," spokesman Qari Yusuf Ahmadi told AFP.
"The enemy who thought they had scared us with the new Trump strategy have now been given a lesson."
Beleaguered Afghan security forces have faced soaring casualties in their attempts to hold back the insurgents since NATO combat forces pulled out of the country at the end of 2014.
Casualties leapt by 35 percent in 2016, with 6,800 soldiers and police killed, according to US watchdog SIGAR.
The insurgents have carried out more complex attacks against security forces in 2017, with SIGAR describing troop casualties in the early part of the year as "shockingly high".
The attacks included assaults on a military hospital in Kabul in March which may have killed up to 100 people, and on a base in Mazar-i-Sharif in April which left 144 people dead.
Eroded morale
The assaults, along with high rates of desertion and corruption, have eroded morale.
This week's attacks come near the end of the summer fighting season, when militants traditionally intensify their offensives across the country.
They began hours after US drone strikes in the tribal region along the border with Pakistan killed more than two dozen militants, according to sources and local officials.
Tuesday's attacks alone killed 80 people in total and wounded nearly 300 in the bloodiest day in the war-torn country in almost five months.
The deadliest of Tuesday's assaults was on a police compound in the city of Gardez in Paktia province where Taliban militants disguised as police detonated three explosive-packed vehicles -- including a truck and a Humvee -- that cleared the way for 11 gunmen to enter.
At least 60 people, including Paktia police chief Toryalai Abdyani and civilians waiting to collect documents, were killed in the blasts and ensuing battle that lasted around five hours, health officials said, with more than 230 wounded.
Afghan forces now control 59.7 percent of the country, up from 57.2 percent the previous quarter, according to SIGAR's assessment earlier this year.
But the Taliban and other insurgent groups have also seen their areas of control or influence increase slightly from about 10 percent to 11.1 percent.