Pompeo optimistic about ending NKorea's nuclear program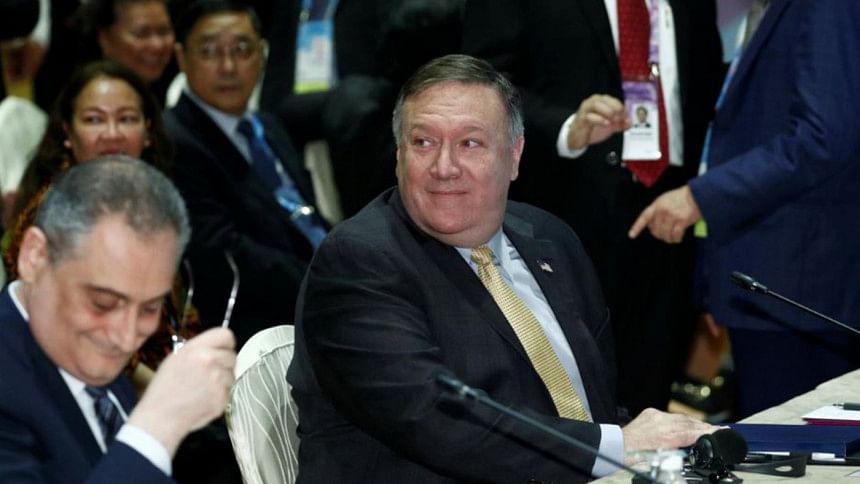 US Secretary of State Mike Pompeo said today the process of ending North Korea's nuclear program would take time but he was optimistic that it would be done within a timeline set by the leaders of the two countries.
It was important to maintain diplomatic and economic pressure on the North, he said, and the United States takes very seriously any detraction from enforcing UN sanctions, Pompeo said on the sidelines of a regional conference.
"I'm optimistic that we will get this done in the timeline and the world will celebrate what the UN Security Council has demanded," Pompeo told a news conference.
"The work has begun. The process of achieving denuclearization of the (Korean) peninsula is one that I think we have all known would take some time."
He said there was every reason to believe the reports about Russia's issuance of visas to North Korean workers were accurate, which would be in violation of UN Security Council resolutions.
"I want to remind every nation that has supported these resolutions that this is a serious issue and something that we will discuss with Moscow," he said.
"We expect the Russians and all countries to abide by the UN Security Council resolutions and enforce sanctions on North Korea," he added.
Russia has denied a report by the Wall Street Journal that said Moscow was allowing thousands of fresh North Korean laborers into the country and granting them work permits in a potential breach of U.N sanctions.
Russia's ambassador to North Korea also denied Moscow was flouting UN restrictions on oil supplies to North Korea.
Pompeo flew to Singapore, where the US and North Korean leaders held a landmark summit in June, to attend meetings of the foreign ministers of the Association of Southeast Asian Nations (ASEAN) as well as China, Russia, Japan and South Korea.
North Korean Foreign Minister Ri Yong Ho is also attending the conferences. Pompeo said he had not met Ri. US Ambassador Sung Kim, who has long been a key negotiator on the nuclear issue, said he had no plans to meet the North Koreans in Singapore.
At the summit on June 12, US President Donald Trump and North Korean leader Kim Jong Un, who is seeking relief from tough sanctions, committed to work toward denuclearization, but Pyongyang has offered no details on how it might go about this.
Pompeo suggested on Friday on the flight to Singapore that continued work on weapons programs by North Korea was inconsistent with its leader's commitment to denuclearize.
On Monday, a senior US official said US spy satellites had detected renewed activity at the North Korean factory that produced the country's first intercontinental ballistic missiles capable of reaching the United States.
According to a confidential UN report seen by Reuters on Friday, North Korea has not stopped its nuclear and missile programs.
On Saturday, Pompeo was more upbeat about making progress on the denuclearization agreement, saying: "We've been working since then to develop the process by which that would be achieved."