Anger, sanctions threats greet NKorea rocket launch plans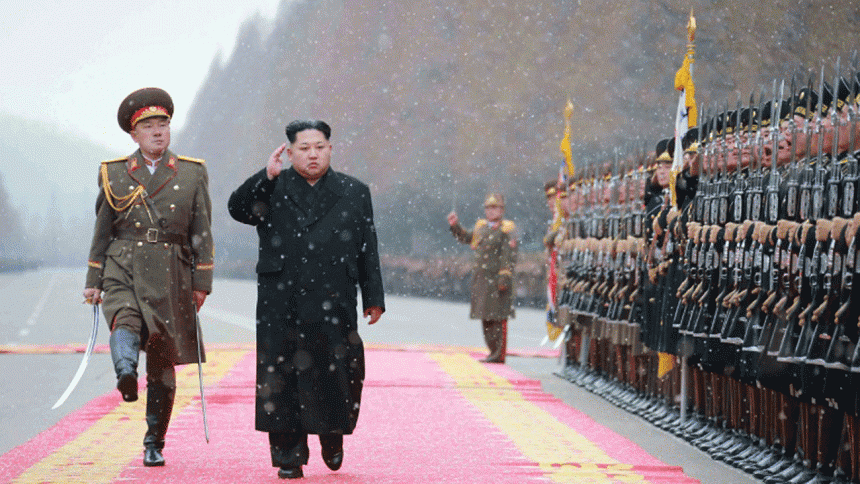 South Korea and Japan today echoed US warnings that North Korea would pay a heavy price if it pushes ahead with a planned rocket launch just weeks after conducting its fourth nuclear test.
Urging Pyongyang to drop its plans for a launch as early as next week, the government in Seoul said the move would be a serious breach of UN resolutions and a "direct challenge" to the international community.
Japanese Prime Minister Shinzo Abe condemned what he called a "serious provocation" and clear violation of Pyongyang's international obligations.
The warnings came a day after the North announced a February 8-25 window for the launch, ostensibly aimed at putting an Earth observation satellite into orbit.
UN resolutions forbid the North from any use of ballistic missile technology, and yesterday's announcement saw Pyongyang doubling down against an international community already struggling to come up with a united response to last month's nuclear test.
"It's a classic move," said John Delury, an associate professor at Yonsei University in Seoul.
"While waiting for a full response for the nuclear test, you might as well sneak in a rocket launch. The North tends to do these things in pairs," Delury said
The United States, which has been spearheading a diplomatic drive for harsher, more effective sanctions on Pyongyang, was quick to condemn the launch plan.
'Egregious violation'
Daniel Russel, the assistant US secretary of state for Asia-Pacific affairs slammed what he called "yet another egregious violation" of UN resolutions.
"This argues even more strongly for action by the UN Security Council and the international community to impose... tough additional sanctions," Russel said.
In formal notifications sent to three UN agencies, including the International Maritime Organization (IMO), North Korea said the launch would take place in the morning with a daily window of 7:00am-midday Pyongyang time (22:30-03:30GMT).
The dates suggest a launch around the time of the birthday on February 16 of late leader Kim Jong-Il, father of current leader Kim Jong-Un.
The South Korean government statement urged Pyongyang to call off the launch immediately or pay a "heavy price" for threatening regional peace and stability.
UN sanctions were tightened after North Korea successfully placed a satellite in orbit on a three-stage Unha-3 rocket in December 2012.
A fresh launch poses a dilemma for the international community, which is already divided on how to punish the North for its nuclear test.
North Korea's chief diplomatically, China, has been resisting the US push for tougher sanctions, but a rocket launch would bolster calls for Beijing to bring its maverick neighbour into line.
Pressure on China?
"However, I'm not sure if China will change its position," said Delury.
"The nuclear test is a far bigger deal for Beijing than the rocket launch, so I don't expect any tangible shift in China's perspective, whatever the US says," he added.
While its patience has been stretched to the limit by Pyongyang's refusal to curb its nuclear ambitions, China's overriding concern is a collapse of Kim Jong-Un's regime and the possibility of a US-allied unified Korea on its border.
US Secretary of State John Kerry sought to pressure his Chinese counterpart Wang Yi during a visit to Beijing last week.
Although the two sides agreed to mount an "accelerated effort" to try to resolve their differences on a new resolution, Kerry acknowledged that they had not agreed on the "parameters of exactly what it would do or say".
Since early 2013, North Korea has been upgrading its Sohae satellite launch complex to handle larger, longer-range rockets with heavier payloads, but most experts say Pyongyang is still years from obtaining a credible intercontinental ballistic missile capability.
The flight plan coordinates sent to the IMO were similar to the December 2012 launch – suggesting an Unha-3 would again be the selected carrier.
The separated first stage was predicted to fall in the Yellow Sea around 200km off the west coast of South Korea, followed by a second stage splashdown in the Philippine Sea.
Japan has said its military will shoot down any rocket that strays into its air space.