22 dead in fresh regime air strikes on Syria enclave: monitor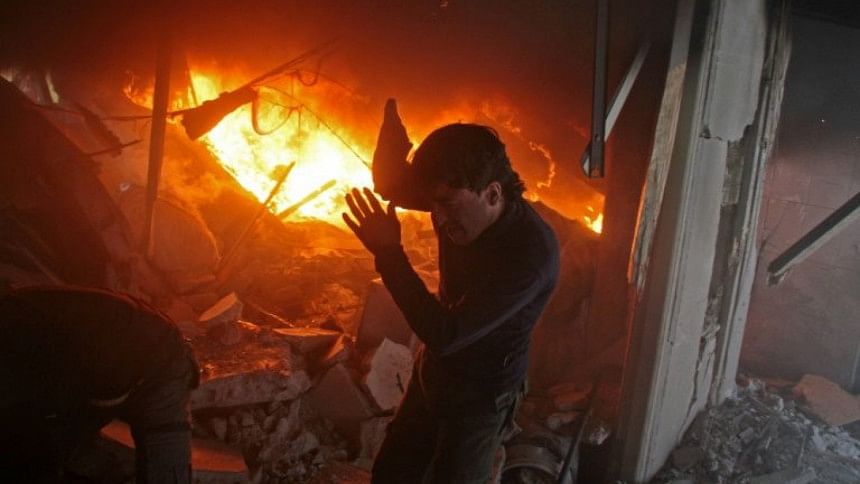 A fourth consecutive day of heavy regime bombing raids on the rebel-held enclave of Eastern Ghouta near Damascus killed 22 civilians today, a monitor said.
The civilian toll was first reported at nine on Thursday morning but almost immediately began to rise, mirroring previous bloody days in the besieged district.
Wednesday's strikes hit at least six different locations in Eastern Ghouta, said the head of the Britain-based Syrian Observatory for Human Rights, Rami Abdel Rahman.
The highest toll was in the town of Jisreen, where eight civilians were killed.
An AFP correspondent there said the strikes hit near a school, a market and a mosque.
Vegetable stalls in the market were overturned and damaged, and a motionless body lay outside the mosque.
Rescue teams rushed to the district and pulled three children and a woman out of the rubble.
Moayad al-Hafi, a rescue worker, said his team was hit in a double-tap strike as they were pulling bodies out in Jisreen.
"As we were pulling out the children and the dead from under the rubble, they targeted us with five rockets -- directly targeting us," said Hafi, 24.
Screaming for an ambulance
Another two children and a woman were killed in the town of Saqba, where streets were littered with human remains and destroyed cars.
A man carrying his young daughter screamed for an ambulance to take her to the nearest makeshift clinic.
Eastern Ghouta, which lies just east of the capital Damascus, is controlled by rebel factions including Islamists.
An estimated 400,000 people live under a suffocating government-imposed siege, which has made food and medicine nearly impossible to access.
Syrian government warplanes have ratcheted up their bombardment of Eastern Ghouta this week, leaving dozens dead and hundreds in need of medical care.
Regime bombing raids left 38 civilians dead on Wednesday, the Observatory said in a new toll.
It came on the heels of the bloodiest day in months for Eastern Ghouta on Tuesday, when 80 civilians were killed in strikes.
In apparent retaliation, one person was killed in rebel mortar fire on the regime-controlled part of the town of Harasta, according to state news agency SANA.
Eastern Ghouta is the last major rebel stronghold on the capital's doorstep.
Most of the other rebel-controlled territory surrounding Damascus has been recaptured by government forces either through military operations or local truce agreements.
Eastern Ghouta is ostensibly included in a "de-escalation" deal that is meant to tamp down violence in a handful of areas across the country, but the bloodshed has escalated dramatically this week.