EducationHub - a gateway for students in finding their desired university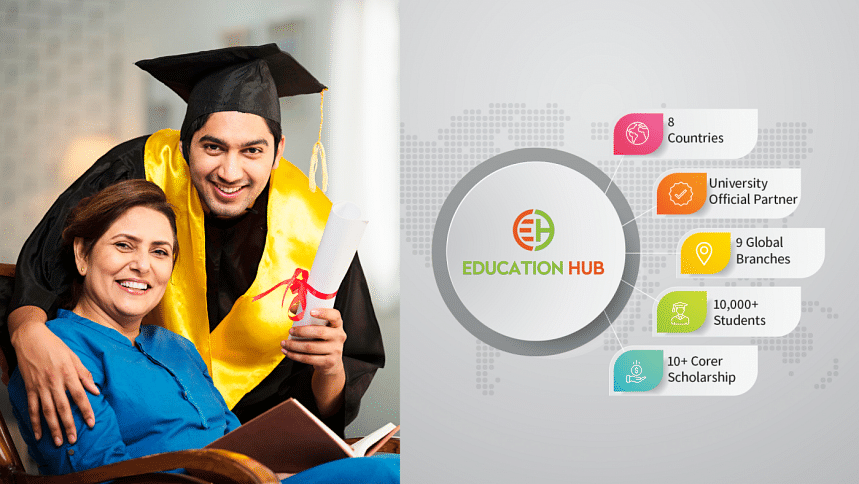 In Bangladesh, where the dream of many students is to go abroad for higher studies, educational consultancy agencies play a pivotal role in guiding such prospective learners. These agencies act as invaluable intermediaries, bridging the gap between aspiring students and esteemed educational institutions. One such local educational consultancy agency is EducationHub, which, since its launch in 2015, has been helping Bangladeshi students in finding their chosen university, alongside providing valuable assistance in career counselling, course selection, admission requirements, and visa assistance.
EducationHub is best described as a one-stop service provider of all things related to higher studies abroad, helping students with career counselling, necessary documentation, Statement of Purpose (SoP) writing guidelines, managing scholarships, university applications, and providing guides for university and embassy interviews. They work hand-in-hand with students during the overall visa application process, including pre-and post-departure guides - which is especially helpful for students going abroad for the first time.
EducationHub is among the top-ranked official partners of foreign universities in Bangladesh, with multiple award-winning accolades under their belt. They are an authorised British Council IELTS and Pearson PTE registration centre, as well as a certified consultancy company by the following authorities: British Council, English UK Partner Agent, ICEF Trained Agent for Australia and Canada, Education New Zealand Recognised Agency, CCG Partner Agent (2030 ICEF), QEAC Certified & Enroly Certified. This educational research centre employs trained British Council educational counsellors who have served over 10,000 students over the years. EducationHub currently has six branches throughout Bangladesh as well as in the United Kingdom, Nigeria, Ghana, Kenya, France, Portugal, the Middle East, and North Africa. 
Students face a multitude of challenges when applying abroad for the first time. While time management and deadlines are obvious ever-present concerns, fundamental issues such as choosing the right university and understanding the entry requirements for a desired country are always prominent. After reaching their study destination, students also face problems such as finding suitable accommodation, managing finance, homesickness, processing registrations (medical, insurance, bank account, etc.), finding a part-time job, adjusting to cultural shock and the weather, and overall, a new lifestyle. As such, any student would appreciate a friendly and helpful agency to help them through this tedious and confusing process. EducationHub guides such students through step-by-step processes for all the above-mentioned challenges and is always by their side.
EducationHub believes in maintaining a transparent relationship with students. As such, the service they provide is 100% free to applying students, with no hidden charges or file opening fees required. They also offer 100% cash back for IELTS exams, an initiative they have undertaken since public exams were stopped during the Covid-19 pandemic.
This consultancy agency believes that prospective students should not wait till the last minute to complete their applications. Applying abroad is always a very important decision to make, and as such, proper time should be given to pick a course and country based on a career plan and budget. Students should also look out for authorised agencies that provide a welcome blend of professionalism and amiability - so no one is ever discouraged or deterred from pursuing higher education.
All in all, EducationHub's mantra is to provide each student with the care and attention they deserve in the visa and entire application process. They also have a separate compliance section which helps students check if they have met the requirements from the university of their choice as well as the embassy of their target country. In addition, EducationHub offers CRM access where students are always up to date with their application status and automation of the communication process which is crucial for a student to avoid miscommunication. Anyone who has applied abroad for higher studies knows how daunting the whole thing can be - for those in need, EducationHub is there to lend a helping hand.