Study in Japan? Check out Ritumeikan Asia Pacific University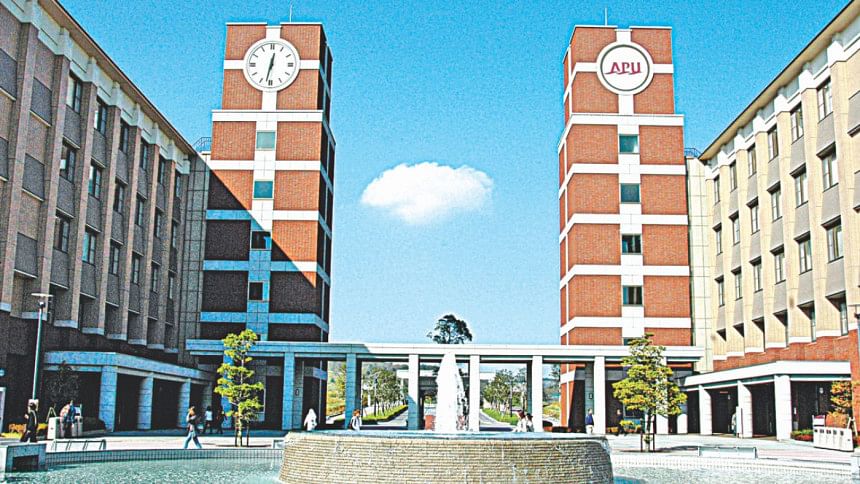 More and more Bangladeshi students are choosing to pursue higher education in Japan. Since studying abroad is a substantial investment and a major life decision, students need to consider several criteria in universities as they proceed to apply - quality of education, environment, campus facilities, on-campus opportunities, offered programs, cost of education, living expenses, scholarships, application process, and career opportunities. Ritsumeikan Asia Pacific University is one of Japan's top global universities, and it fares well in all of these parameters - making it one of the top choices for any student. 
Ritsumeikan Asia Pacific University (APU) started its journey in 2000 with the aim of creating global leaders who can find innovative solutions to the issues around the world. It is an AACSB accredited university with a unique education system focused on global knowledge, communication, business leadership, language proficiency and peer learning.
Imagine stepping out of your comfort zone in a foreign university to pursue higher education only to find that your own culture is also celebrated there. Half of the student body of Ritsumeikan Asia Pacific University is made up of domestic Japanese students and half (51.4%) international students. The campus is comprised of students, faculty and alumni with 89 countries and regions represented by students, 24 countries and regions represented by faculty and 144 countries and regions represented by alumni. The intercultural coexistence and engagement with dedicated faculty encourages interactive learning.
APU has a Japanese/English bilingual education system that allows admission of students without prior proficiency in Japanese unlike some universities in Japan where it is a requirement. This is a huge advantage for Bangladeshi students deciding to apply. However, learning Japanese is mandatory after enrolment and is also necessary for ensuring an easier life in Japan and becoming well suited for the workforce. Learning Japanese on-campus also comes with the benefit of experiencing Japan's rich culture and modern tradition. For students wanting to add more languages to their repertoire, the university offers additional language courses such as Chinese, Korean, Malay, Spanish etc.
Apart from all modern facilities including libraries, gyms, and dining halls with multiple cuisines, APU also has an on-campus residence hall. It's compulsory for freshmen to live in the dormitory, to make their first days in Japan easier. To help new students adapt in APU's environment, FLAG, a student group arranges orientations and assists newcomers.
On-campus opportunities at APU are endless. From taking part in student-led activities to joining overseas exchange programs, APU students are doing it all and strengthening their skills. The university has 146 exchange partners in 48 countries and regions. Therefore, students have a scope of building their international portfolio by joining an exchange program for a semester or a year at one of APU's partner universities. As part of their on-campus activity, students are serving the society as responsible global citizens. For example, the project "Clean up Dhaka" in 2015 was carried out by a team of APU students. Furthermore, APU offers many on-campus jobs to students and provides them an opportunity to represent the university. A Bangladeshi student studying in APU, Junaid Abdullah Saad said, "I am working in the Presidential office as a student Ambassador of APU as a result of which I have represented APU in many different places, including television media."
APU offers specialised majors that are demand responsive- Innovation and Economics, Marketing, Strategic Management and Organization, Accounting and Finance under the College of International Management (APM) and Environment and Development, Hospitality and Tourism, International Relations and Peace Studies Culture, Society and Media under the College of Asia Pacific studies (APS). APM and APS offers BBA and BSocSc degree respectively. Students have the flexibility to switch their majors.
APU alumni are working across all fields and industries. Often times, representatives from reputed Japanese and international companies visit APU's campus and recruit students. The employment success rate among graduates is 96.7%, with majority students getting a job before graduation.
Admission fee for students amount to around 1130 USD, tuition fee for the first-year amount to 11,548 USD and 12,278 USD for the second to fourth year of studies. However, the university awards APU Tuition Reduction Scholarship to international students which cover 30% to 100% to make the cost of education affordable for students. One of the most fascinating aspect of this scholarship is that it remains valid even when students are on the exchange programs. Managing Partner at Maces, an overseas educational consultancy firm, Rouham Manzoor shared that many Bangladeshi students are recipients of the tuition fee reduction scholarship. Although the competition is increasing with time, "Students obtained brilliant results in HSC/A-Levels, actively participated in extra-curricular activities, scored above average in English language proficiency tests, performed well in the interview can expect fantastic scholarships", said Rouham Manzoor. APU offers additional merit-based scholarships after enrolment, other scholarships such as JEES (Exchange and Services), MEXT (Ministry of Education, Culture, Sports, Science & Technology) can also be options. Living expenses for a year amount to approximately 8696 USD including AP house rent. To bear the cost of living, students can take part-time jobs, on and off campus up to 28 hours a week during the semester, and 40 hours a week during vacation.