India
Taking the driver's seat
A Mumbai cab service helps disadvantaged women take control of their lives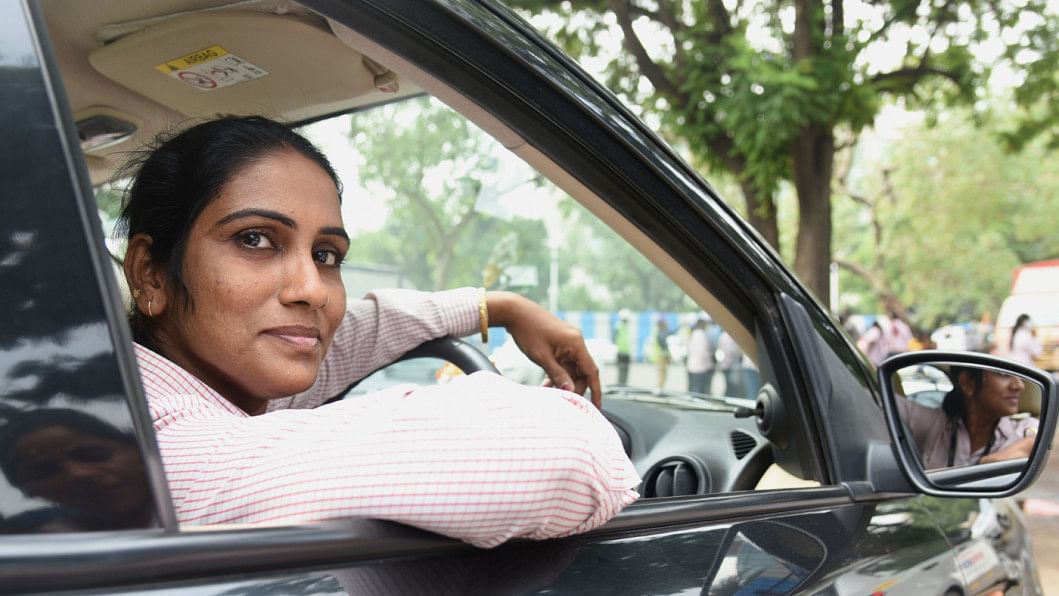 Manisha Malvade was 21 when her mother died of cancer. "Mother's death shook me," she said. "But I had to help my family survive." Her father, alcoholic and unemployed, was of no help. It fell solely upon her to support her five other siblings.
At her part-time job at a shopping complex, a colleague advised her to learn to drive. For three months, she shuttled between her home in the Mumbai suburb of Kurla and a driving school in neighbouring Chembur.
For the past seven years, she has been driving for Priyadarshini Taxi Service, an all-woman company. In a good month, she earns up to ₹30,000 (about US $470). This has enabled her to provide not only the basics but to also put her younger siblings through school and college.
Women like Malavade are why Priyadarshini exists, said founder Susieben Shah. Since 1989, Shah has also been president of Stree Shakti Kendra, where she implements government programmes for the economically disadvantaged. In the course of her work, she has met women who single-handedly run entire households. They have great self-confidence and want to do something on their own but lack a platform and a mentor.
In response Shah started Priyadarshini, founded in the chawls [tenements] and slums of Mumbai, India's financial capital in 2011 with 15 cars; today, the company owns 50 and hopes to double that number soon. Most of the women who come to Priyadarshini are widows or single mothers "with a hunger to succeed," said Shah. The company asks for only a ₹1,000 (US $15) deposit and that the women pay their drivers licence fees and commit to working 28 days a month.
Training starts with the basics: driving lessons, car maintenance, emergency skills, self-defence, accounting, communication and etiquette. They also learn yoga to help handle the stress of driving up to 12 hours a day. All this is free; a few charitable trusts support the training, which costs up to ₹12,000 (US $185) per person.
Once they "graduate" and are out on the road, drivers pay the company ₹850 (US $13) a day and keep the rest of what they make. "We're flexible about it," said business relations manager Jeel Hade. "We understand that it may not be possible to earn that much every day."
Coming even this far hasn't been easy. While women are increasingly taking the wheel in India's cities and towns, women taxi drivers are still a rare sight, as driving is not considered a "feminine" occupation. Shah said that in the early days, male drivers looked down on Priyadarshini's drivers. "They would say, 'women are a challenge to our bread and butter.'" Worse, men in the drivers' families would sometimes take the cars to run their own transport businesses. Priyadarshini now avoids that by owning all the cars.
These days, Shah's biggest concern is staying afloat financially. Priyadarshini takes care of maintenance, and wear-and-tear is high—inevitable given the state of Mumbai's roads. And auto loan payments must be made on time; lenders aren't sympathetic about delays.
Attracting investors has been another challenge. Shah, who has been funding the company through profits diverted from an export house she also runs, said she can't fathom why backers aren't lining up at the door. "Unlike NGOs, our results are tangible. We are a profit-making company. But they want scalability and an exit clause." She is nevertheless determined to find new investors and is confident that in two years, Priyadarshini will have spread throughout India. "I'm not giving up yet," she said.
For the drivers, giving up is even less of an option.
Malvade is now married with a one-year-old son, and her in-laws haven't demanded she quit—which is often the case after a young Indian woman marries. In fact, they support her, with her mother-in-law looking after the baby while she puts in those 12-hour days. "My life has changed completely. I feel no less capable than a man."
There have been real challenges, but she has tackled them all with drive and determination. For instance, Mumbai's black-and-yellow taxi drivers shoo her out of taxi stands and mock her — "Stay home!" "What do you know of driving?" — but she ignores them. A passenger refuses to pay? She calls the police. There was a driver who kept overtaking and blocking her, so she cut him off, grabbed him by the scruff of the neck and slapped him hard. She hasn't yet needed to use the pepper spray that Priyadarshini puts in all the cabs. "The company tells us that if we're afraid, we won't be able to drive. And I love to drive, I'm good at it," said Malvade. "But why believe me? All my customers say I'm a great driver!"
Shah and the 200 women trained by Priyadarshini cabs know they are doing more than simply driving cars—they are challenging stereotypes and asserting their financial and social independence. As they forge this new path, they are also making travel safer for other women.