Unrestrained, PK Halder became the sultan of swindle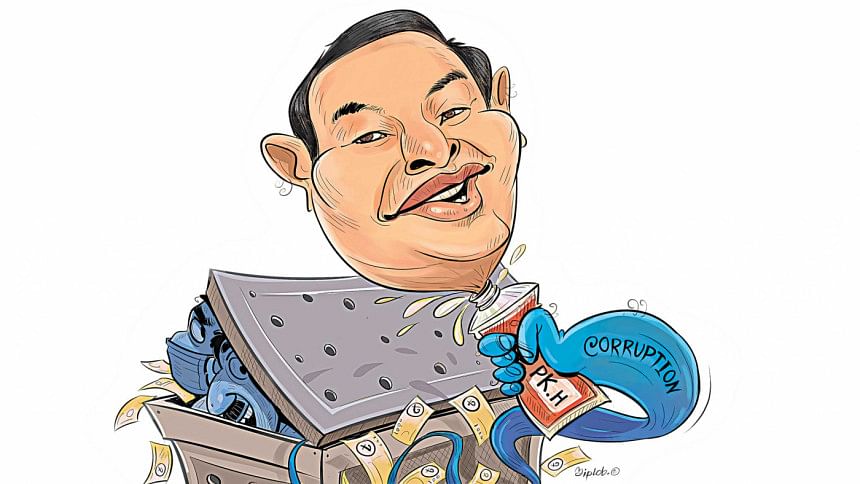 Alarm bells were raised when PK Halder and his associates laundered around Tk 174 crore from a financial institution in 2016 by setting up companies that existed only on paper.
The Department of Financial Institutions and Markets (DFIM) of Bangladesh Bank detected the scam and declared those companies "risky borrowers" the same year.
But the syndicate members were let off the hook and they continued to plunder financial institutions more aggressively.
They would then embezzle thousands of crores from three non-banking financial institutions -- International Leasing and Financial Services (ILFS), Peoples Leasing and FAS Finance and Investment, investigators said.  Had the central bank, the apex regulatory body for the country's financial system, taken measures, the massive scam that followed could have been averted, they observed. 
The Anti-Corruption Commission came to know about the misappropriation while investigating the swindling which came to the fore during the drive against the casino business in 2019. 
PK Halder has now been implicated in at least 34 cases for laundering about Tk 2,500 crore from the three institutions. Fugitive for about two years, he was arrested in India on May 14. PK Halder was a deputy managing director of Industrial and Infrastructure Development Finance Company Limited (IIDFC) in 2008. He joined Reliance Finance as its managing director in 2009.
I was told that these are PK Halder's files … 'Don't worry, present it before the board'. The board without any scrutiny sanctioned those loans.
He became the managing director of NRB Global Bank in July 2015.
Between 2009 and 2019, he and his associates swindled around Tk 10,000 crore from four financial institutions, including Reliance Finance, according to ACC investigators.
 THE SCAM
 In 2016, a Tk 174 crore was borrowed from FAS Finance for four organisations -- Nature Enterprise, New Tech Enterprize, Deya Shipping and MTB Marine -- which existed only on papers.
 Two common addresses -- 22/kha Dinanath Sen Road and 29 Dinanath Sen Road of Gendaria of Dhaka -- were used as registered and business addresses to get the loan for the four organisations.
 A DFIM probe found the addresses fake and there were no official activities in the two buildings.  This correspondent visited the places in September last year.
 "Are the offices of New Tech [Enterprize], Nature Enterprize and Deya Shipping located here?" the correspondent asked one Mostafa, who lived with his family at the house found at 22/kha Dinanath Sen Road.
 "No," replied the man.
 A similar reply came from Saddam Hossain, caretaker of the three-storey old building at 29 Dinanath Sen Road. "There is no office of MTB Marine here …. I've been here for over five years."
 The so-called New Tech took about Tk 45 crore short-term loan, Nature Tk 45 crore, Deya Shipping Tk 44 crore and MTB Marine took Tk 40 crore.
 Nasim Anwar, Basudev Banarjee, Papia Banarjee, Momtaz Begum, Nowsherul Islam and Anwarul Kabir "own those fake companies and were on the board of directors of ILFSL" at that time, according to an annual report of ILFSL.
 The report shows Basudev and Nasim first appeared on the ILFSL's board on April 16, 2015 as nominated directors of ZN Enterprize and HAL International.
 HAL, also an organisation on paper, was owned by PK Halder. When the loans were approved, Russell Shahriar was the managing director of FAS Finance.
 In a confessional statement, Russell, also an accused in a Tk 176 embezzlement case, said owners of around 25 business organisations, including New Tech, Nature, Deya Shipping and MTB Marine, were either relatives of PK Halder or his business associates. The ACC unearthed how the money was layered to conceal laundering. 
For instance, about Tk 8.95 crore out of Tk 45 crore that Nature took as a loan from FAS Finance was transferred to the account of Reptiles Farm. Tk 5.5 crore was transferred to MTB Marine, Tk 2.6 crore to Deya Shipping and Tk 6.5 crore was transferred to SA Enterprise. 
Besides, Tk 10 lakh went to the account of P&L International, which owned 5.37 percent share of FAS Finance. 
Not only that, after a central bank audit found both New Tech and Nature "risky borrowers", PK Halder's associates turned to People's Leasing and Financial Services (PLFS) Ltd and sought Tk 60 crore loan for Deya Shipping and MTB Marine. 
The Tk 60 crore was borrowed to repay the loans taken from Reliance Finance (now morphed into Aviva Finance) and G&G Enterprise, another shell company of PK Halder syndicate.
"We assume that the transaction was an eyewash and made to show the liabilities of the fictitious organisations okay," said an ACC official, preferring to be unnamed.
The official said had the authority taken necessary measures after those anomalies, "a disaster could have been averted".
Taking advantage of little or no action, the syndicate became more desperate and continued to swindle depositors' money of the four financial institutions -- which saw PLFS eventually liquidated. Uzzal Kumar Nandi, one of the associates of PK Halder, joined PLFS as its chairman in November 2015. Before that he was a director of FAS Finance.
In 2017, he took a Tk 40 crore loan from FAS Finance for his newly established company Anan Chemical against 1.44 crore shares as collateral.
 In a confessional statement to a metropolitan magistrate last year, Nandi said Halder put his men at the helm of the financial institutions so that he could easily take loans from those and misappropriate the funds.
"Halder paid me Tk 5 lakh as monthly salary. I could not realise then that he would use me for loan forgery," Nandi said.
In his statement, Russell Shahriar said when he was deputy managing director of MIDAS Financing Ltd, both PK Halder and Nandi contacted him over the phone in November 2014 to join FAS Finance as its managing director.
"I was told that these are PK Halder's files … 'Don't worry, present it before the board'. The board without any scrutiny sanctioned those loans," said Russell, adding that Halder, also former managing director of NRB Global Bank, appeared at the board meeting without not being a member.
PK Halder, the sultan of swindle, allegedly had bought blessings from top officials of the central bank.
Former managing director of ILFSL, Rashedul Haque, in a confessional statement said he gave Tk 2 lakh per month to the former general manager of DFIM of Bangladesh Bank Shah Alam, who later became executive director of the central bank, as per directives of PK Halder.
"PK Halder's source of power was former deputy governor of Bangladesh Bank SK Sur. With his assistance, PK Halder managed irregularities," he said.
ACC Deputy Director Gulshan Anowar Prodhan quizzed both Shah Alam and SK Sur on March 29 for about four hours. The two did not respond to the questions of journalists after the quizzing.
Asked why action was not taken even after alarm bells were raised, Bangladesh Executive Director (DFIM) Mohd Humayun Kabir said it was a long time ago. "I have to check documents before making any comments," he told this newspaper on Thursday.