Will Dhaka Wasa and its MD ever be held to account?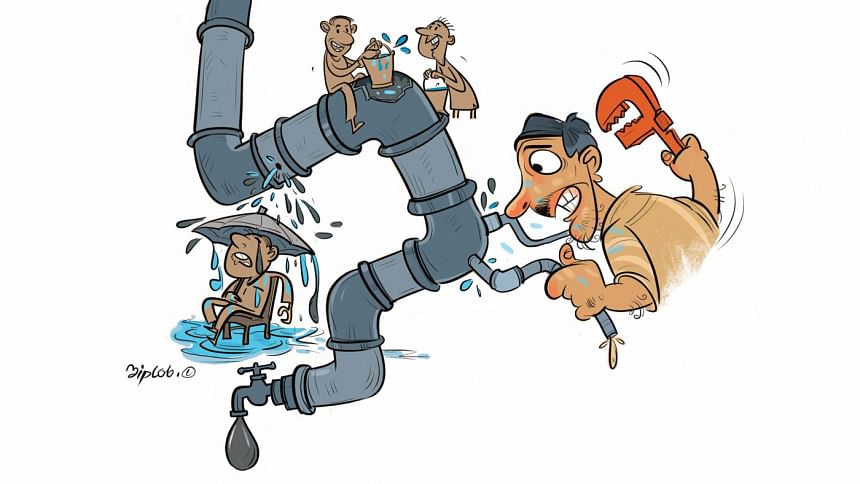 In 2019, Taqsem A Khan, managing director of Dhaka Water Supply and Sewerage Authority (Wasa), faced huge public outrage for saying that the water supplied by Wasa was 100 percent drinkable. He made the claim at a press conference arranged to refute a number of allegations raised against his organisation by the Transparency International Bangladesh (TIB). Taqsem said that the water Dhaka Wasa supplied to the city residents was good at the source, but that they might get contaminated in the pipelines, adding that they had undertaken projects to replace those pipelines. He then declared that people would be able to drink water straight from their taps by 2021.
More than two years later, a large part of Dhaka is still getting smelly, dirty and contaminated water. The water is not only unsafe to drink, but it's often completely unusable. Since Taqsem took charge of Dhaka Wasa 13 years ago, many projects have been initiated to improve Wasa's service, spending crores of taka, but the quality of its water at the consumer end has hardly improved, according to our reports.
The TIB did a year-long study titled "Dhaka Wasa: Challenges of Good Governance and Way Forward," and revealed their findings in April 2019. They surveyed 2,728 connections and service recipients of Wasa and found that 91 percent of Dhaka's population had to boil water to drink it. In the process, they burnt gas worth Tk 332 crore a year.
According to the study, nearly 45 percent of Dhaka Wasa consumers didn't get adequate supply of water, while about 35 percent complained of getting poor-quality water throughout the year. However, they did have to pay the increased water tariff every year. Reportedly, Dhaka Wasa has increased its water tariff 15 times since 2009. It has proposed to raise the water tariff by 20 percent again this year. If the proposal is approved, consumers will have to pay the increased price from July.
Naturally, such a ruthless proposal made by a state-run organisation has been met with widespread criticism. People questioned the rationale behind such a proposal at a time when inflation has hit us hard. In fact, people have started to question the honesty and integrity of the Dhaka Wasa MD, who is drawing a hefty amount for a salary every month. According to news reports, as the water tariff increased year after year, so did the Wasa MD's salary. During the past two years of the Covid-19 pandemic, when the water tariff was raised twice, Taqsem's salary was also raised by Tk 1.75 lakh. Currently, he gets a monthly salary of Tk 6.15 lakh—a whopping 421 percent raise in 12 years! We also learnt that the Dhaka Wasa officials received stimulus benefits of Tk 40 crore last year. The Consumers Association of Bangladesh (CAB) has rightly said that it's the Dhaka Wasa MD and officials who are actually getting the benefit of frequent water tariff hikes.
One of the many allegations that Taqsem has faced over the years is that he has been appointed and reappointed as the MD for six consecutive terms, reportedly in violation of Wasa's rules and regulations. TIB termed his appointment and repeated reappointments "questionable" and called for a neutral audit of his performance, which has not happened till date.
Under his leadership, Dhaka Wasa has failed not only to provide safe water to its consumers, but also solve the waterlogging problem in the city. In 2020, the responsibility of Dhaka's drainage management was handed over to its two city corporations because of Wasa's prolonged failure to eliminate waterlogging. It has also been revealed that Wasa's sewerage lines contaminated the Buriganga River.
Now, the Wasa MD, with his questionable track record, is trying to burden the consumers with another tariff hike. The justification he has given for this hike just doesn't hold water: He said Wasa needed to raise the water tariff as it couldn't continue its operation "through begging." The fact, however, is that Dhaka Wasa is already a profitable organisation. In the 2020-21 fiscal year, it logged in a profit of Tk 49.6 crore, while its retained earnings (the portion of a company's cumulative profit that is held and saved for future use, particularly for investment purposes) stood at a staggering Tk 892 crore, according to its audited financial report.
Therefore, there is clearly no logic behind raising the water tariff at a time when ordinary people already have their backs against the wall due to uncontrolled inflation, unemployment and the pandemic impacts. In fact, instead of burdening the consumers, what the Dhaka Wasa authorities should have done is try to improve their service quality by addressing the allegations of corruption and irregularities raised against them.
The TIB study mentioned above found that 62 percent of those seeking water and sewer connections from Wasa reported facing harassment and irregularities. The TIB said that the Anti-Corruption Commission (ACC) should look into Wasa's corruption. Later, the ACC's investigations found that Wasa's consumers were not getting good service because of widespread corruption and delays in project implementation. The ACC clearly mentioned that Wasa kept extending deadlines and increasing the project costs to facilitate corruption, highlighting in its report the many ways in which corruption gripped the organisation.
It is, therefore, most unfortunate that after all the studies and investigations—not to mention a number of news reports revealing Wasa's irregularities over the years—no substantive action has been taken against Dhaka Wasa and its MD. We can't help but ask: Are Dhaka Wasa and its MD beyond accountability?
Naznin Tithi is a member of the editorial team at The Daily Star.