Tackling climate change: NbS can enhance Locally-Led Adaptation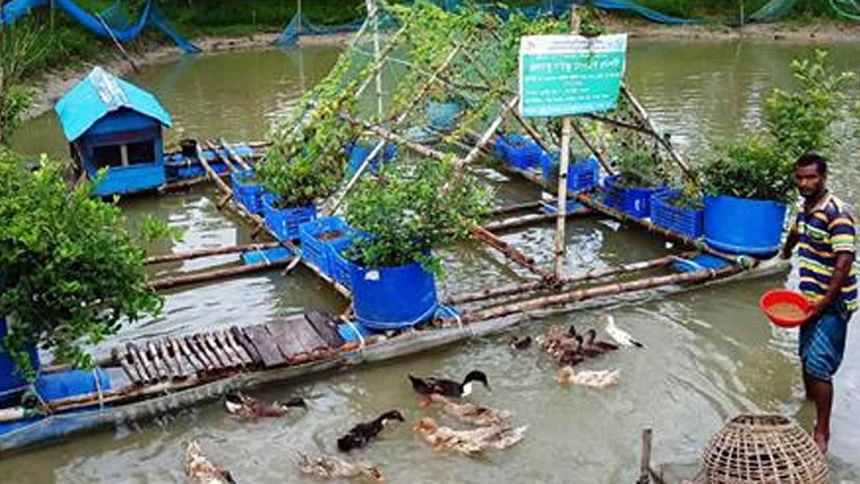 Two concepts related to climate change – Locally-Led Adaptation (LLA) and Nature-Based Solutions (NbS) – have gained significant momentum over the last couple of years. Both allow us to define potential ways to tackle the climate crisis. But at the same time, these are causing some confusion and misunderstanding among the stakeholders working on climate action, which need to be demystified.
Let's start with NbS. To fight climate change, we have no other option but to bring the global carbon emission down to net zero. To do that, in addition to inventing and using technologies to shift from using fossil fuels to renewables, we can also rely on nature and ecosystems. We can remove carbon dioxide from the atmosphere, for example, by planting diverse mangrove saplings on new chars along our coastline. Similarly, we can re-green degraded ecosystems, like the denuded hills of the Chittagong Hill Tracts (CHT), to capture carbon. We can also reduce the release of greenhouse gases (GHGs) by improving the ecologically-critical area around the Sundarbans or by sustainably managing Hakaluki Haor, for instance. Protecting nature can also help us survive the long-term impacts of climate change. If we conserve the hills' tree cover, it will ensure water supply even if there are more rainless days in the coming decades. And nobody knows better than Bangladesh how the Sundarbans and the coastal green belt have been protecting our lives and assets from cyclones.
All these ecosystem-based actions are examples of NbS. By protecting, restoring, managing and creating ecosystems, not only humans are getting benefitted, but biodiversity is improving, too. But, as we can see, NbS is nothing new. It is rather something we have been practising for ages, such as floating agriculture at the central coast of Bangladesh. It is only a new framing to bring all nature-based activities under one umbrella. This new approach can help us to integrate nature into different actions to tackle diverse societal challenges, particularly climate change.
LLA, on the other hand, takes place when at the lowest administrative level, local communities and their community-based organisations and federations, local governments, and other local-level stakeholders identify, prioritise, plan, implement, monitor, evaluate, and learn from adaptation actions against climate change. Such interventions are supported by national governments, donors, civil society organisations and private sector agencies by closely working with the local entities. The earlier versions of this apparently new approach include community-based adaptation (CBA) and community-based natural resource management (CBNRM), where community participation is central to adaptation or NRM actions. Bangladesh has long been part of the conceptualisation, evolution and consolidation of these people-centred approaches. Building on the lessons learnt from over the past couple of decades, LLA essentially looks at adaptation from a whole-of-society perspective and mainstreams principles of governance in all possible senses.
Both LLA and NbS have strongly been appreciated and adopted by global agencies, like the Global Center on Adaptation (GCA), which has its South Asia office in Dhaka. Large money-lenders of big infrastructure projects, such as the World Bank and the Asian Development Bank (ADB), have embraced NbS. USAID's new Climate Strategy (2022-2030) has made NbS and locally-led development two of its five core principles to spend USD 150 billion in the current decade. Recently, the UK's Foreign, Commonwealth and Development Office has launched a 120-million-pound programme called Bangladesh Climate and Environment Programme. Its first thematic area envisages improved climate resilience of the people of Bangladesh through scaling up LLA and NbS by protecting and restoring nature. Also in Bangladesh, the Mujib Climate Prosperity Plan and the Bangladesh National Adaptation Plan (NAP) are two recent draft policy instruments which have explicitly adopted LLA and NbS as core approaches.
Despite their humble, familiar origins, both LLA and NbS face a number of questions from the development practitioners, who sometimes struggle to understand and adopt new concepts and approaches every few years. Another challenge is communicating these new concepts to the stakeholders – from the local communities to the policymakers. It is also argued whether developing countries should adopt these concepts apparently coming from the West. These concerns may seem real, but are not justified. All these people-focused concepts and approaches may seem different, but in fact all are focusing on human well-being through sustainable development. Let's explain these commonalities by taking LLA and NbS as examples.
To ensure that LLA is truly being practised, by May 2022, around 80 organisations from Bangladesh and around the globe have endorsed eight principles of LLA. Similarly, to tackle the risk of misunderstanding and misusing NbS, the International Union for Conservation of Nature (IUCN) gathered experiences from 100 countries and developed a global standard for NbS in 2020, made up of 28 indicators arranged under eight criteria. If we look at the LLA principles and the NbS criteria, we find strong similarities among them as they essentially deal with similar issues to help people adapt to climate change.
Both the LLA and NbS underscore the importance of knowledge and understanding of the context, challenges, uncertainties, opportunities, and solutions. They value and ensure people's participation in every step of an action following the principles on diversity, inclusion, equity, access, transparency, accountability, and empowerment. Both focus on responsible and flexible funding and programming, and promote learning by doing and adapting to ever-changing scenarios. They focus on sustainability, scaling up and scaling out of actions, which would build peoples' resilience and ensure their overall well-being.
As we continue planning, funding and implementing actions to build community resilience, we must invest time and efforts to understand novel approaches and tools. We shouldn't shy away from these concepts even if they seem overwhelming; rather, we should play our role in translating theories into practice and feeding our experience to the policymaking process. While doing so, we shouldn't adopt new concepts as they are, but should contextualise them matching our needs.
Dr Haseeb Md Irfanullah is an independent consultant working on environment, climate change, and research systems. His Twitter handle is @hmirfanullah