Storytelling through food
Kishwar's rendezvous with Bengali cuisine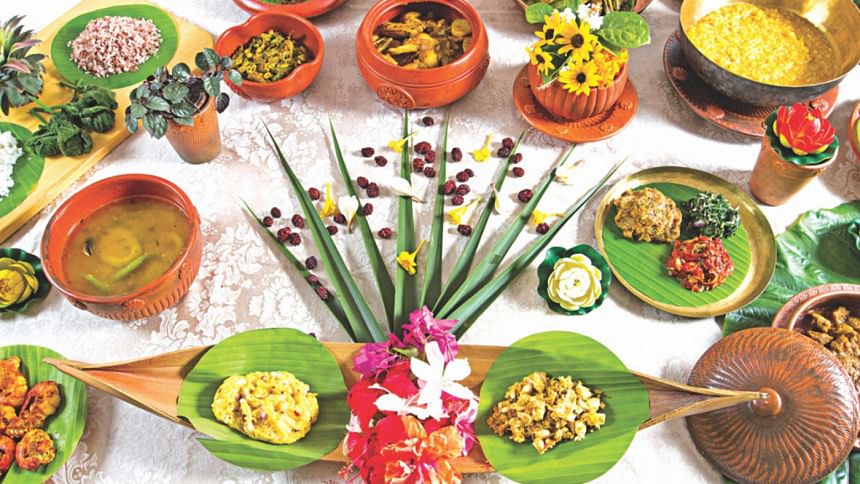 Bengali cuisine in its most primitive form is perhaps a paradoxical phenomenon worthy of deeper socio-cultural research. On one end, our food traditions have inherent roots ensuing from everyday social activities such as the neighborhood adda—defined through punchy, subtle, tangy and spicy finger foods that complement that elusive cup of chai. On the other end of the spectrum, the khandani rich textures present across Mughal food represents the yesteryears of an elite class of individuals and their historical ties with Nawabi rule. The kind of food we eat often depicts the tale of the people who cook and consume it, in the case of Bengalis, it comprises of a history of survival, subsistence and simply buckling up and getting on with it—especially for the likes of labourers, farmers, fishermen or street vendors, versus another parallel history of the privileged Zamindars, landowners or a minority of educated professionals of a very different era. So how important is reflecting on this history when it comes to discussing our cuisine? The answer is pretty obvious—well of course it is important!
The convergence of these two strands of history has resulted in the development of a niche combination of flavour, spice, subtlety and richness—creating a unique but highly undervalued Bengali cuisine. Aficionados of different cuisines attest to this notion. Mobilising a conversation around this cuisine and its subsequent promotion by Bangladeshi diasporas internationally, is therefore a necessary step needed to truly pay testament to the idea of "Brand Bangladesh". MasterChef Australia finalist Kishwar Chowdhury has donned the role of doing exactly that—and for this, she deserves nothing but our unwavering gratitude. Some have argued across social media that the non-resident Ms Chowdhury tried to leverage patriotism and emotion to drive her food to the very top of the ladder—well, I say good for her. As a society, are we seriously going to criticise a lady for tapping into the one sentiment that we as Bengalis have a history of misusing? But there is a bigger tale here—each of the dishes Ms Chowdhury presented in coherence with her personality, represented an itemised tale of the holistic Bangladesh story. And for specifically making this effort to be a narrator through her food, she won my heart.
The Panta Bhaat and Aloo Bhorta dish was bound to hit the core of our sentiments—such a simple yet heartwarming representation of the very fundamentals of Bengali cuisine! The story behind the history of this dish—that of poverty, struggle, oppression and famine is one that needs to be expressed. Kishwar's take on Mishti Paan on the other hand, resulted in the judges deeming it her love letter to Bangladesh—and that it was. Whether it be Paanta Bhaat or Paan, these are items which one is likely to see (albeit in a more rustic form) across villages and households that are often struggling to make ends meet—by giving power to the value that such individuals bring to the Bengali story, she presented these dishes in what is surely one of the most coveted culinary competitions in the world. Her other dishes such as Jao Bhaat and Mutton Rezala brought to light crucial strands in examining the thesis of our cuisine—and she made it a point to elaborate on the story behind each item to the judges, for which she deserves applause.
There was one dish in particular however which truly blew me away. In our collective quest to celebrate the independence struggle of 1971 and the spirit of freedom, we often fail to reminisce, recollect and reflect on the fragile journey of the ethnic populations of our country. To comprehend the roots of our cuisine, and in fact the foundations of all things that make us Bangladeshi, we need to reconcile ourselves with the indigenous populations of our country and pay tributes to their history. Their story is often untold and shamelessly sidelined—both by the state and citizens alike. Kishwar's Rangamati Barramundi Curry was an informed chef's homage to the capital of the Bangladeshi Hill tracks and home to the indigenous people of Bangladesh. How wonderful it was to see netizens have a genuine conversation in reaction to this dish, regarding the culture of indigenous groups in the country and what they bring to our story?
Residing in Canada I have often tried to seek inspiration from Bangladeshi immigrants who are making a credible impact and truly representing Brand Bangladesh here—there is little doubt that expats owe an immense gratitude to their motherland. And yes, when I see pockets of restaurants opening up in Toronto such as "Gharoa" or "ADDA Bengali Kitchen & Catering" and proudly labelling themselves as promoting Bangladeshi food, I perhaps feel the same sense of pride which the owners and chefs do—but in more ways than one, a deeper sense of comfort perhaps. Comfort in knowing that if I miss home cooked food, I can always run over and feel at home. Comfort at knowing that if I want to give my non-Bangladeshi friends a glimpse of our local delicacies, I can take them there. For decades, Bangladeshi expats have been restaurateurs in immigrant hubs such as London, New York and Toronto—yet there was a seeming sense of discomfort in labelling their food as Bangladeshi.
We preferred to market our restaurants as Indian or Pakistani—in a way this was perhaps a manifestation of how we undervalued ourselves as a society or a reflection of the hesitancy to respect our achievements. Or perhaps, it was simply a way to avoid explaining to the average person where and what Bangladesh is. Today, our country can and should be proud of where it is—and I think it gives leverage to our citizens to be bolder and brighter in wearing that badge of pride more adeptly. Do not get me wrong, our governments of the past and the present have been quick to jump on the development bandwagon and take credit for the modern image of Bangladesh as a thriving middle-income economy. Nevertheless, they forget to shine appropriate light on the daily achievements of regular citizens and expats alike—the true carriers of the story of Bangladesh. What Kishwar Chowdhury has done and the traction she has received during her time at MasterChef Australia, does in my opinion, provide a segue for us as a society to celebrate the successes of civic power and regular citizens—and in turn, inspire others, and importantly mothers and home cooks, to take ownership of playing their role in building Brand Bangladeshand investing in their skills.
The New York Times carried a report way back in 2000 titled "The Star of Bangladesh; In New York, Don't Take Indian' Food Too Literally"—indicating that around 85 to 90 percent of Indian restaurants in New York were in fact Bangladeshi. More recently in 2019, the BBC ran several reports stating that 87 percent of Indian restaurants in the UK were run and owned by British-Bangladeshis. So, when it comes to entrepreneurship and the culinary arts, Bangladeshi expats have invested time, money and effort in different communities across the aisle. With Kishwar Chowdhury's success, one hopes that Bengali cuisine gets further limelight internationally and is depicted as a vessel for telling the story of a history of a people, whose roots are as diverse as is their food. Soft power via civic power is often more impactful than political power—and in the Golden Jubilee year of our independence, Kishwar Chowdhury may just have nudged our cuisine in a direction where it can cumulatively play the role of being a platform to promote Bangladesh globally, while staying true to our roots. We wish her the best and hope to read her cookbook soon! You do not have to be in Bangladesh to be an ambassador of Bangladesh—and this principle I take to heart deeply. And I hope Kishwar does too.
Mir Aftabuddin Ahmed is Toronto-based banking professional and a contributor for The Daily Star.
Email: [email protected]