A love letter to the women in the kitchen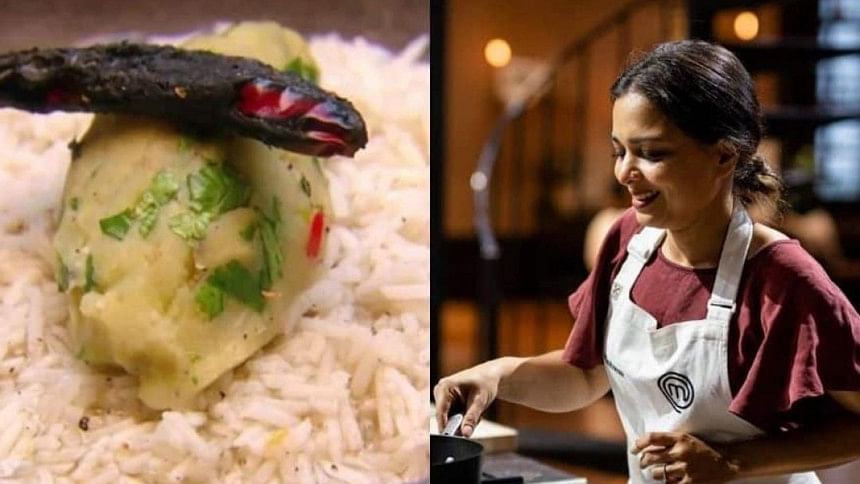 Gender stereotypes like the notion of women belonging in the kitchen may seem trite and overdone, but these continue to have an effect in a culture that devalues women by asserting that it is their sole duty to cook. These may appear as playful banter directed towards females, or perhaps are characterised by a subtly sexist practice in an otherwise modern and progressive household, or in the worst-case scenario, through an institutionalised norm in a patriarchal setting where cooking is believed to be a degrading task and thus is to be carried out by women.
Against this background, on July 13, Kishwar Chowdhury, a cook of Bangladeshi descent, did not just bag the title for second runner-up in MasterChef Australia, but also managed to do much more: Her bold culinary decisions in the show galvanised an entire nation to pause and bite its tongue over such hypocritical mindsets as mentioned above when it comes to women's role in the kitchen. While we rejoiced every time she put forth a dish, dripping with Bangladeshi heritage and generating rave reviews, we were reminded that these were the same everyday home-made meals that we take for granted so readily, especially the sweaty faces behind these dishes—in our grimy, poorly ventilated kitchens—who toil away night and day, unappreciated and unpaid. While we beamed with pride, there was an unsavoury nudge at the back of our heads which can be neatly depicted by this famous saying from Kerala: "You wear progressive slippers, but leave them at the doorstep."
How inspiring then it must have been for many of these women to witness the familial support that Kishwar had received while pursuing her dreams. How tempting it must have been to imagine themselves in her shoes, with many being fully capable of fulfilling their aspirations, who were only held back by the lack of a proper support system. To take it up a notch further, wishful thinking about having a supportive family is quite unimaginable in households where women regularly become victims of domestic violence for failing to serve a satisfactory meal to the men of the house.
It is important to realise that such practices have been established through the combined efforts of capitalism and patriarchy that have subdued women and denied their potential. Cooking is the very means through which a family is sustained and yet this invaluable activity, which has been carried out by mothers and grandmothers for generations, is somehow considered backward. In reality, they have been nothing short of masterminds, innovating delicious and nutritious recipes, unlocking little secrets of nature and all within the confines of the kitchen. To quote Vandana Shiva, Indian physicist and social activist, "For thousands of years, women have contributed to the production of food, conservation of biodiversity, and earth care." While Kishwar's dishes evoked a sense of nostalgia, paying homage to the rich Bangladeshi heritage, they also served as a testament to the geniuses of these Bangladeshi women—whether it was the Mishti Paan, the Khichuri, Machh Bhaja, Begun Bhorta,  Niramish or the Khashir Rezala. The finest tribute was made, however, when she fearlessly served Panta Bhaat, a humble peasant dish popular in the rural areas of Bangladesh. A dish that is packed with old, powerful tradition, but which mostly tells the story of a woman's attempt to replenish her husband after a hard day of farming under the sun. It was a celebration in a plate of oneness that Bangladeshi women have had with nature and the essence of nurturing. 
Her efforts to present our local cuisine at such a prestigious global cooking platform also started nationwide dialogue about the toxic underbelly of our glorious culture—where thousands of women are shackled everyday into unpaid domestic labour, depriving them of agency and opportunities that would have allowed them to succeed on their own terms. Our mothers and grandmothers have been, to quote Kishwar Chowdhury, "just at home", nurturing and providing sustenance for the family. It took a pandemic to demonstrate the extent of the disproportionate burden borne by women and just how much we disregard their free services. Research is being carried out on a concept known as "time poverty"—a phenomenon where a woman is left with little discretionary time for herself owing to this restrictive gender-specific allocation of domestic work, of which cooking constitutes a significant portion. Because women experience this scarcity of time for themselves, it limits their opportunity to get engaged in paid work, activities pertaining to communal and social issues, or even a hobby. The repetitive nature of such tasks can have detrimental effects on their health, both mental and physical, and leave a lasting sense of ennui.
When, then, do we start doing our part to restore the self-esteem these women have lost by contributing immensely to a desensitised society that treats domestic chores, such as cooking, as dispensable? Even though we are beginning to see a shift as progressive attitudes and practices are slowly seeping into the deeply entrenched callousness of many "educated" households, such cases are more of an exception than example. Studies related to "culinary masculinity" have shown that the nature of men's traditional cooking, in effect, has been more reflective of "delivering a performance" on special occasions or a leisure activity, whereas it is an entirely different story for women. A feminine approach to domestic cooking, associated with routine care and prioritising nutritional needs for the family, is something that requires "constant planning, shopping and clean-up", according to food historian Dr. Jessamyn Neuhaus. It will come as no shock that for these women, the well-being of their husband and children takes precedence over their own because that is what age-old generational customs have taught them.
Before we go on to design a mechanism for assigning values to traditional unpaid, gendered roles like cooking—a process that will need state-level intervention from policymakers and other responsible actors—we, as a society, need to proactively reduce the burden these women have been carrying and redistribute the workload so that it is shared equally in a household. Discussions need to start on how females can attain: i) emancipation from the shackles society has bound them in; ii) dignity for their long hours of labour; and iii) opportunities to realise their true potential. Kishwar Chowdhury has made us proud of our culture and heritage, but also jolted an entire country into introspecting and learning a few hard-earned lessons. As a society, we need to work collectively towards building a system that rejoices not just our Bangladeshi cuisine but also the unsung heroes behind it—the women in the kitchen.
Iqra L Qamari is a freelance researcher and a contributor to The Daily Star.