Do we need wider roads in Dhaka?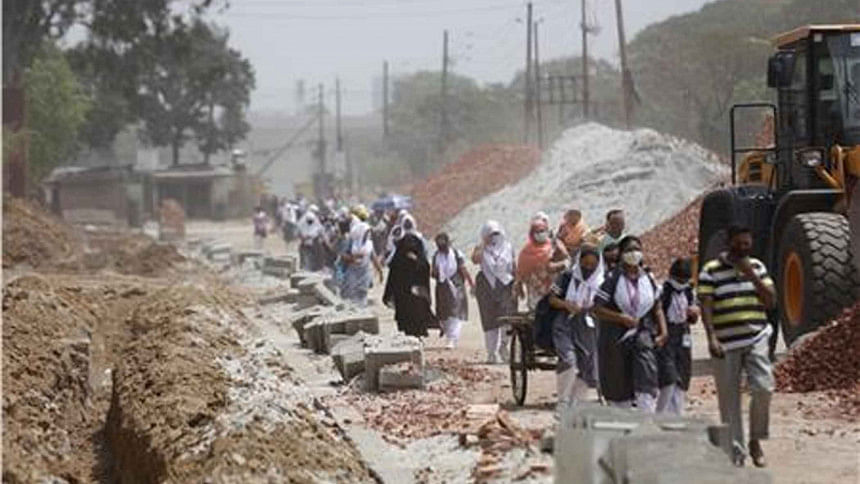 We are accustomed to having fully developed roads in Dhaka only after all the buildings in an area have been constructed – whereas in developed nations, the roads are built first. In the unplanned areas of our capital city, roads are barely available, and most are branching out in haphazard directions. Some private residential areas leave road construction for last, to prevent damage to them by heavy trucks hauling construction materials. The roads in these areas see diminished widths once they are fully constructed, either due to the placement of footpaths or due to the lack of walkways for pedestrians. Even then, these residential areas are planned with the approval of the Rajdhani Unnayan Kartripakkha (Rajuk), according to the private housing rule. These areas usually pose fewer risks in terms of fire rescue, which requires a mandatory 20-foot width for fire rescue vehicles to pass through and conduct their operations smoothly and efficiently.
Authorities and planners often overlook fire rescue while constructing roads. They assume that smaller vehicles and modern equipment by the Bangladesh Fire Service and Civil Defence (BFSCD) could be used to ply roads which are less than 20 feet in width. But firefighters on the ground say that such small vehicles and hose pumps are only efficient for small fires. In addition, the recommendation of using hose pumps for roads that are inaccessible to fire trucks is not an option firefighters favour. It is extremely difficult to carry these hoses and is often very difficult to find a water source for them, too.
Although firefighting is difficult under narrow road conditions, it is not impossible. But reaching the point of accident on time is the greatest challenge. There are mainly two reasons why firefighting becomes challenging in areas with narrow roads: 1) Not being able to reach the site of disaster fast enough; and 2) Difficulty during rescue operations. Both these problems can be addressed through wide and free roads. While it is difficult to monitor and maintain individual households, roads are public property and can be brought under stricter regulations.
According to the GIS mapping presented in the Detailed Area Plan (2016-2035) for Dhaka metropolitan region, about 50 percent of the roads in Dhaka are less than 20 feet wide. The other half of the capital, which has roads wider than 20 feet or more, faces capacity loss due to factors such as traffic congestion, road construction work, parking on the streets, waste disposal, etc. Even during the monsoon months, clogged drains or inadequate drainage lead to urban flooding, which sinks roads.
These factors, when addressed individually, could be solved through coordinated planning and project implementations. Bringing together all government entities related to road planning and infrastructure, such as Dhaka Wasa, Rajuk and the city corporations, all under the same roof would provide more integrated output. Nowadays, we witness Wasa operating on roads for the repair work of their lines while Titas Gas, instead of coordinating with the former, cuts open the same road again for their own repair work. This results in narrow and unusable roads due to the endless train of in-progress construction work.
Although approvals are required from the city corporations to conduct construction work on the roads, the process takes time and often cannot meet the demand for the amount of repair work that is needed. Even in terms of installation of traffic signals and control of traffic, there seems to be a lack of coordination between the city corporations and the Dhaka Metropolitan Development Plan (DMDP).
In case of on-street parking, planners hardly seem to consider the importance of having dedicated parking spaces in the capital. Buildings dedicated to parking could be a solution. In addition, Dhaka's solid waste management needs planning so that neighbourhoods do not have to turn into dumping grounds. Often, large garbage disposal bins are placed on street junctions, as leachate contaminates the area surrounding the containers, reducing vital road space. But while parking and garbage disposal areas need land, the Dhaka city authorities seem to be only coming up with proposals that ensure that no land is left for use by the public. A few playgrounds and open spaces do exist in the capital, but they can hardly serve the city's massive population adequately. Worse, this incapacity of roads is being addressed by planning vertical road expansions, instead of horizontal road widening.
The government's current transport-oriented development includes MRT lines and subway systems. These could reduce the density of people using roads, but given the size of the population and the increasing number of private car users, it would not be surprising if these alternate means of transportation increase the number of people travelling into Dhaka every day, let alone free up existing roads. But with large decentralisation projects underway, we can expect the central business district of the capital to shift. But will that happen soon enough?
Emergency travel for ambulances and Fire Service needs to be accommodated while planning the urban development of the capital, under the jurisdiction of Dhaka's two city corporations.
Aiman Elahi is an architect and a member of the Institute of Architects Bangladesh (IAB).