Can we be bold enough and integrate Nature-based Solutions into Blue Economy?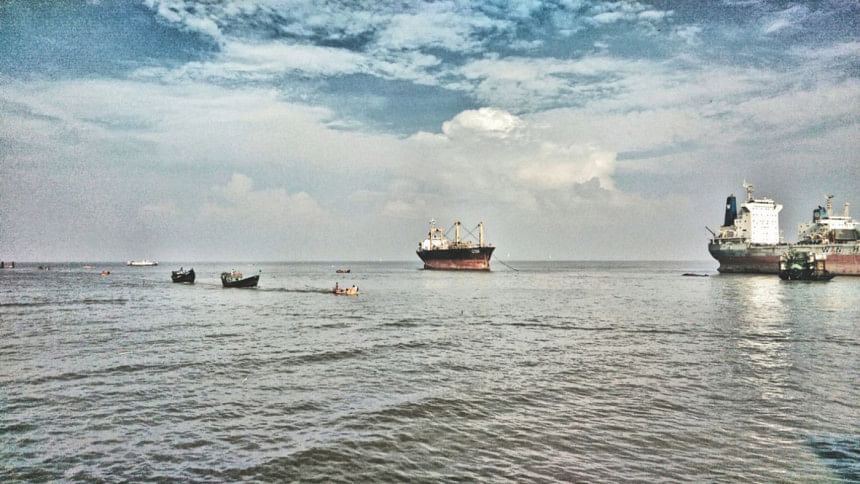 Before answering the question in the title, let's look into Nature-based Solutions (NbS) and Blue Economy.
Over the last couple of years, NbS as a concept has received global attention, especially in climate change discussions. NbS are actions we take to protect, sustainably manage, restore, even create, a wide range of ecosystems—from hilly forests to freshwater wetlands to coastal mangroves, for example—to tackle one or more big challenges of our society, such as climate crisis, food insecurity, environmental degradation, and poverty. A crucial aspect of such ecosystem-based actions is they directly support human wellbeing in terms of nutrition, income, heath, and safety. But at the same time, they increase biodiversity, maintain ecosystems' integrity. This "dual benefit" separates NbS from hardcore biodiversity conservation and conventional community development through agriculture, aquaculture or animal husbandry.
Blue Economy, on the other hand, is the sustainable use of marine and coastal resources for economic development. It encompasses all established sectors, such as oil and gas extraction, shipping, and industrial fishing, as well as emerging sectors, such as marine energy, blue health, and marine biotechnology. Although human civilisation and prosperity are built on maritime transportation and oceanic resources, Blue Economy—with present global worth USD 3 to USD 6 trillion per year—has renewed our attention to the untapped riches and opportunities of our seas for a climate resilient future.
Although we rarely discuss NbS and Blue Economy together, they do have some similarities. First, maintaining socio-economic development under constant socio-political and environmental changes is a critical challenge for all nations, especially in on-going climate crisis. NbS can tackle such societal challenges by sustainably managing marine and coastal biological resources, which is also a core component of Blue Economy. Second, NbS have strong economic element within them: when we design an NbS intervention, we calculate its economic feasibility to make it implementable, acceptable, and sustainable. Similarly, economic analyses of maritime sectors are essential to identify viable options for investment. Third, once we find an NbS intervention working well in certain context, the next logical step is to scale it up in other suitable locations by mainstreaming it into policies, plans, and projects. Likewise, elements of Blue Economy which embrace sustainability and resilience, such as coastal rehabilitation for climate change adaptation or ocean finance and insurance, need to be integrated into a country's sustainable and resilient development pathways.
Although Blue Economy in Bangladesh involves a wide range of ministries and divisions, our conversation is often dominated by exploration of oil and gas, development of shipping industry, and establishment of new sea-ports along with improving the existing ones. In January 2017, the government established the "Blue Economy Cell" under the Energy and Mineral Resources Division to explore, conserve, and sustainably collect and manage natural and mineral resources. Over the last four years, however, the Cell offered limited leadership to advance Bangladesh's Blue Economy agenda.
In terms of marine biological resources, ilish, which is 12.15 percent of our total fish production, often dominates our discussion on fisheries. Shrimp and other coastal aquaculture make up a significant portion of our coastal economy. These, however, underscore the exploitative and intensive nature of our fisheries management and are often criticised for not thinking of biodiversity conservation as they destroy non-targeted species due to unsustainable practices. While 65-day fishing ban on the Bay of Bengal is praised as evidenced-based fisheries management; in 2019, Bangladesh was ranked 47 among 152 countries given the occurrence of illegal, unregulated and unreported (IUU) fishing in its waters and the country's response to it. Even if we talk about developing non-extractive eco-tourism as a part of Blue Economy, St Martin's Island alone shows how badly we have failed to save it from destruction despite declaring it an Ecologically Critical Area (ECA) 22 years ago.
On a positive note, Bangladesh is effectively protecting the Sundarbans, in recent years, through participatory management and SMART patrolling. Bangladesh Forest Department created green belt on more than two hundred thousand hectares of coastal land since 1966. Together with UNDP, the Department improved the resilience of coastal communities through afforestation and reforestation programmes since 2008. In June 2019, the Ministry of Fisheries and Livestock declared 3,188 square kilometres of the sea on the south and south-west of Nijhum Dwip as a marine reserve or marine protected area (MPA). All these actions are NbS, if both human wellbeing and biodiversity benefits are ensured, and can effectively contribute to Blue Economy.
To integrate NbS into Blue Economy, first, we need to shift our mindset and start seeing our coasts and seas as thriving ecosystems made of biodiversity, not as commodity. Taking this first step is crucial to transform our extractive and exploitative approach to Blue Economy into sustainable and resilient approach.
Second, Bangladesh's 8th Five Year Plan (2020−2025), Prospective Plan of Bangladesh 2021-2041, and Bangladesh Delta Plan 2100 sufficiently talk about Blue Economy as well as ecosystem-based approaches to sustainable development. We have heard of a Blue Economy Action Plan supposedly drafted as a comprehensive planning document. While this action plan needs to be aligned with the above short- to long-term national plans, it is also important to make it public to gather peoples' opinions and start an inclusive planning process. Besides, the on-going formulation of the Mujib Climate Prosperity Plan 2030 still has the opportunity to embrace Blue Economy and NbS to make Bangladesh a "resilient delta".
Third, our maritime policies and practices, and changes in them, should be based on evidence. If we want to build a strong deep-sea fishing fleets, for example, we should know how much fish could be harvested annually to making fishing sustainable. While glorifying the positive impacts of fishing ban, we should know how the fishers of Moheshkhali survived 130 days' lockdown (March−May) and fishing ban (May−July) last year and how they are doing this year as the lockdown and ban overlapped.
Fourth, when it comes to climate finance, Bangladesh not only created a trust fund with about USD 450 million and implemented about 800 projects in the last 10 years, it has also mainstreamed climate budget into all relevant sectors. The Bangladesh Biodiversity Act, 2017 has a provision for "Biodiversity Conservation Fund", which is yet to be created. This biodiversity fund, along with the climate trust fund, can be a dual funding source for supporting NbS as a part of Blue Economy.
Fifth, in the wake of the Covid-19, NbS and Blue Economy should be part of our economic recovery plan. We need to appreciate that NbS can create jobs, diversify livelihoods, and offer business opportunities through restoring degraded coastal and marine ecosystems, sustainable fishing, following ecosystem approach to aquaculture, managing and sharing benefits from MPA, and combining conventional coastal protection infrastructure with NbS as a means of adaptation.
The initial enthusiasm built around Blue Economy, soon after the resolution of the maritime boundaries with our neighbours, lost its way in recent years. By integrating NbS into Blue Economy, we can regain our lost momentum.
Dr Haseeb Md. Irfanullah is an independent consultant working on environment, climate change, and research systems. His Twitter handle is @hmirfanullah